5 Home Buying Myths You Need to Move Past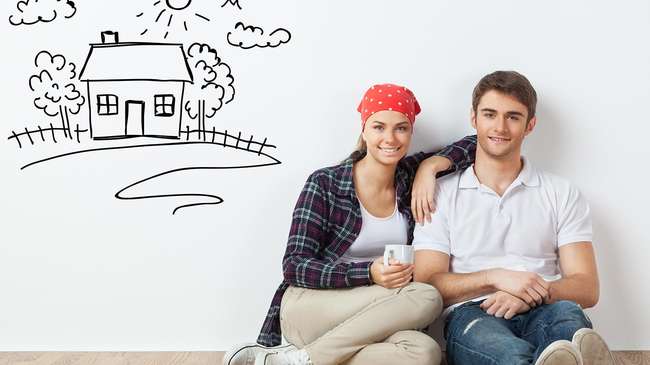 Buying a home is expensive. Now isn't a good time to buy. Maybe there's some truth to these scary home buying myths. Or, maybe they're voices in your head discouraging you from what's possible. Either way, there are home buying myths people relate to when maybe they shouldn't.
Move past these five home buying myths and start seeing just how affordable homeownership is!
1. You need to make a 20% down payment
No, you do not have to make a 20% down payment. Times have changed, and there are loan programs designed with first-time home buyers in mind.  Even if you are ready to make a large down payment, it still may be in your best interest to weigh all options.
Apply for down payment assistance. Check with state and local agencies. They can offer grants or loans. And, you don't have to be a first-time home buyer to qualify!

Use gift money. Just as it sounds, it's money you receive as a gift. Be sure to properly document gift money through financial records. You'll need to provide copies of your recent bank statements, your donor's recent bank statements, and cashier's checks.

Go with mortgage insurance. Mortgage insurance can increase your purchase power and allow you to keep your hard-earned money in savings. Plus if you choose a loan program with private mortgage insurance, it can be canceled once you reach a certain loan-to-value (LTV).
Bottom line: A down payment may seem like the only way to get a competitive interest rate or low monthly payment, but it's not. Things like credit history, income, and debt affect your loan program (and ultimately payments), too. Find success by calculating how much you can afford. Better yet, speak with a salary-based mortgage consultant. This way your needs are top of mind, and there's no pressure.
2. It's cheaper to rent than own
There may be some truth to this in the short term, but if you plan on renting for a couple years or more — it's in your best interest to look into a home purchase. That's because mortgage payments are stable (when you choose a fixed-rate), whereas rent can rise annually.
According to data from Yardi Matrix and Apartment List, the national average rent reached an all-time high of $1,405 in June of 2018. It's the fifth straight month of rent increases.
So, before you write off becoming a homeowner, do your research. You may be surprised by the results you receive from a rent vs. buy calculator.
Let's consider Austin using data from the rent vs. buy calculator above. If you buy a home in Austin (after three years), that home will have $138,525 in equity (available to you when you sell). However, if you rent and invest your down payment; at a 6% return rate, it will earn around $13,491 in 3 years. Meaning, you just gave up over $100,000 that could have been part of your personal wealth!
Bottom line: renting doesn't offer a lot of cost savings. Why not invest in something that can increase your wealth? There are many first-time home buyer assistance programs available to get you started.
3. Interest rates are on the rise
The news often reports about "interest rates on the rise." But what you need to ask is: on the rise from what? Talk to any housing economist about mortgage rates, and you'll hear they've been abnormally low since the housing crash.
A NerdWallet article from February of 2018 published a quote from Dean Baker, senior economist and co-founder of the Center for Economic and Policy Research. Baker said, "I remember in the mid-'90s, getting a 7% rate, being happy with that. The rates we're looking at today are still, by any measure, pretty low. So it's basically the economy getting back closer to normal."
Bottom line: current rates may rise or fall for a variety of reasons, but not by much. If your finances are in order and you've found a home you love, don't wait long for a lower rate.
4. You have to pay your student loans first
A 2017 National Association of Realtors (NAR) study stated that 80 percent of millennials do not own a home. Of those, 83 percent say it's because student loan debt is holding them back.
It's true millennials face a higher student loan burden than any generation before them. However, there are new guidelines that make it easier to qualify for a mortgage with student loans.
That's because Fannie Mae — the largest purchaser of residential mortgages in the U.S. — has changed the underwriting rules around student loans to make qualifying for a mortgage easier.*
Say your parents or employer are paying your student loans. That debt can be excluded from your debt-to-income (DTI) ratio.
Maybe you're on an income-driven repayment plan. Prior to this change, lenders would calculate one percent of your loan balance. But now, they can use your existing payment, as long as it isn't zero. This could be the difference between mortgage approval and denial.
Bottom line: having student loan debt could be in your favor. It may improve your DTI, so you qualify for a better loan program or interest rate. Though it may seem overwhelming to add on any more debt, you have to remember your home will build equity. That equity can eventually be used to pay off high-interest debts like student loans, personal loans, or credit card debt.
*New guidelines mentioned above are specific to Fannie Mae programs and do not apply to FHA, VA, CHFA loans, etc. Be sure to consult with a loan officer or mortgage consultant to learn more about student loan debt and DTI ratio as they relate to mortgage approval with your specific loan program.
5. Your credit score needs work
If your credit score needs work to buy a home, chances are it needs work to rent a home.
According to a Rent Cafe study, the average credit score for renters in San Francisco was 724. Those rejected from renting had a 611 score. Boston is even tougher, with an average approved score of 737 and an average rejected score of 667. Now compare this with what it takes to buy a home. FHA loans allow credit scores as low as 600 and down payments as low as 3.5 percent.
Bottom line: poor credit challenges both renters and homeowners alike. Work on strengthening your credit. When you feel it's getting healthier, consult with a lender that doesn't pay its employees a commission. That way, you're getting guidance into the right loan program. And, you're living in a place of your home — so you don't have that annual competition like you may experience when renting.
Learn more
You're off to a great start now that you've dispelled these home buying myths. Take the next step by calling the salary-based mortgage consultants at American Financing. We can walk you through loan programs and can help you get mortgage pre-approval, which will give you a clear idea of how much mortgage you can afford. We can even connect you with a local, award-winning real estate agent.
Stop renting, and get started on your path to homeownership today!