What is a Good Debt-to-Income Ratio to Buy a House?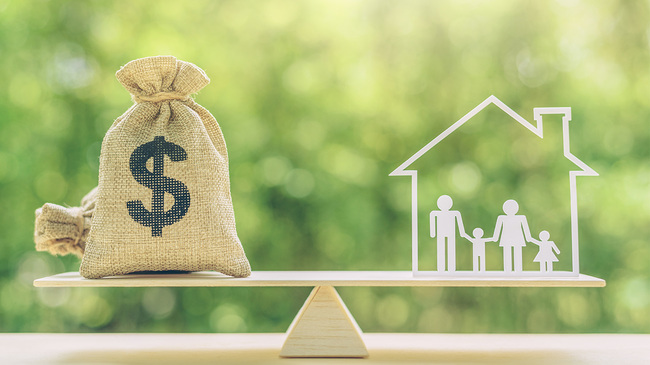 Lenders look at a number of factors when deciding on a potential borrower's qualification for a mortgage, including credit score and job stability. Yet many hopeful buyers go into the pre-approval process not knowing their debt-to-income ratio. DTI, as it's often called in the industry, is the percentage of your income that goes toward paying your recurring debts.
Unfortunately, a high DTI could force you to either pay more interest over the life of your loan. It may also be the reason why your mortgage is denied. Let's take a closer look at how to go about calculating and, eventually, lowering your DTI.
How to calculate it
It's actually pretty simple. Just divide your monthly debt (car loan, student loan, personal loan, and minimum credit card payments) by your gross income. We'll discuss what's considered to be a good debt-to-income ratio in the next section.
As important as DTI may be, it's worth noting that not every lender calculates it the same way. You may end up working with a lender who leaves out monthly expenses such as food, utilities, health insurance, and transportation costs. Credit.com warns buyers of being approved to borrow more than they're willing to pay for their mortgage. 
What is a good DTI
Lenders feel most comfortable approving borrowers who have a DTI at or below 36%. Now, what happens if you do the math a bunch of times but your ratio comes in slightly above the recommended 36%? Not to worry, as some borrowers can have a DTI as high as 43% and still get approved for a home loan.
Let's say you're going through the pre-approval process and your lender comes back with the news that you barely qualify for a mortgage with a 43% DTI. While you may be fortunate enough to purchase a home, you certainly won't have much financial wiggle room in the event of a job loss or medical emergency. That's why lenders prefer a 36% DTI — the more breathing room you have at the end of the month, the easier it is to withstand changes to your expenses and income.
Tips for lowering it
Just because you might have a higher DTI now doesn't mean you can't lower it before speaking with a lender in the near future. Here are some tips for making this ratio more attractive for lenders:
Avoid taking on more debt — Hold off on that shopping spree or vacation until after you've moved into your new home. 

Pay off your current debt before applying for a mortgage — This will also help you prevent additional interest from accruing.

Avoid using your credit card for major purchases before you buy a home — This includes big purchases for your home, such as furniture and appliances)

Land a higher paying job or a raise at your current employer — Depending on your status at work, this might be easier said than done. That said, earning a higher salary allows you to lower your DTI almost instantly.
How to look at your DTI
Borrowers should look at more than their DTI when determining how much home they can afford. As your lender should tell you, your DTI is only a piece of the puzzle. It's also important to account for regular expenses such as food, utilities, health insurance, transportation costs, and the occasional night out. 
If your DTI is closer to 50% than 36%, you probably don't want to start the home buying process quite yet. We get it — the housing market remains hot and you want to become a homeowner sooner rather than later. However, the last thing you want to do is take on an unrealistic mortgage payment in addition to your current debt obligations.
Take some time now to get your finances in order, whether that means paying off credit card balances, cutting unnecessary expenses, and/or supplementing your income with a second job. Though lowering your DTI requires a great deal of discipline, your efforts will pay dividends when you're ready to seriously discuss buying a house. Again, lenders favor borrowers with good credit and minimal debt.
Talk with a lender about your DTI
We just threw a lot of information at you regarding debt-to-income ratio. There's no question that calculating DTI can be stressful, let alone figuring out how to lower it. That's why we suggest getting in touch with an experienced lender. He or she can work with you in figuring out your ideal mortgage payment, even if your home buying plans are temporarily on hold.