How Credit Scores Impact Mortgage Interest Rates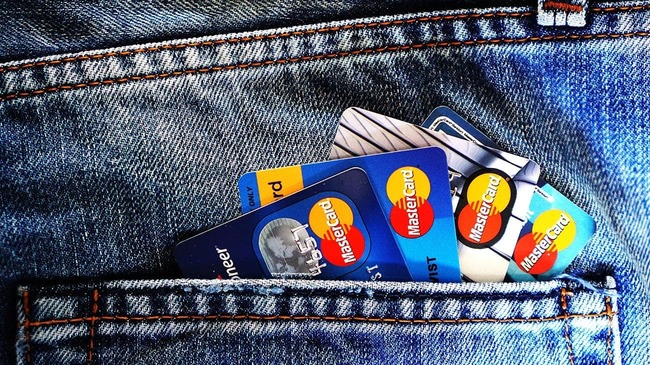 When financing your home, you're looking at monthly loan payments made up of interest and principal. The principal is the money you originally borrowed, and interest is the added cost you pay to borrow money. So, the lower your interest rate, the easier it is to repay. Why? There's less interest added to your monthly mortgage payment, saving you tens of thousands of dollars over the long run.
Before setting your hopes too high, know that interest rates aren't random. This is where credit scores come into play. Lenders use your credit score to gauge creditworthiness and the likelihood you'll repay the loan. It's one of the most important factors when calculating an interest rate.
Understanding how your credit score influences your mortgage interest rate is the key to big savings. Learn the basics to save a ton in the long run.
How lenders use credit scores
FICO (Fair Isaac Corporation) scores are commonly used by lenders, but there are other credit score models. FICO scores typically range from 300 to 850. The higher your FICO score, the better. Higher scores indicate you've handled debt well in the past, and you'll probably continue to do so. Lower scores demonstrate you've made poor financial choices in the past, and you may have trouble repaying a loan. Banks set interest rates (the APR or annual percentage rate) based on the risk you pose. If you appear to be high risk, expect a higher interest rate. (Or, if your credit score is really low, you may be denied.) On the other hand, if you're low risk (represented by a high credit score), you'll typically qualify for a lower interest rate.
How scores affect loan rates
A few points difference on your credit score can greatly help or hinder your monthly mortgage payments.
Using myFICO.com's loan savings calculator, borrowers with credit scores above 760 save as much as $244 in monthly payments for a 30-year fixed loan, $250,000 mortgage compared to borrowers with scores ranging from 620 to 639. That adds up to about $87,522 in interest payments over the life of the loan.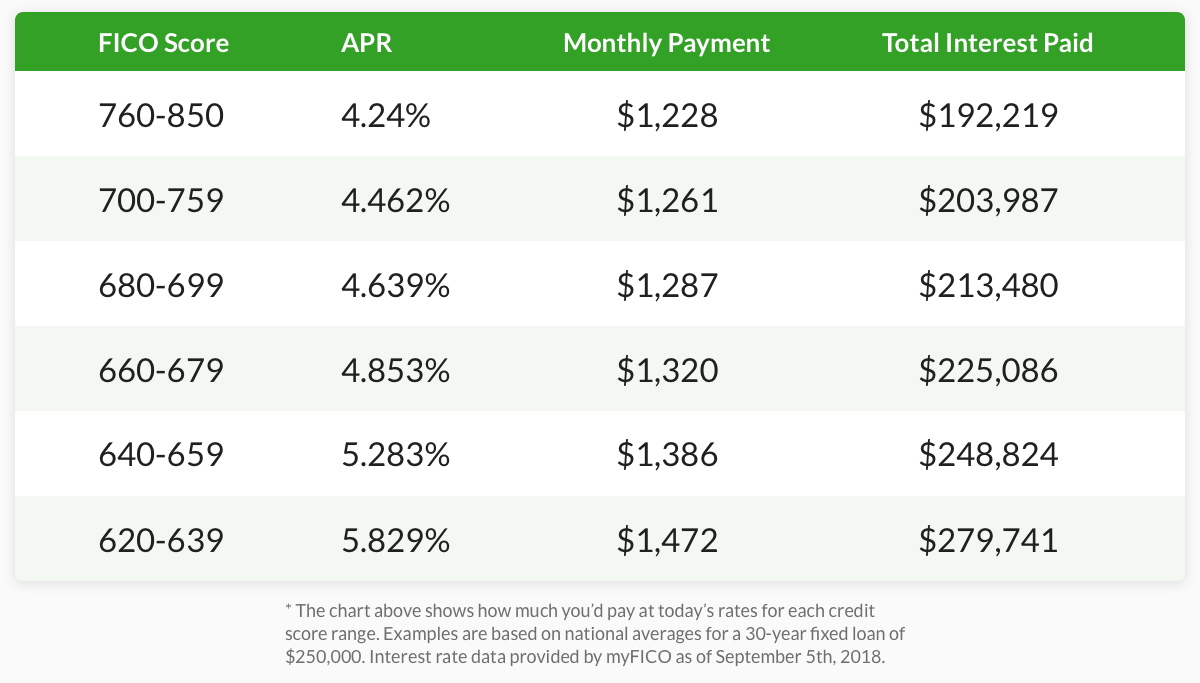 What is a "good credit score"?
Honestly, what determines a good credit score varies. It really depends on your loan program and financial history. Lenders look at things such as your debt-to-income ratio, W2s, current debts, etc. to calculate your interest rate.
Take a look at some "typical" FICO score minimums by loan type. Just know that the chart we're providing is a reference point. Contact an American Financing mortgage consultant to compare loan programs for your specific situation.
Tips to boost your credit score
There aren't secret methods of getting a good credit score. Your best bet is to pay off your debts in a timely fashion, though, there are other options. Try the following the steps below to secure a better credit score:
Check your credit score for free
Request your credit report from the top three bureaus: Experian, Equifax, and TransUnion. You can do this once a year. Or you can use financial websites such as Credit Karma or Wallethub to check your credit score on the fly.
Dispute credit inquiry errors
Credit reporting agencies aren't perfect. Maybe there's an inquiry you never requested or you forgot to pay a bill on time. Ask them if they can remove it. Just make sure you don't skip any payments as you try to figure things out.
Pay off debt completely
Try paying off high-interest debt — like credit card debt for example.  Paying your cards in full on a month to month basis is ideal for boosting your credit score. If you have outstanding debt that you're having trouble paying off, ask your lender to work with you. More than likely, they'll establish a payment plan for you.
Set up bill pay reminders
Setting monthly payment reminders takes minutes, yet can save you numerous financial headaches. Chances are your service provider offers payment reminders or autopay features, so you don't risk missing a monthly payment.
A low credit score doesn't singlehandedly determine whether or not you're able to finance your dream home. That being said, don't fall asleep at the wheel. It's important to stay on top of your finances to secure the most competitive loan programs and interest rates.
Learn: The assets and cash savings you'll need to buy a home.