15-Year Cash-Out Refinance: How Much Cash Can You Afford?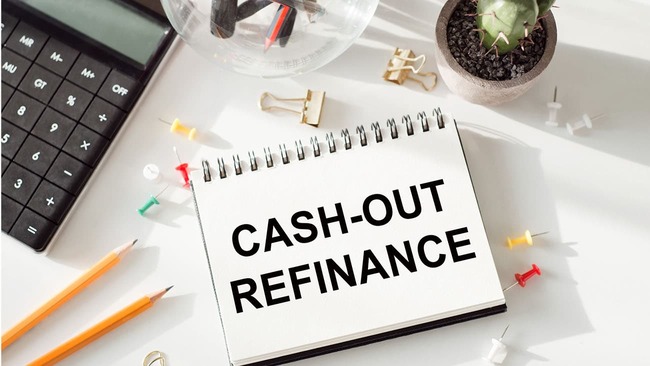 A 15-year cash-out refinance can help homeowners tap into home equity to fund large purchases and investments. Whether you're anticipating a considerable expense, like a college education, or want to improve your property's value through home renovations, a cash-out refinance into 15-year loan terms can fund those projects while maintaining a short repayment timeline. But how much cash might you have access to with this type of refinance? The specific lump sum you can access will depend on various factors, including your accumulated equity, the remaining principal on your current loan, and your repayment terms.
Benefits of a cash-out refinance
There are many potential benefits of a cash-out refinance. A mortgage refinance enables homeowners to change the terms of their original loan. This may result in a lower interest rate, a shorter repayment period, and fewer interest charges over the life of the loan. For example, if you refinance to a 15-year mortgage, you may move up your payoff date. This can help you achieve significant financial goals, like paying off a college education,  retiring, and building equity faster. In some cases, homeowners can reduce their mortgage payments through a refinance. This can result in greater financial flexibility and more predictable expenses. 
As a loan term plays out, homeowners will accumulate property equity. This happens through mortgage principal reduction and property value appreciation. As a result, when you refinance your mortgage, you may be able to select a larger loan amount than what you currently owe. By doing so, you can tap into your home's equity. At the closing of your 15-year cash-out refinance loan, you will receive a wire or check for the equity that you have accessed. 
By strategically using this equity, you can take advantage of many other substantial benefits. For example, you may apply the equity to credit card balances in order to consolidate other debts. In some instances, this can help homeowners access lower monthly expenses. The equity can also be used for property renovations, which can help maintain or increase the property's value. 
The above examples are only a few of the many ways to use your home's equity strategically. Of course, you can also use the funds from a 15-year cash-out refinance loan to start a business, take an amazing vacation, put the kids through college, and accomplish other goals.
When a cash-out refinance makes sense
The benefits of a 15-year cash-out refinance can be tremendous, but make sure you understand what is a cash-out refinance. Still, you should be aware that the specific benefits available to you depend on your current loan terms, your new loan terms, and the amount of equity available in your home. So how do you know when a 15-year cash-out refinance loan makes sense?
Generally, you should define what you wish to accomplish through your cash-out refinance loan. For example, will your use of the funds improve your financial situation, improve your home, or significantly improve your life in another meaningful way? 
Of course, you also need to ensure that you can afford to refinance your mortgage. After researching your loan options, use one of our online calculators to estimate your new monthly payment. Remember to look at the overall impact on your monthly budget rather than focus singularly on the difference in mortgage payments. 
Finally, you should ensure that you have enough equity in your home to accomplish your financial goals. Your equity is determined by subtracting your current loan's payoff amount from the home's current value. However, keep in mind that the maximum loan amount for a cash-out refinance is 75% of its value. Therefore, you will be required to keep at least 25% of the equity in the home. In addition, remember to also account for the closing costs for your cash-out refinance, which usually total 2-3% of the loan. 
An example of a 15-year cash-out refinance 
If you're wondering how a 15-year cash-out refinance might work for you, here's an example: You purchased your home for $200,000 10 years ago. It is now worth $350,000, and the remaining loan balance is $140,000. This means that you currently have $210,000 in equity in your home. This is calculated by subtracting that remaining balance from the home's new valuation.
You can borrow up to 75% of the home's current value, making your maximum loan amount $262,500. After your new cash-out refinance loan of $262,500 pays off your existing loan balance of $140,000, your cash-out amount will be $122,500. This is cash that you will receive after your new loan closes. 
Your new 15-year cash-out refinance loan's monthly payment will be based on a 15-year term, the new loan amount of $262,500, and the new interest rate. Your payoff date will be moved up by five years. However, keep in mind that you do not need to take out the full amount of equity that is available to you. You can adjust your equity to gain more control over your new mortgage payment. 
When a HELOC makes more sense
Many homeowners who wish to tap into their home's equity debate between a 15-year cash-out refinance and a home equity line of credit or a HELOC. A HELOC does not replace your existing mortgage. Instead, it takes a secondary position in the financing structure, creating a second monthly payment. Your access to equity may be the same, but you will not receive the equity in a lump sum payment. Instead, you will have a line of credit that you can take draws from as desired. By doing so, your HELOC's monthly payment may fluctuate. Remember that you can only take draws on a HELOC for a limited period. 
A HELOC makes more sense when you do not need access to the equity all at once. For example, if you are renovating your home in stages, you may be able to keep your expenses lower overall through a HELOC. A HELOC may also be more advantageous if you have great loan terms on your first mortgage. This is because a HELOC does not replace the first mortgage. 
Explore your options today
Before you decide whether to apply for a 15-year cash-out refinance, it is essential to first explore the loan terms you qualify for. Now is the perfect time to get prequalified for your refinance loan.