Understanding Each Step of the Mortgage Loan Process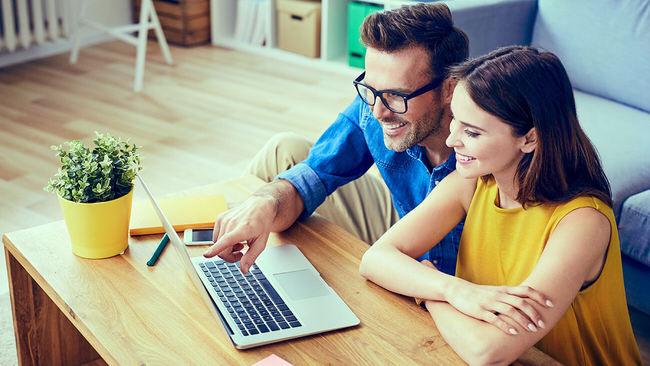 Buying a home or refinancing to save money can make for an exciting time.  Well, at least until you consider the time spent on the mortgage application, documentation, appointments, and everything else related to home financing. We get it. That part may not be as fun, but it doesn't have to be a pain either. The key is to be organized and have a basic understanding of what's expected.
Here's everything you need to know about each step of the mortgage process.
How does the loan process work?
The answer depends on whether you're looking for a new home or a mortgage refinance. As you may expect, there aren't as many stages in the refinance process because you aren't securing or selling real estate. So, you won't need a home inspection, and in some cases, you may not need an appraisal — we'll further discuss that later on.
To keep things in order, we'll briefly touch on two critical steps of the mortgage process that are specific to home purchases. 
Get a mortgage pre-qualification letter
Want an edge above your competition? You'll want to submit some basic income and debt information to a mortgage lender for pre-qualification. It's a practical first step that will help you understand how much home you can afford, and it will tell the seller you are serious about buying their property.
Make an offer
You can make an offer before you begin the application and pre-approval process. It's not always recommended, though, especially in a competitive market.  Many of the buyers you'll be up against either have their own pre-qualification or pre-approval letters. Or, they may even have an all-cash offer — meaning it can make for a tough competition if you don't have your finances verified. So do yourself a favor and hold off on making any offers until you seek (at the very least) mortgage pre-qualification.
Now that we've got that part squared away, let's take a look at the remaining steps of the mortgage loan process as it applies to (almost) every borrower, regardless of your goals.
Complete your mortgage application
Completing a mortgage application is the official beginning of the home loan process where you'll fill out your personal, financial, and real estate information. 
You should be prepared to share the following information:
your income and employment history

tax returns

marital status and list of dependents

assets and investments

debt and liabilities

legal and financial declarations

property address 

social security number (so that your credit can be checked with your permission). 
If you're refinancing, you'll also need to include your title, deed, and a copy of your homeowner's insurance.
The lender will perform an initial verification of your information to decide how much they may be able to lend you and at what interest rate. This will be provided to you via a document called a loan estimate.
Related: What is a mortgage underwriter?
Review the loan estimate
This next step of the loan process is not often thought about, yet it is a very critical piece when it comes to decision making. When you receive your loan estimate, you're getting a visual representation of what the new loan entails. 
The three-page document will illustrate your:
loan amount

interest rate 

estimated monthly payment

loan costs (origination fee, discount points, processing costs)

closing costs and other fees the lender (or its third-party partners) may charge  
Upon receipt of your application, the lender has three days to provide you with a loan estimate. But don't worry, your credit will not be hit multiple times because of your numerous applications. "Hard" inquiries for the same purpose, like a mortgage application, only count as a single "hard" inquiry as long as you apply within a 30-day window.
TIP: At this point of the process, it's crucial you avoid making these common mistakes.
Loan processing timeline and checklist
After reviewing your loan estimates, you'll complete an intent to proceed with your selected lender. This is when loan processing begins, and you get into "paperwork" stages — most of which are digital these days.
Loan processing can take anywhere from 45 to 90 days, though that can change depending on the market.  For example, as of July 2020, lenders were experiencing significant loan volume and changing guidelines as a result of COVID-19. Because of that, processing can take longer.
During loan processing, you can expect to take the following steps.
You'll have your income and assets verified, along with your employment. 

An appraisal will be ordered (if one is required) to help determine the home value.

If you're buying a home, this is when you'll schedule a home inspection.

If you are refinancing your mortgage or selling your current home to purchase a new one, the loan processor will help you coordinate your existing loan payoff information (so he or she can properly calculate your final loan and payment amounts).

Lastly, for compliance and regulatory reasons, the processor will re-examine all documents within your loan file before submitting it to underwriting.
Home appraisal
Your loan processor will likely request a home appraisal before moving your file to underwriting. Essentially, the lender wants to protect the investment they are making. So they hire an appraiser to determine the property's true market value based on current real estate conditions. This way, if the value is less than your loan amount, they have an opportunity to make adjustments to your loan without losing any money.
It doesn't require much involvement from you (as a borrower). The appraiser will look at the recent comps in the area, and he or she will visit the house you want to buy or refinance.
This approach provides a full-picture view of what home values are like in your neighborhood, not just the financing property. It also tells the appraiser, lender, and most importantly you whether or not your home is a good investment.
Home inspection
An inspection is a crucial step in the home purchase process, as it alerts buyers of what may need attention before finalizing a contract. During a home inspection, a licensed inspector checks the performance of the home's roof, driveway, foundation, framing, electrical, HVAC, and plumbing. 
Inspections are not required during the refinance process, so we won't get too far into everything involved. However, if you're looking to buy a home, we strongly recommend you take the time to understand their importance better. You're sure to find answers to your home inspection questions when you read our article — Home Inspections: How They Work and What to Look For.
Locking your interest rate
Now, this is a huge step in the mortgage process, and it's one of the top questions that borrowers ask — when should I lock my interest rate? That answer, of course, varies based on your timeline and your financial goals. But, we do have some tips to help you make an educated decision.
Lock periods are typically for 30, 45, or 60 days, though they can sometimes be longer. 

Most mortgage applications are completed within 60 days, so these lock periods are usually sufficient for borrowers but can mean higher closing costs.*

If you can confirm your processing and closing process can be finished in four weeks, consider locking your rate for 30 days (assuming rates aren't moving much).

Interest rates vary based on your loan program, so you may get a better rate if you change programs or terms.

Mortgage rates can change daily, sometimes multiple times a day; if you like what you're quoted, it may be worth taking it and locking in.

Bad news and uncertainty are good for rates, so if the economy starts to look bad — you may want to wait it out a little bit.

Some lenders offer a mortgage rate lock float down, which enables borrowers a one-time opportunity to exchange their current rate for a lower rate, assuming rates have fallen.
Your mortgage consultant will offer guidance on when to lock, but it's one of those decisions you'll need to make yourself. While you may want to take the gamble and see how low you can go, interest rates are unpredictable and can rise at any time. It may not be worth putting your loan at risk. Remember, your pre-approval was based on a specific rate, and closing costs were quoted to align with that rate. If you lock into something higher because you waited too long, you could be looking at a far more expensive loan. Can you afford it?
*Note that there may be delays because of an increase in refinance applications.
Common underwriting stages and conditions
Now that we've touched on rate locks, appraisals, and inspections, let's get back to the steps most every borrower experiences during the home loan process. Next up after processing is underwriting. This is where the lender will check your eligibility, confirm the information you've provided, and determine if you are approved or denied. It is an incredibly thorough stage, and it may include you falling into conditional approval, where you'll need to send in more documentation. 
Conditional approval
With conditional approval, the lender is basically telling you, "we will approve the loan if you can resolve/satisfy the following conditions." 
That list of conditions may include:
proof of mortgage insurance (when applicable) 

proof of homeowners insurance

proof of flood insurance

copies of marriage certificates or divorce decrees

requests for additional documentation — like copies of bank statements, W-2s, tax transcripts, proof of cash reserves, etc. 
Keep in mind it can also include providing new documentation. For example, say you transferred or received a large amount of money since taking out a mortgage application. If this happens, the underwriter will ask for a "gift letter" or a "letter of explanation" letting them know why you withdrew money (assuming it was not a gift).
It's a step that just about every borrower encounters, so it's important you are ready to resolve conditions so that your loan closing can stay on track.
Clear to close 
Once you satisfy all underwriting conditions, you'll receive a clear to close. This is when the lender is ready to prepare final documentation and fund your loan. The title company will draft your closing disclosure and schedule your closing — which, by law, can be no sooner than three days after issuing the disclosure.
While this is happening, your lender will wire funds to your closing officer. This person will confirm receipt and ensure the loan gets recorded with the county.
When closing day finally arrives, you'll either be sent to the title company or a closing agent will come to your home to sign your documents. If you're buying a home, you'll receive your new keys. If you're refinancing to access cash, know that those funds will not be available for another three days after signing. This is a result of the refinance right of rescission.
Choosing the right mortgage lender
As you likely expect, the steps of the mortgage loan process can be lengthy and feel cumbersome. It's not surprising considering everything at stake. But the reality is that when you choose the right lender, what may seem complicated is actually quite simple. 
When you work with American Financing's mortgage consultants, you receive guidance every step of the way. So your questions are answered, you have a clear understanding of what is due when, and most importantly, your financial goals are met. 
Let's talk if you're ready to become a homeowner or start saving money on your mortgage. You can schedule an appointment for a free mortgage review or begin the process online with our fast and easy digital mortgage.