The Importance of Home Inspections: What to Look for & How it Works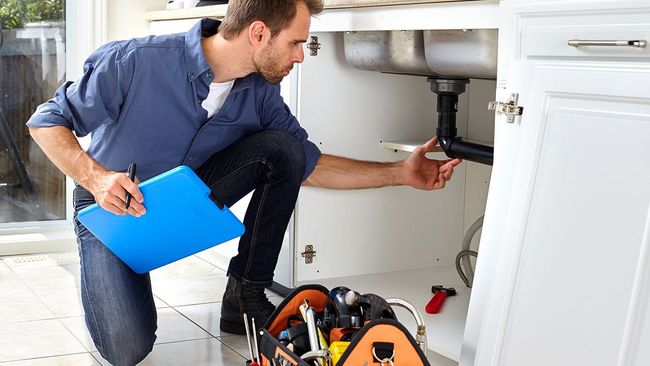 Home inspections are a visual evaluation of a home from roof to basement. It's an important step in the home purchase process that alerts buyers of what may need attention before finalizing a contract. Though not required by your mortgage lender or realtor, it is often a highly recommended step to ensure you're investing in the right property.
Understanding home inspections
What does an inspection cover?
A licensed inspector checks the performance of the home's roof, driveway, foundation, framing, electrical, HVAC, and plumbing.
Some of the specific things they will inspect include:
Electrical outlets

Window alignment

Septic tank and pipe leaks

The condition of roof shingles

Sufficient insulation

Basement and garage foundations

Proper functioning of appliances

Proper ventilation

Up-to-code wiring

Proper functioning of circuit breakers

Operational fire and carbon monoxide alarms

The general condition of windows, doors, floors, ceilings, and walls
Requirements vary by state, but the International Association of Certified Home Inspectors (NACHI) has a Standards of Practice list that outlines minimum and uniform standards.
Home inspections aren't just for your home purchase; they're important for future planning, too. Some of the information you learn can help you predict future expenses like replacing your roof or water heater. It's a thorough process that often lasts anywhere from two to three hours.
What is not covered by a home inspection?
Home inspections can only consider visual cues. It's not an in-depth exam, so it's important to know that inspectors cannot check:
Inside walls

Inside pipes or sewer lines

Inside chimneys

Behind electrical panels

Septic tank systems

Floor creaks and warps

Swimming pools

Toxic mold

Asbestos
What do home inspections cost?
The cost of standard home inspections varies depending on the market. Plus, more specific and more intensive inspections can be done for a higher cost. These may be worth the investment depending on the age and location of the property. You'll definitely want to shop around to find the best value for your needs. Find a further discussion on that below. 
Who benefits from a home inspection?
Now, something you may not have known: home inspections are not just for buyers, they're also beneficial for sellers. Here's what you need to know, regardless of which side of the negotiation table you're on.
Tips for sellers: what to look for before you list
Why are home inspections important to sellers? Getting a pre-listing home inspection offers sellers the ability to find out the exact condition of the property. It can also help:
See the extent and nature of each defect

Allow for sufficient time to make repairs before the home sale

Complete the seller's disclosure and price the home more accurately

Prevent seller concession requests

Improve buyer confidence

Enhance your home value
Tips for buyers: what to look for before making an offer
Why are home inspections important to buyers? Any concerns from the inspection report can reopen negotiations with the seller. So, it's a good idea to be a part of the process.
You're able to:
Join the inspector on the home tour

Follow along where you can and take notes

See and understand what needs attention when

Get suggestions on overall home improvement

Receive a complete report of their findings, so you can request repairs from the seller or seller concessions

Opt out of buying the home if issues are too big
What should you ask a home inspector?
You have many options if you choose to hire a home inspector. Be sure to ask for recommendations from your realtor or mortgage lender, maybe even ask a few of your friends or family members. Home inspections are important, so always, always, be sure to interview the inspector before hiring them. You'll want to feel confident in their experience.
Consider these questions when shopping around for inspectors:
Are you focused on residential or commercial properties?

What does the inspection include?

How many home inspections have you done?

How do you keep your expertise up to date?

Can I attend the inspection?

Can I see a sample report?
Keep in mind: home inspections are not all-inclusive. Some areas of the home require a specialist. You may want to consider the following options, depending on where you live:
EIFS
EIFS is an acronym for Exterior Insulation and Finish Systems. It's also known as synthetic stucco. Synthetic stucco is a popular exterior choice for many, but it must be installed properly to avoid issues. If the EIFS is adhered directly to the substrate by fasteners or mastic, with no drainage plane for water to drain down, expect water to get in. Add in high moisture and you can expect the substrate to rot.
Lead-based paint
If you live in — or are looking to buy — a home built before 1978, take advantage of a lead-based paint home inspection or risk assessment. If lead is detected, a risk assessor can help you determine if abatement or good maintenance is necessary.
Mold
Mold inspection is an assessment of mold growth in a building. It often includes a questionnaire, visual inspection, and mold testing (as necessary). Depending on the size of your property and the number of mold samples, pricing can vary anywhere from $300 to $3,000.
Radon
Radon is a cancer-causing, radioactive gas that seeps through foundation cracks or near electrical outlets and pipes. It's estimated that half the homes in Colorado have radon levels higher than the EPA recommendation. Even if you're not buying in Colorado, the EPA strongly suggests radon testing. Testing is the only way to know if you and your family are at risk from radon. Be ready to mitigate radon if the level is 4 picocuries per liter (pCi/L) or higher.
Roof certification
Hire a roofing company to understand whether or not the home requires repairs. If it doesn't, you'll at least receive an estimated length of time (in years) before the roof needs replacement. Reports are issued on possible movement, the condition of materials, soundness of drains and gutters, etc. Upon completion, you'll receive your roof certification, which is good for two to five years.
Sewer
If you're buying a home that is 20 years or older, it's a good idea to invest in a sewer inspection. Local plumbing companies often have contractors who can use a camera to inspect the sewer — looking at the overall condition and if there are any clogs. Fees vary from $85-$300, but it's a great investment in the event you need to replace the sewer line.
Termites
In many areas of the country, termite and wood infestation reports must be completed before a purchase contract is signed. This is especially true when using government loans like FHA and VA loans, though it can be required with a conventional loan. States, where termites are most common, include Louisiana, Texas, Hawaii, California, Alabama, Georgia, Florida, the Carolinas, and Tennessee.
Your real estate agent can provide you with a list of common home inspections in your area. Or, you can ask your inspector about recommended specialists who may be able to diagnose some of the above — or other — issues your new home may have.
Let's not forget, the home buying journey should be enjoyable. Don't let the fear of a home inspection get the best of you. Though it costs money, anything can be fixed. It's far more important to learn as much as you can about a home before finalizing a home loan and signing a purchase contract. Keep a rational mind and know that if the to-do list is too long for your standards, it's okay to keep shopping around for a better fit. Only you can decide what's worth your time and money before calling a property your dream home.