What to Expect from a Home Appraisal: A Checklist & How It Works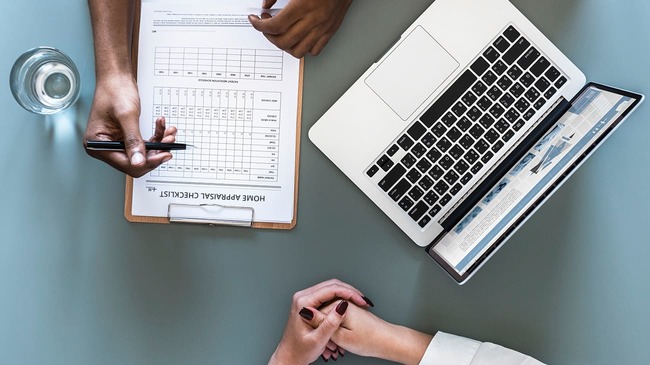 The purpose of an appraisal is to determine the fair market value of a home. It's one of the last steps in the home buying process that occurs after the seller accepts your offer and you have begun to work with a lender. In the mortgage refinance process, it happens between loan processing and final approval.
What is an appraiser?
Appraisers are licensed or certified professionals who provide a qualified opinion of value. All states require appraisers to be licensed or certified to provide appraisals to federally regulated lenders. Meaning, you're working with a highly trained individual who understands current real estate market conditions in your area.
Appraisers are considered third-party participants in the transaction. Their work assures mortgage lenders that the amount they are lending does not exceed the home's true value. Yet, it also assures that you (as the home buyer or homeowner) are receiving a fair, unbiased price for your property.
What does a home appraiser look for?
The appraiser researches recently sold properties in your area with features similar to your prospective home, called "comparables." Comps are sales records of recently sold homes. Appraisers and real estate agents use at least three, usually through the Multiple Listings Service (MLS), to get the most accurate estimate possible of a home's value. The three comps must be sales that have closed within six months of your appraisal date to be considered accurate.
Related: What hurts a home appraisal?
Expect your assigned appraiser to use the designated forms written and approved by the FHA, Fannie Mae, etc. These forms ask specific questions about neighborhood demographics, housing trends, utilities, home measurements, site characteristics, property condition, general improvements, and at least one approach to value.
More specifically, you can expect the following factors to be reviewed:
The condition of the home (are there any cracks, damages, leaks, etc.)

The size of the home and the property lot

The quality of landscaping

The quality of roofing and foundation

The number of bedrooms and bathrooms

The quality of lighting and plumbing

The number of fireplaces

The condition of a swimming pool or sprinkler system

The quality of the basement (whether it's finished or unfinished)

The finishing details in the home (such as granite countertops, hardwood floors, and appliances)
Did you know? Home appraisals and home inspections are not the same. Learn about home inspections.
How long does an appraisal take?
Home buyers or borrowers looking to refinance: you can expect an appraiser to be at your home from 20 minutes to two hours, depending on the size of the property. They'll use that time to take photos of all living areas which will document the condition of the home.
Once the physical appraisal is complete, the appraiser creates a written report of findings for the mortgage lender. This generally takes three to five days. The appraiser must confirm all data, so this takes some time.
How to prepare
Maximize your home value ahead of time, so your home appraises as high as it can. This may include significant work such as home renovations, or simple tasks like the ones listed in the checklists below:
Appraisal checklist for buying a home
Review neighborhood home values and recent sales

Assess your desired home's condition so you can plan ahead for necessary repairs

Include an appraisal contingency so your offer can be withdrawn if the appraisal comes up short
Appraisal checklist for selling or refinancing a home
Ensure your landscaping is on point as "curb appeal" is considered during an appraisal

Repairing damaged drywall or painting rooms can factor into your valuation

Make sure every light switch, wall outlet, fan, or vent works

Document recent home improvements with estimated prices and dates

Provide copies of previous appraisals

Make sure all rooms of the house are accessible

Be flexible and coordinate the appointment around the appraiser's schedule

Let the appraiser do the inspection without distraction
Tip: if you have an FHA loan and are doing a streamline refinance, typically an appraisal isn't needed.
Be aware of the $500 rule
Appraisers tend to value property in $500 increments – like $300,000, $300,500, $301,000, etc. Because appraisals with $500 increments are common, it's in your best interest to make small repairs if you are selling your home or refinancing. Even the smallest of changes can contribute to the overall condition of your property.
Want a better understanding of home value? Read our guide on appraised value vs. market value vs. assessed value.
FHA and USDA appraisal process
Home appraisals vary based on the type of financing used when purchasing the home. Unlike other mortgage programs, the FHA and USDA loans must meet appraisal guidelines and Department of Housing and Urban Development (HUD) property guidelines. So your appraiser will look for:
The lot to be positioned so drainage moves away from the house, not toward it

Handrails alongside steps and stairways

A foundation that can withstand "all normal loads imposed on it"

Proper ventilation and fully functional mechanical systems

A roof that keeps moisture from entering the home (a roof that needs to be replaced within 2 years must be reported)

Lead-based paint jobs (often in homes built before 1978)

Defective paint on properties built after 1978 (chipping, peeling or flaking paint)

Evidence of termites (though termite testing is not required by the FHA)
For a complete checklist of these and other appraisal requirements, refer to HUD Handbook 4000.1.
VA appraisals: Notice of Value (NOV)
Though similar to the conventional loan appraisal process, there are a few differences when it comes to the government-backed VA home loan.
You'll work with a VA licensed appraiser

The VA will assign the appraiser (your lender does not select the appraiser)

Your appraisal report must be reviewed by either a VA staff appraiser or a lender's Staff Appraisal Reviewer (SAR)

If the lender does not have an SAR, the appraisal must be sent directly to the VA for review before the loan can move forward
The purpose of the review is to ensure the value is fair and the property meets lender and VA guidelines. Once the lender receives the appraisal report, the Staff Appraisal Reviewer is generally expected to issue the Notice of Value (NOV) within five business days.
The NOV provides final home value and also records any necessary repairs. These repairs will need to be completed before the loan can close. Sometimes they are minor repairs that will bring the home up to VA guidelines. Other times it is something as simple as a termite inspection that was not yet completed.
It's important to understand that you may only borrow the NOV amount. So if you're looking to buy a home for $475,000, but the NOV came in at $450,000. You would only be able to borrow $270,000 to buy the home. The seller would either have to agree to that new amount or you would have to come up with the $25,000 in cash.
Check out this example of a VA loan NOV.
What does an appraisal cost and who pays for it?
Usually, the home buyer pays for the appraisal (or the homeowner in the case of a mortgage refinance). An appraisal cost varies depending on the location and type of property, but you should expect to pay between $400 and $1,000.
Typical appraisal price ranges for appraisals are as follows:
Conventional loans usually cost somewhere between $500-$650

FHA almost always costs at the higher end of this spread at $650

VA loans are often around $750, but vary by property type and state
Dealing with a low appraisal
Get a better purchase price
If you're buying a home, you can use the low appraisal to your advantage. Just ask the seller to match the appraisal price. If the home was overpriced or the value was inflated, this is often the best solution.
Challenge the appraisal
So you've followed the home appraisal checklist and have done everything possible to increase your home value, yet it's still lower than you hoped. This can be troublesome for your mortgage refinance because a low appraisal can mean a higher loan to value (LTV), which can affect your interest rate.
Don't fret. You may be able to dispute the appraisal. After all, it is a subjective figure meaning it could have been incorrectly calculated.
If you have documentation to show there are better comps to measure your home against, or if your lender used an appraisal company that's not local, call your mortgage lender to discuss your possibilities. Maybe it's scheduling a review with a different appraiser, or maybe they can request a formal reconsideration of value from your current appraiser.
The reconsideration of value process does not mean a new appraisal is performed, nor is there an opportunity to use a "different appraiser". Instead, you can work with your lender to present facts that may have been overlooked or omitted by the original home appraisal.
Keep in mind, only one reconsideration of value request may be submitted, and it may or may not result in a change to the home's appraised value. The commentary provided must comply with Appraiser Independence Regulations (AIR). It must also be in compliance with the  Dodd-Frank act.
Cancel the transaction
If you're the home buyer and you're unable to get a better purchase price or a second appraisal, you may be able to walk away without losing your earnest money. Many purchase contracts contain a loan contingency if the appraisal comes in low. A properly written loan contingency allows the buyer to cancel the contract and requires the seller to release the buyer's earnest money deposit.
At the end of the day, the most important point is that you have the ability to help increase appraisal results by maximizing your home value. You're certain to find success when following the above home appraisal checklist.
For more information about home equity, visit our popular Understanding Home Equity pages.