How Much Does it Cost to Paint My Home Interior & Exterior?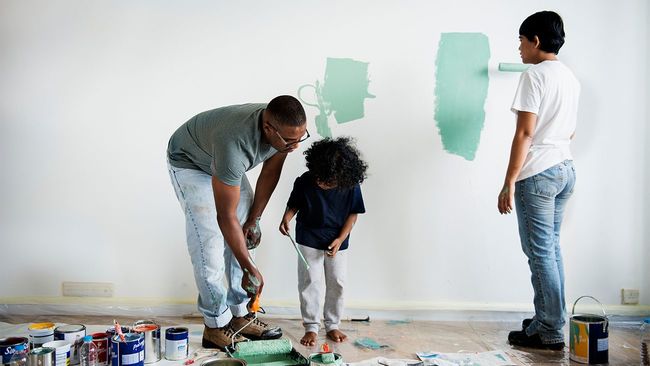 Hire a professional painter or do it yourself? Satin, matte, semi-gloss, or glossy finish? Oil-based or water-based? So many questions to ask when deciding how to paint your home interior and exterior. To understand the cost — and options —  involved, you'll need to break it down by interior vs. exterior.
Average cost to paint a home interior
Professional painters provide estimates primarily based on the square footage of your home. The most significant cost is labor, followed by paint and materials.
The average interior painting project will cost between $500 and $1,000. The room's square footage, local labor cost, ceiling height, the complexity of the trim work, type of paint, and special finishes requested all affect the average total cost estimate.
Did you know a gallon of paint generally covers between 250 and 400 square feet?
Measuring your home interior
It's rather easy to calculate home interior measurements. Just grab a yardstick or tape measure. Take the length of your wall (measured in feet) and multiply it by the wall's height. Then, add the measurements of each wall together.
Be sure you subtract any unnecessary space — like a window or door. Once you do that, it's easy to understand how much it will cost to paint a house interior.
DIY? Plan to have this much paint
Are you feeling creative or living on a budget? Trim the price of your project by doing some work yourself. Here's what you need to know.
One gallon of paint covers approximately 400 square feet. To estimate how much paint your project requires, determine the room's measurements you plan to paint and round it to the nearest foot. You can also try using a simple paint calculator. Remember that a 10% waste allowance should be automatically added to the total.
Not sure what color scheme to use? Try a paint visualizer.
Interior paint types include:
Matte
Matte enamel
Satin
Eggshell
Semi-gloss
Gloss
Average cost to paint a home exterior
Whether you're looking to paint the outside of your home to boost curb appeal or to cover up some fading or blemishes, it's important to understand just how large of a job you're looking at. Often, it makes the most sense to hire a professional. You'll save a lot of time, and you're sure to have quality results. But what can you expect for costs?
Well, exterior painting professionals might charge more or less to paint your home based on its construction material. This is because some materials cost more to paint than others due to their texture. On the other hand, painters can get discounts on the paint instead of paying retail prices. In general, expect the average cost per 100 square feet to be $60–$160.
Here are some estimates of the cost to have a professional paint the exterior of a home, including labor and materials, according to the Painting and Decorating Contractors of America.
500 square feet: $1,000-$1,500
1-story 1,000 square feet: $1,000-$3,000
2-story 2,500 square feet: $3,000-$5,000
3-4-story 4,000 square feet: $4,000-$7,000
Keep in mind your home's complexity may affect the cost of your project. Complex angles require more time to paint, and additional safety precautions might be taken if scaffolding or lifts are required.
Cost to paint an exterior trim
Most professional painters recommend using a primer and two coats of paint on exterior trim. Depending on the brand, the paint typically costs $200-$500. Though the trim color can be the same as the house exterior's color, more often than not, it's a higher or lower-contrast color that complements the overall house color. So, you could be looking at more than one color of paint — pending your preference.
Measuring home exterior
Not surprising — you can calculate your home exterior measurements just as you would the interior. Simply measure the exterior square footage of your home and multiply it by the height of your home, from the ground to the roofline.
DIY? Be sure to have the right paint for your climate
No matter where you live, you want a color that looks great for as long as possible. For best results, know what you're up against.
Sunny, hot, dry zones require paint that resists cracking and fading. Warm, humid areas call for mildew resistance. Desert homes and urban dwellings need paint that resists dirt.
Exterior home paint types include:
Primer (not paint but considered the first layer needed)
Latex
Enamel
Acrylic
Oil-Based
Water-Based
Specialty (anti-mold, anti-mildew, anti-condensation, etc.)
Tip: when painting your home exterior, always double the number you'll need because it takes two coats to cover the outside of a home. Also, don't forget the costs for supplies. Expect to pay $5–$6 per 100 sq. ft. for brushes, sprayers, scaffolding, etc.
Choosing your home exterior paint colors
For a lot of homeowners, selecting an exterior paint color is a lot of fun. Just be sure to consult your homeowners' association (HOA) first if you happen to be a part of one. It may have property appearance requirements that you need to follow, including which house colors are acceptable.
If you're not in an HOA, your options are almost endless. Just be sure your selected color doesn't "pop" too much that it draws negative attention. Instead, choose a color scheme that complements your neighborhood and surroundings. If you have trouble figuring out what that color scheme is, speak with a designer for suggestions. You can also buy a quart of paint and test it on a small area of your home exterior. Be sure to look at it throughout the day, so you can see what it looks like under different light (bright sun vs. shade).
How to save money on the project
As you can see, there are many costs to consider before painting your home. But the good news is the project doesn't have to break the bank. Here are a few ways to save money on residential painting:
Get multiple estimates - Avoid making the mistake of hiring the first company you contact. Do some research and ask around before coming up with a list of candidates. Then call each company, request an estimate, and base your decision on the experience and, of course, your budget.
Stick with lighter colors - While darker paints might look more attractive at first glance, they might not be the right choice for your wallet. Homeowners who go this route usually buy more paint to achieve the ideal color saturation. Additionally, darker paints fade a lot faster.
Purchase high-quality products - You need to have top-of-the-line materials if you choose to handle this project yourself. Trust us; the result won't be pretty once you opt for the cheapest paint you can find. The last thing you want to do is waste time and money because you have to buy everything a second time.
How often should you paint your house?
Professionals suggest painting your home about every ten years. Doing so helps minimize damage to the interior and exterior of the residence and keeps painting costs low in the future. Remember that improving your home interior and curb appeal can produce a solid financial return when it's time to sell or even if you choose to do a cash-out refinance.