Staging a Home for Sale: The Cost, Reason & Value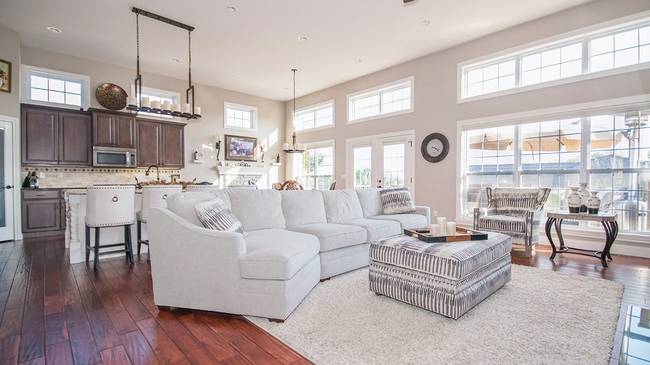 Listing your home can elicit a lot of emotions. Excitement for a new adventure, sadness toward memories being left behind, even anxiety over the amount of money you'll make (or lose) on the home sale. But it's not just about you. Think about your home's new owner. What emotions do you want them to feel, and how can you be sure they'll feel those emotions as they walk through your home?
Enter home staging. A well-staged home is aesthetically pleasing. It's inviting, it's desirable, it's comforting, and it's sometimes pricey. So what are your options — and related costs — when it comes to home staging? Here's what you need to know.
Home staging defined
Home staging is a strategy that allows you to showcase your home's best assets. Your home is able to look its best without the added costs of renovation. Instead, a home stager can accentuate existing space with trendy decor and new furniture (all of which can be rented). The goal of home staging is to appeal to any and all buyers, setting yourself up for the best purchase offer.
The basics of home staging
Home staging is more than cleaning and decluttering, and it goes beyond interior design. If you're not yet ready to hire a home stager but are interested in dabbling in some basic staging techniques, give these projects a try.
Make it less personal. You want the prospective buyer to be able to picture themselves in your home, so don't let your family pictures distract their vision. Replace tabletop photo frames with knick knacks. Consider using a small mirror or wall sconce to replace framed wall photos. If it makes sense, you can even leave the space empty. Less can be more.
Give each room a purpose. Understand the latest trends when it comes to color, accent decor, and room layout. A main living area can be painted neutral colors, but have pillows with bright colors. Maybe an oversized kitchen has unused space that can be turned into a breakfast nook. By creating space and/or provoking feelings of comfort, you make it easy for the prospective buyer to fall in love with your home.
Don't forget about the home exterior. Curb appeal, well kept landscaping, and a welcoming front entry can lure the right home buyer. So keep your home exterior clean, colorful, alive, and inviting!
Stage your home for less
Once you've completed the above "basic" projects, you may spark an interest in doing more. Yet, you still may be hesitant to spend a lot of money. Have no fear. There are affordable ways to stage your home without breaking the bank. Consider one (or some) of these strategies.
Stage important rooms first. You don't have to stage every room in your home to enjoy the benefits home staging can offer. Start with the living room, followed by the master bedroom, and the kitchen. You'll receive the most attention and the most value when it comes to your investment.
DIY. Are you handy or creative? Why not try your hand at staging? It may be an easy way to save time and money. Consider new rugs or window furnishings, maybe add a few mirrors or lamps. Find even more ideas by doing a simple "home staging" search on Pinterest.
Ask your Realtor® for help. According the to the National Association of Realtors, 35% of Realtors have offered to personally stage their client's home or have connected them to a home staging service. You may find a better value by using their services or using the company your Realtor recommends.
Alternatives to home staging
For those of you who are not convinced that home staging makes a difference in the home sales process, there are alternatives to consider. For example, you can:
Leaving everything in place. Whether you're a little biased toward your current home decor or you're just uninterested in putting forth effort for a short term change, leaving your home "as is" is perfectly fine. Prospective buyers are still able to walk through and see possibilities when it comes to interior design and use of home space.
Show your empty home. Maybe your next home was way too good to be true, you just needed to move everything in ASAP. It could be a shorter commute to work, much needed extra space, even a cross country move. All things considered, it would be helpful to have your bed, TV, and a couch or two with you. When you think about expenses that go along with moving, it makes even more sense to move everything at once versus a little bit at a time. If that's the case, there's nothing wrong with having a Realtor® show your empty home, especially if you're in a seller's market where homes are moving fast!
Virtual staging. Virtual staging is exactly what it sounds like: it's staging your vacant home through use of technology. What makes is a great option? It's less stressful on the seller, especially if they are not interested in having large furniture moved into and out of their home. As far as the prospective buyers go, it's more useful than seeing an empty home. While they still see a physically empty home when visiting in person, they at least have the technology at their fingertips to see the home's potential.
The value of home staging
In a 2018 Home Staging Resource (HSR) survey of over 4,200 homes, 68% of staged homes sold for at least 9% more than unstaged homes in their neighborhood. So if you're listing your home for $400,000, that 9% could be an extra $36,000 in your pocket.
You won't just make money, though. You could also make "time." According to a 2017 National Association of Realtors Profile of Home Staging report, 62% of sellers' agents say that staging a home decreases the amount of time a home spends on the market.
When you consider those results, you can say you get what you pay for when it comes to "staging investment."
Where to start
Are you interested in professional home staging, but are not sure where to start? We always recommend asking your Realtor® for recommendations. You can also search online home staging directories to find accredited home stagers who are licensed and insured. It's important to work with someone who is licensed and insured so that you have liability coverage in the event something (that doesn't belong to you) gets damaged. Last but not least, be sure to check your selected home stager's Google reviews and Better Business Bureau (BBB) profile. You can read recent customer reviews and be confident that the business you choose for home staging is highly rated and respected.