Should You Refinance for Home Improvement Projects?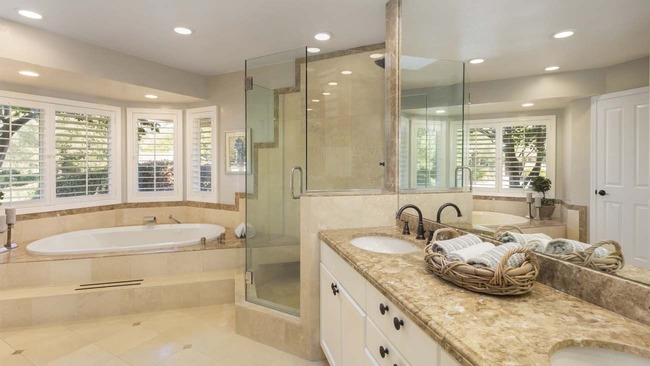 The longer you're in a home, the more you want to improve it. From minor repairs to significant upgrades, you'll be planning for these expenses for years to come. Just remember you have other payment options besides a credit card or savings account.
A cash-out refinance can help you turn your equity into cash. As home values continue to rise, many homeowners are choosing this process to remodel their kitchen, update a bathroom, or finish a basement. It's an easy way to re-invest some extra funds in your home — all while taking advantage of today's low rates.
But does a refinance for home improvement projects make sense for your situation? And what possible alternatives might you consider? Continue reading as we answer these questions.
Pros of refinancing for home improvements
Low borrowing costs
Millions of homeowners took advantage of record-low mortgage rates during the pandemic. These folks were able to lower their payment, shorten their term, and even pay off debt. Some homeowners ended up saving up to $1,000 a month using mortgage refinancing to one of these incredibly low rates!
Now, if you've been watching rates closely, you know they've inched higher over the last few months. But make no mistake about it: they're still near record lows, which means you can still land a lower rate. Your best bet is to schedule a free mortgage review with a salary-based mortgage consultant and see how much you could save with a cash-out refinance. 
Maintain your savings
Financial experts recommend having 3-6 months of living expenses saved in an emergency fund. With that in mind, the last thing you want to do is deplete your savings for home improvements. Using part of your home equity in a cash-out refinance gives you the freedom to keep your rainy-day fund while still increasing your property value.
No restrictions on how you use the funds
Say you receive $20,000 from a cash-out refinance. You look up home improvements with the best return on investment and decide on a fiberglass entrance for $10,000. But what should you do with the remaining $10,000?
Another advantage of a cash-out refinance is the flexibility you have with the proceeds. You don't have to worry about any restrictions, making it a good idea to determine how you'll use this money in advance. You might consider using leftover cash to pay off high-interest debt or build another savings account for emergency home repairs.
Cons of refinancing for home improvements
There will be closing costs
Think back to when you first bought your home and were responsible for closing costs. Unfortunately, since you'll be taking out a new loan in this scenario, you'll be on the hook for these costs once again. Take a few minutes to determine the breakeven point and ensure you have 2-5% of the loan amount in cash.
Risk of foreclosure
Opting for a cash-out refinance likely entails a higher monthly payment. Be honest with yourself and any co-borrower on the mortgage: can you handle it? If you crunch the numbers and feel uneasy about the added cost, you might want to hold off so you don't end up losing your home.
No guarantee of added value
Ultimately, the improvements you make with the extra cash should benefit you and your family. But who's to say whether a stranger will appreciate those updates the same way when the time comes to sell? Not every home update provides an ideal return on investment, even if you assume it does.
Other ways to finance home projects
You aren't limited to a cash-out refinance when paying for home improvements. Take home improvement loans, for example, which come in secured and unsecured forms. Personal loans are a popular choice as well, despite their often higher interest rates.
You may also come across an FHA 203k loan in your research. This home construction loan helps borrowers finance a home purchase and improvements with one loan. As with any other loan program, you'll need to meet certain criteria and have an eligible property.
The final option worth considering is a HELOC or home equity line of credit. This loan type works similarly to a credit card in that you have a revolving credit line. The more you rely on a HELOC, the less credit or funds you have available.
Keep in mind that a HELOC differs from a cash-out refinance. 
Home improvement grants
Don't limit yourself to the home improvement financing options mentioned above. You may qualify for at least one home improvement grant, such as the Home Investment Partnerships Program. Meanwhile, the Section 504 Home Repair Program is run by the U.S. Department of Agriculture (USDA) and assists low-income and elderly homeowners in need of repairs.
Not sure where to start with home improvement grants? The U.S. Department of Housing and Urban Development (HUD) has several helpful resources on its website. You can also check with your local HUD office for additional info. 
What's best for you?
The best way to finance home improvements is first to understand your specific goals and budget. From there, you can start exploring financing options such as a cash-out refinance. Do yourself a favor and only work with a lender who has your best interest in mind.