FHA 203k Home Renovation Loans Explained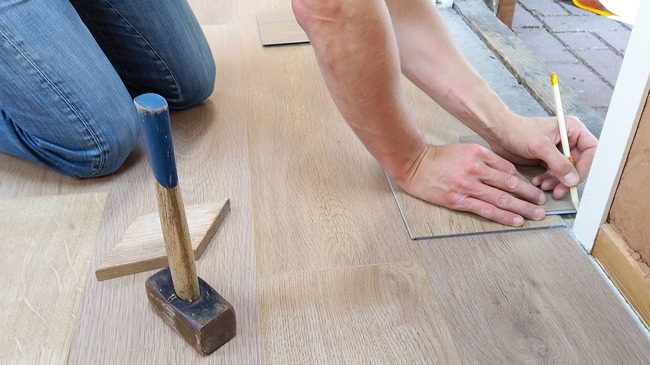 *This article is for educational purposes. American Financing does not offer 203k loans.*
Are you a fixer-upper fan who prefers to hire a professional for remodeling work? If DIY is not A-Ok in your book, then the FHA 203k home renovation loan may be an excellent option for your home financing.
But first, let's go over the loan requirements and program options.
What is a 203k loan?
An FHA 203k loan is a home construction loan. It was designed for people looking to finance both home improvements and a home purchase using only one loan. Simply put, you're able to borrow enough to cover the purchase price and a little extra to cover the necessary improvements. Because it's a government-backed loan that is guaranteed by the Federal Housing Authority (FHA), it's a loan that has easy qualifications.
Loan requirements
The most significant difference in qualifying for an FHA 203k mortgage rather than a traditional FHA mortgage is that you must be eligible based on the costs of your renovation, in addition to the purchase price. So if the home you're looking to purchase is going to cost you $200,000 and the upgrades are $25,000, you'll need to qualify for a $225,000 mortgage.
Additionally, you'll need to meet the same requirements as any other FHA loan:
Your credit score must be at least 620 or 640, depending on the lender*

Your total debt-to-income (DTI) ratio typically cannot exceed 43%.

You must have no late payments in the past 12 months

You need a down payment of 3.5% or more

You'll need to pay upfront mortgage insurance**

Your loan amount (including both the purchase and renovation costs) must be lower than the maximum loan limit for your area

You must be an owner-occupant of the property (investment properties are not eligible)
**You'll also need to pay monthly mortgage insurance if your down payment is less than 20% of the purchase price. Also, mortgage rates are somewhat higher for FHA 203k loans. Expect to receive a rate of about 0.75-1% higher than for a standard FHA loan.
You'll also need to meet the following "rehab" requirements:
The types of improvements that borrowers can make using a 203k home loan include:
structural alterations and reconstruction

modernization of the home's function

elimination of health and safety hazards

changes that improve appearance (decks, patios, new siding)

replacing plumbing; installing a well and/or septic system

adding or replacing roofing, gutters, and downspouts

adding or replacing floors and/or floor treatments

major landscape work and site improvements

enhancing accessibility for a disabled person

making energy conservation improvements
Standard vs. limited 203k home loans
The 203k mortgage has two options — the Standard and the Limited***. Essentially, the difference between the two options comes down to repair costs. The limited choice caps your repairs at $35,000 while the standard option has no limit (as long as the repairs and purchase price are within your county's FHA lending limits).
So if you're renovation is centered around new home additions, structural damage repair, or improvements that take longer than three months, you're likely looking at a standard 203k loan. If the projects are cosmetic and fall into a home improvement or minor replacement category (flooring, HVAC, roofs, septic system, etc.), you're likely going to use the limited option.
***The Limited 203k is formerly known as the FHA 203k Streamline.
203k refinance
Already a homeowner? This home loan can also work as a refinance option to provide extra cash for repairs and renovations. The types of repairs are much more limited but can include replacing or upgrading roofs, HVAC or appliances, non-structural home repairs, lead-based paint abatement, deck repair, and disability modifications.
Generally, the repair costs are added to the amount of the existing loan balance to determine the total new loan amount. However, the new loan amount can't exceed 110% of the future appraised value.
It's important to note that you cannot access cash via a 203k refinance. All funds go directly to the contractor. If you're interested in accessing cash, consider one of the many other loan programs that participate in a cash-out refinance.
How do I know if my property is eligible?
Your real estate agent can help you identify properties that are 203k loan eligible. Though generally speaking, qualifying homes include:
A one- to four-family house that has been completed for at least a year

An uninhabitable house that has been torn down, as long as some of the existing foundation is still in place

A house that you want to relocate to a new location (foundation)

The house cannot be an investment property or a co-op, but some condos are eligible
Loan process
You'll start on a familiar path when starting the 203k mortgage process. First, you'll meet with a 203k approved lender to obtain mortgage pre-approval. Once that is secure, you'll work with a real estate agent to locate an eligible property. Since the loan includes rehab costs, you must include a detailed list of repairs that will need to be made and the price for each repair. You'll need to seek bids from general contractors to understand cost estimates, and of course, choose one of them. That contractor will need to provide a final estimate to your lender.
Next comes the appraisal, which will reflect the future appraised home value. This is where you get back to somewhat of a "normal" mortgage process, as your loan moves into underwriting, conditional approval, and closing.
Once papers are signed, some of your borrowed funds move to escrow. Escrow is how your repair costs are paid, though, typically 50% of repair costs are issued to your contractor upfront. The rest is paid upon project completion.
Things to consider
You have to stay on track
You'll need to keep a close watch on your project(s) as you've committed to a six-month project deadline. Additionally, renovations must begin within 30 days of loan closing, so you'll need to be sure your contractor is ready to go (and all materials are received in time). Don't be afraid to ask for help from a 203k project coordinator or consultant.
You can't DIY
As stated earlier, this is not a loan designed for DIY'ers. If you want to install your flooring or make cosmetic alterations, you'll need to find a different finance option, like a cash-out refinance, home equity loan, or HELOC. Or, if your projects lean toward "green" or energy efficiency, you may want to consider a PACE (Property Assessed Clean Energy) loan.
Your home may be considered unlivable
Some renovations are so large (like structural changes or room additions), you'll need to live off-premise. Fear not. If the home is considered unlivable, the 203k loan can include a provision to provide borrowers with up to six months of temporary housing costs.
Learn: A quick guide to common home repair emergencies.
You'll be charged extra fees and reserves
The 203k rehab loan comes with additional fees and reserve requirements. They can total 10% - 25% of the cost of your rehab project, though, they can be added to your loan along with the repair costs. Fees can include: architectural fees, loan origination fees, 203k consultant fees, draw inspection fees, title update fees, and permit fees.
Ready to apply?
At this time, American Financing does not offer 203k home renovation loans, but we can discuss other financing options that may support your home improvements.
Otherwise, be sure to visit the HUD website for a list of approved 203k lenders.
*FHA loan requirements are subject to change. As a result of COVID-19, mortgage investors are unable to support as many loans, meaning underwriting guidelines for government loans are becoming more strict.