Tips for Buying a Home in Nashville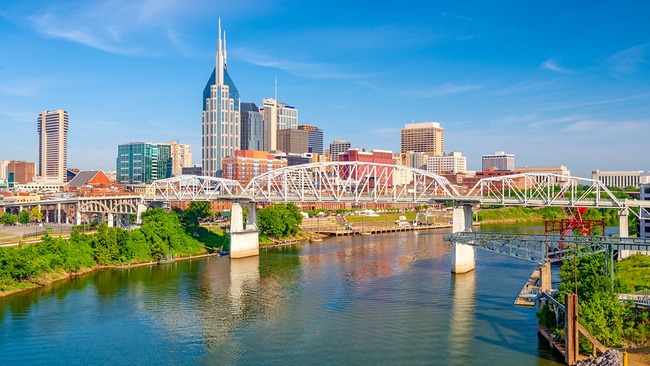 Homebuyers throughout the country are starting to think less about expensive coastal cities and more about cheaper locales. According to the Zillow Home Price Expectations Survey, Nashville figures to be one of the hottest markets in 2021.
Here's everything you need to know before buying a home in Nashville. 
Should you buy or rent in Nashville?
RENTCafe tells us that the average rent in Nashville is nearly $1,581. As with other major locales in the U.S., renters can choose from various apartments depending on their budget. The city's rent continues to trend upward.
So how does Nashville's housing market compare? Nashville's average home price is $400,000, whereas according to Zillow, "the typical value of U.S. homes is $269,039 as of January 2021."
There are numerous benefits of owning a home versus renting one. Homeownership allows you to build equity, enjoy a predictable monthly payment, and take advantage of possible tax deductions. And trust us, there's no better feeling than knowing that you're done writing rent checks.
Do yourself a favor and see how much house you can afford. Then continue reading as we discuss what it's like to live in the Nashville area. We'll also offer some tips for making a competitive offer on a home.
Is it the right move for you?
Nashville and country music go hand in hand. But the city's music scene isn't only limited to this genre. Nashville earned its "Music City" nickname for hosting both budding and longtime stars of gospel music and classic rock, among other genres.
Aside from the countless musical venues, Nashville is also known for its pleasant climate. Outdoor enthusiasts will appreciate the mild winters and not-too-hot summers. It's wont be long until you're exploring the Great Smoky Mountains National Park and all the other incredible green space Nashville has to offer!
There's something for everyone in this city. Nashville is home to many sports teams, universities, restaurants, festivals, and cultural facilities. Plus, those looking to start a family will have their choice of established workplaces and safe, kid-friendly neighborhoods.
Get your financing squared away
Whether you're purchasing your first, second, or forever home in Nashville, it's critical to have your financial ducks in a row. This means researching possible loan programs and understanding the necessary documentation to buy a home. Rest assured that there are options in place to help you buy a home sooner.
If you're worried about not qualifying for a mortgage, take steps toward improving your financial profile. One of the ways you can do this is by creating a monthly budget and sticking to it. Then put the money you save each month toward your down payment fund.
But what if you still can't come up with 20% for your down payment even after adjusting your spending habits? The good news is that you no longer need a substantial down payment to obtain a mortgage. See how much you're realistically able to save on your own, and then ask your lender about down payment assistance programs.
Something else to consider is your credit score. A higher credit score translates to a lower interest rate, enabling you to spend less money on interest over the course of the loan. You can raise your score by paying your bills on time, reducing debt balances, and disputing errors on your credit report.
Hire an experienced team
There's more to buying a home than completing a mortgage application. Most homebuying journeys entail working with a real estate agent. In a competitive market such as Nashville, it's imperative to find a realtor who has your best interest in mind.
Remember that you'll be dealing with other professionals along the way. For example, a home inspector's job is to assess the functionality, safety, and potential damage of a residence. Borrowers will also be expected to coordinate their closing with a title company.  
Be flexible with the location
Niche ranks Nolensville, Shackle Island, and Millersville as the top three places to buy a house in the Nashville area. Brentwood and Franklin, meanwhile, are the best places to live in the city. Neighboring Glencliff and Woodbine receive recognition for being Nashville's most diverse locales.
Ultimately, you have to decide on your ideal location in Nashville. Perhaps it's the city itself or a surrounding suburb. In any case, come up with a shortlist of areas and neighborhoods.
Turn to our national mortgage company
At American Financing, we're here to help you buy a fantastic home in Nashville. Give us a call at (800) 910-4055 or schedule an appointment online.