COVID-19: Steps to Take If You Can't Make Your Mortgage Payments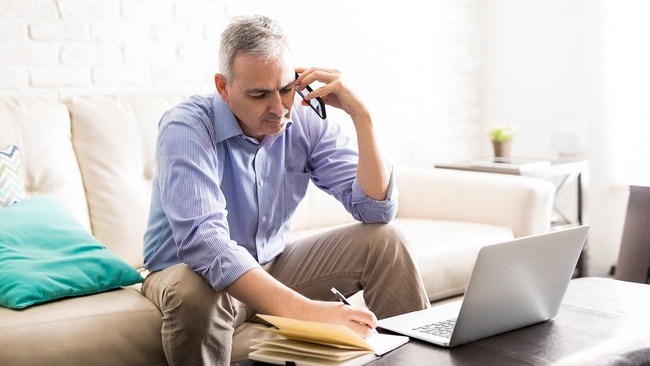 In a matter of weeks, the U.S. economy went from bustling to combustible. Unemployment claims topped 3 million at the time of this writing and will continue to increase at an alarming rate. The layoffs and furloughs have many families wondering how they're going to stay current with their mortgages, let alone when things will return to normal.
Maybe you were recently let go from your employer because of COVID-19. Perhaps you still have your job but are concerned you may not have it for much longer. In any case, it's important to have a plan for how you're going to keep up with your mortgage.
Here's what you should do if you're unable to make your mortgage payments during this pandemic.
Contact your servicer
Let's preface this with a reminder that there's a difference between your loan originator and servicer. Before doing anything else, figure out the company that you send your check to every month. Then give them a call and explain your situation. The good news is that there are assistance programs in place for borrowers impacted by COVID-19.
Take federal mortgage relief programs, for example. On March 18, President Trump ordered the Department of Housing and Urban Development (HUD) to suspend foreclosures for the next 60 days. Forbes emphasizes the mortgage postponement only applies to borrowers with loans insured by the Federal Housing Administration (FHA).
Then there's the response of the Federal Housing Finance Agency (FHFA). If your loan is owned by Fannie Mae or Freddie Mac, you may be granted payment forbearance for up to 12 months. We also encourage homeowners to look into state and private mortgage relief.
Keep in mind that the sooner you contact your loan servicer, the sooner you can find a solution. The last thing you want to do is wait until your mortgage payment is due or past due to seek help.
Find another source of income
Once you get your mortgage squared away, you're ready to start making money again. We get it — jobs are at a premium these days and likely will be for a while. But don't let that stop you from submitting applications and reaching out to former colleagues.
Was your industry one of the hardest hit by the coronavirus? Then consider doing something different for the time being. There are a number of industries in need of store associates, system operators, construction workers, delivery drivers, and yes, health care specialists.
The other option is collecting unemployment. With the passing of the coronavirus relief bill, jobless workers will now receive an extra $600 a week in unemployment benefits. According to CNBC, the bill "may allow some Americans who lose their jobs to collect unemployment checks that are bigger than their actual paychecks."
Refinance your mortgage
It's certainly not easy to stay positive during this pandemic. The one silver lining, though, might be interest rates. Despite last week's craziness with mortgage rates, they remain incredibly low.
What does this mean for homeowners? Well, depending on your current rate, you could be looking at up to $1,000 in monthly savings with a refinance. You may even qualify for a cash-out refinance, which allows you to borrow up to 80% of your home's equity and use the cash to pay off debt and reduce your expenses. 
There's a lot to like about a refinance, including the possibility of postponing two mortgage payments. But don't assume that refinancing will get you out of financial trouble. Make sure you understand the costs of refinancing a mortgage before talking to a lender. 
Be ready to pay back what you owe
Mortgage forbearance
Maybe you feel that mortgage forbearance is the best route to take. These programs give homeowners the chance to resolve their financial hardships while staying in their homes. Just know that forbearance is not loan forgiveness and that you must repay what you owe.
This is why it's important to replace your lost income as best as possible. Once your forbearance period ends, you will either have to pay back the full sum at once or increase your monthly payment altogether. You'll also pay more interest because interest accrues if you're not making payments.
Mortgage deferment
On the other hand, maybe you have the opportunity to defer payments. In this case, your payments are paused, but they are not accruing interest, and they are not immediately due after the deferment period ends. Instead, those payments are added to the end of your loan term.
Keep a good attitude
Seriously. We're in uncharted territory at the moment and even the experts aren't sure what's next. So do the best you can with the above steps and leave it at that.
This is an opportunity to spend more time with your family (at home) and help others in greater need. We'll get through this together.