Natural Disasters: Tips for Financial Preparedness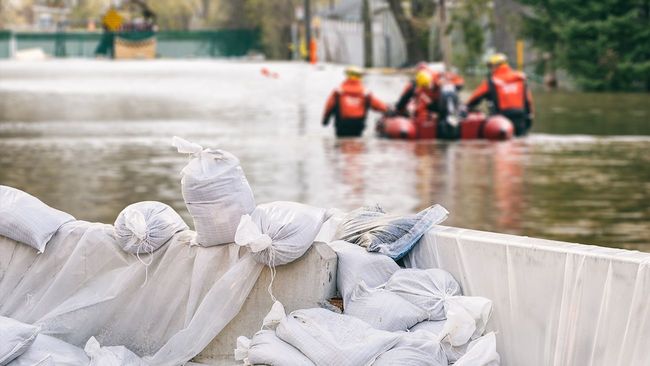 Importance of disaster preparedness
Most instances of natural disasters occur unexpectedly and catch people off guard. If you only had ten minutes to evacuate your home, would you be ready? What's most important to take versus leaving behind? Take a look at this 10-Minute Challenge the Insurance Information Institute prepared, and see how your plan compares.
Would you be ready in ten minutes? Regardless of your answer, plan, and practice. Pre-planning can save lives, as well as prevent extensive property damage. Some key takeaways to consider immediately:
Items you'll want readily available
Consider keeping these contact forms as hard copies and digital files:
Wallet-sized communications plan
Financial first aid kit (checklist and forms)
Get yourself tech-ready (apps that keep you in the know)
Take home inventory for future insurance purposes
Taking a home inventory isn't hard, it's just time-consuming. It's also crucial. A good inventory will speed up the insurance claims process and ensure your insurance takes care of everything you lost. (You do, of course, need the coverage.)
If it's digital, upload it to a server somewhere. Upload videos to YouTube or Vimeo (marked as private). Upload images to Flickr, Google Drive, synced with Dropbox, or email them to yourself.
Purchase the appropriate insurance
When purchasing a home, ensure that you are covered against natural disasters. This is significant in preventing risk to one of your greatest investments. While many things are covered under homeowners insurance, you may be surprised to learn that many things are not included, such as flood and earthquake damage.
Let's retake a look at flooding. While your homeowners insurance may pay for water damage due to broken pipes, flood insurance pays for damages caused by the rising of a body of water that covers the usually dry land. According to the Insurance Information Institute, you should consider buying a flood insurance policy if your house could be flooded by melting snow, an overflowing creek, or pond or water running down a steep hill. Don't wait for a flood season or hurricane warning on the evening news to buy a policy — there is a 30-day waiting period before the coverage takes effect.
Where you'll experience natural disasters
According to the Federal Emergency Management Agency (FEMA), floods are the primary source of natural disasters in the country. The problem is, only about 13% of homeowners have a Flood insurance policy. And, nearly 20% of flood insurance claims come from low to moderate risk areas. It's always in your best interest to call your county planning department to find out if your home is located in a flash-flood-prone area and to discuss options with your insurance agent.
Just remember: natural disasters go beyond flooding, and they often vary by region. If you live in the West, you're likely in an area susceptible to wildfires or earthquakes. Of course, we also see many tornadoes in the U.S. Did you know the United States gets more tornadoes, by far than any other place on the planet? And it's not just in Tornado Alley either. Florida and Colorado also see a fair share of tornadoes. Regardless of the type of natural disaster, all leave us with little to no preparation time, which is why it's essential to spend time planning for them.
Safety tips for natural disasters
Use these checklists to ensure safety during a natural disaster.
Winter weather safety checklist
Natural disaster communications
If you're separated from family during a natural disaster evacuation and are unable to reach one another by phone, be sure everyone knows to register online via the American Red Cross' Safe and Well list. This is especially helpful for the family who is not nearby and may not be affected by the disaster. They can learn your safety status if they are unable to find you. Of course, utilizing social media is another effective tool to keep in communication. But keep backup options in mind, in case you do not have access to your cell phone or the internet. If that's the case, Contact Loved Ones uses a toll-free phone system to get you connected to family. 
Get your finances back in order
Natural disasters can cause devastating financial loss. If you plan to file an insurance claim, call your provider to report the damages as soon as you can. The insurance company will send an adjuster out to evaluate your damage. You may also want to look into state or Federal aid.
"It's important to not wait," says Gladys Coward, interim financial wellness expert at GreenPath, a nonprofit credit counseling agency. "Register for assistance as soon as possible."
Know that proof of homeownership may be required to receive Federal disaster assistance. If you need a copy of your mortgage or deed of trust, contact your lending institution. NOTE: You must continue to pay your mortgage even if your home is destroyed or unlivable due to a disaster. Failure to pay your mortgage could put your loan in default, which could trigger a foreclosure.
Let your mortgage servicer know if you have problems paying your bill. If you don't have a monthly mortgage statement or coupon book with you, search the Mortgage Electronic Registration Systems (MERS) or call them toll-free at (888) 679-6377 to find the company that services your mortgage.
Know your mortgage payment options after a natural disaster
A current homeowner with a mortgage
Forbearance
A natural disaster forces people to go into survival mode. Your top priority becomes finding food and water for your family, while also ensuring their safety. The last thing on your mind is figuring out how you're going to pay your mortgage.
This is where a mortgage forbearance comes into play. Contact your lender immediately after the disaster, explain what's going on, and ask what forbearance options may be available. Forbearance allows you to address short-term hardships by giving you sufficient time to get back on your feet and eventually bring your mortgage current.
Keep in mind that forbearance is not loan forgiveness. Depending on your situation, your mortgage company may agree to either temporarily suspend or reduce your monthly mortgage payments. Forbearance could ultimately be what keeps you from losing your home following a natural disaster.
Soon-to-be homeowner about to close on a mortgage
What happens if your house is destroyed
Believe it or not, you still have to pay your mortgage if you are financially able to do so. In the meantime, file a claim with your insurance company and apply for assistance from government organizations. It's critical to be proactive and do everything in your power to avoid foreclosure after a natural disaster.
Bookmark FEMA and these natural disaster recovery resources
Natural disasters can be catastrophic in so many ways, and the recovery is never quick or easy. It's important to know — should you experience such an unfortunate event — that you are not alone. Follow the above safety tips for natural disasters. And, count on community resources and businesses to be available for support — especially when you choose to do business with a family owned and operated company. At American Financing, we love investing in people and communities. We're here to help you as best we can.