The Most Popular Types of Loans for First-time Homebuyers: Which Should You Get?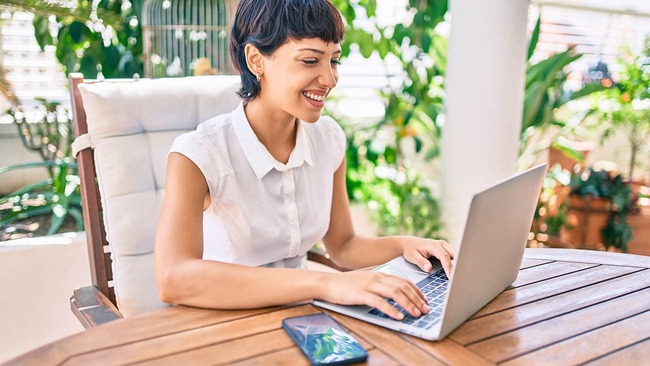 Published June 23, 2022
Becoming a homeowner is a big milestone, and homebuyers can reach that goal through certain types of loans for first-time homebuyers. Many types of first-time home loans can help to reduce the overall cost of homeownership. These mortgages typically offer lower down payments and some financing assistance for a fixer-upper property.
Even with assistance, becoming a homeowner can feel like a financially intimidating process. The best type of loan for first-time homebuyers ought to smooth the way for you. Before you secure your loan, streamline your process in the following ways:
Consider your long-term location goals

Make sure you're financially prepared

Calculate the amount of money you'll want to set aside for a down payment and closing costs

Create a list of housing must-haves and nice-to-haves
The most popular types of loans for first-time homebuyers will meet you halfway. Still, we understand that having many options can leave some homebuyers feeling overwhelmed. If you're thinking about or ready to start the process of buying a first home, get in touch. Our mortgage consultants will review your finances and answer any questions you have about the best type of loan for first-time homebuyers.
When is the right time to get a home loan?
Carefully consider the "when and where" before you invest in your first home loan. You'll be responsible for one of your biggest debts once you get a mortgage. Before making any final decisions about types of loans for first-time homebuyers, ask yourself:
Is my income stable?

Do I want to stay in one area for a while?

Am I prepared to take on a new debt?

How extensive is my emergency fund?

Can I access enough money for the down payment?

Have I thoroughly calculated how much I can spend on a home?
You shouldn't rush your decision-making to get the best type of loan for first-time homebuyers. Trying to take shortcuts or ignore relevant realities will only complicate your finances later.
What are the popular types of first-time home loans?
There are quite a few different types of loans for first-time homebuyers, whether you speak with a lender about a specialized loan or a traditional, government-backed loan. The common types of loans include:
30-year fixed-rate mortgage: Many first-time homebuyers lean toward 30-year fixed mortgages. You'll have more time to pay off the loan. The longer repayment period also means that you'll make lower monthly payments than for a 15- or 20-year mortgage. A 30-year fixed loan also provides greater flexibility. Some lenders help you save money by letting you make additional payments each month toward the principal.
30-year ARM mortgage: A lender may recommend a 5/1, 7/1, or 10/1 ARM when they mention 30-year ARM mortgages. These mortgages can be reliable types of loans for first-time homebuyers for a few reasons. A 5/1 ARM maintains its interest rate for 60 months and is cheaper than 30-year fixed mortgages. You also might be able to refinance or sell it before the rate increases. A 7/1 ARM shares these features, but it often has a slightly higher interest rate. Its initial rate also doesn't adjust until after seven years. If you get a 10/1 ARM, you'll have an even longer fixed-rate period. Its biggest benefit is the lower initial interest rate during the fixed period.
FHA loan: This can be the best type of loan for first-time homebuyers with low credit scores. FHA mortgages are among the most popular types of loans for first-time homebuyers because you can buy a home with a minimum credit score of 580. Some prospective borrowers can also put as little as 3.5% down.
VA loan: Active-duty members, veterans, and eligible family members can apply for VA-backed loans. VA loans have lower interest rates than other loan types. You also won't need to put forth a down payment. You can roll a funding fee into your monthly loan costs or see if you're eligible for an exemption.
USDA loan: If you live in certain rural homes, the U.S. Department of Agriculture may guarantee loans with 100% financing. This is one of the types of loans for first-time homebuyers that relies on your location. Check to see which homes near you are marked as in a USDA-eligible area. You'll likely need to pay fees for a USDA loan.
Pros and cons of fixed-rate versus ARM loans
Whether you get a fixed- or adjustable-rate loan will depend on several factors. These factors can range from your personal finances to the longevity of where you want to live. The benefits and drawbacks of these types of mortgages for first-time homebuyers also influence decisions.
Fixed-rate pros
You'll keep a lower rate even if mortgage rates increase

Easier-to-budget with predictable payments
Fixed-rate cons
Less monthly flexibility to pursue other financial goals

These types of loans for first-time homebuyers often demand higher closing costs
ARM pros
Typically lower initial rates than fixed-rate loans

You can benefit from the lower rate if you relocate before the initial period ends
ARM cons
Your interest rate can and will likely fluctuate throughout the life of the loan

You may need to pay a prepayment penalty if you refinance or sell
For your own peace of mind, lay out the pros and cons of any loan for first-time homebuyers. Putting these factors down on paper alongside your finances can provide you and your mortgage specialist with a fuller picture.
More guidance for first-time homebuyers
At American Financing, we'll walk prospective homeowners through how certain types of loans for first-time homebuyers offer more benefits than others. Our mortgage consultants are familiar with numerous loan options. We can help to customize mortgages to suit your needs. If you schedule a 30-minute meeting with us, we can introduce you to any of these or other first-time homebuyer programs. Connect with us today by calling (800) 910-4055.