Mortgage Deferment vs. Forbearance: Which Option is Right for You?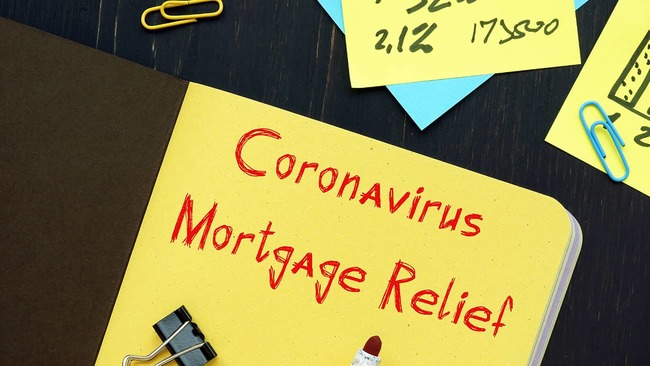 It didn't take long for the coronavirus (COVID-19) to send Americans into a financial tailspin. According to various reports, one in five adults are out of work. The uncertainty of the pandemic has many homeowners wondering how they're going to make their mortgage payments.
A quick search of mortgage relief programs typically brings up two options: deferment and forbearance. So which route should you take if you find yourself unable to make an upcoming payment? And are borrowers better off choosing one over the other?
Continue reading as we take a closer look at mortgage forbearance and deferment. 
What is mortgage forbearance?
Let's start with the program getting the most attention. Mortgage forbearance gives borrowers the chance to pause their payments for a set period of time. What's more, those who request forbearance can remain in their home and not have to worry about foreclosure.
It should come as no surprise that over 3 million loans are already in forbearance. The recently passed CARES Act allows borrowers with a federally backed mortgage to request forbearance for up to 12 months. Yet an alarming number of homeowners either don't understand how repayment works or weren't provided all repayment options by their lender.
Determine who backs your loan
This is a crucial first step in moving forward with forbearance. Keep in mind, the majority of home loans in the U.S. are owned by Freddie Mac, Fannie Mae, and Ginny Mae. These government-backed loans include FHA, VA, and USDA mortgages.
But how do you find out who owns your loan? We suggest checking with your servicer, as the last thing you want to do is assume that your mortgage falls in this category. Policies for borrowers differ based on whether their loan is backed by Fannie, Freddie, or Ginnie as opposed to a private investor.
Once you know who services your loan, you can explore repayment plans.
Getting current with your loan
Under the CARES Act, borrowers with government-backed home loans can choose from the following repayment options.
Full repayment in one lump sum - This may be the best way to go if you're able to replace your income soon after requesting forbearance. That said, you do not have to make up your missed payments all at once if you have a government-backed mortgage. The Federal Housing Finance Agency just confirmed this to be the case after weeks of confusion among lenders and borrowers.

Gradual catch-up - Borrowers who agree to this plan must pay their regular monthly payments plus an additional amount once their forbearance period expires.

Loan modification - Perhaps you won't have the ability to immediately put extra funds toward your mortgage, let alone a lump sum payment. A loan modification allows you to change your loan term or lower your interest rate, reducing your payment amount without penalty.

Loan deferment - Though we'll discuss this in greater detail, it's worth mentioning that loan deferment involves adding missed payments to the end of the loan term. Deferral could be an ideal solution for those who need to pause payments but would rather not accrue additional interest on their loan during forbearance.

Mortgage refinance - Say things are stable at work but you could still use some extra money in your pocket every month. With a mortgage refinance, borrowers can benefit from today's incredibly low rates, potentially saving up to $1,000 a month. We should note that homeowners who opt for deferment or forbearance may not be able to refinance for a year.
Is mortgage forbearance a good idea?
It ultimately depends on your situation. If you're furloughed at the moment but see yourself getting a regular paycheck again soon, forbearance may not do you much good. In fact, many financial experts advise using this mortgage relief option as a last resort.
So do everything in your power to continue making your mortgage payments. Apply for unemployment, work in a different industry for the time being, eliminate unnecessary expenses — whatever it takes. However, it's comforting to know that forbearance is available if you need it.   
Does mortgage forbearance hurt your credit?
A lot of borrowers are reluctant to pursue forbearance over concerns about what it may do to their credit. Thankfully, it won't come up as a negative activity on your credit report. Just remember to communicate with your lender about forbearance.
You're certain to see your score plummet if you simply stop making payments altogether. 
What is mortgage deferment?
Think of mortgage deferment as temporarily freezing your payments and adding them to the end of your term. Part of what makes deferral an attractive option for borrowers is that interest does not accrue during this time. Best of all, you resume your regularly scheduled payment once the period ends.
How long can you be in deferment?
Similar to forbearance, borrowers can be in deferment for up to a year. But don't think of this as a payment vacation. If you can somehow continue to make your monthly mortgage payment, do it.
Is deferment better than forbearance?
Technically, yes. Deferment offers greater flexibility because you receive immediate mortgage relief and aren't required to repay your missed payments until the end of your loan. Forbearance, on the other hand, will be more costly once your payments resume.   
Does it hurt your credit?
Deferring your mortgage payments won't negatively impact your credit. Again, though, it's important to get the green light from your lender before pausing your payments. Borrowers who fail to do this are likely to take a credit hit and face the possibility of foreclosure.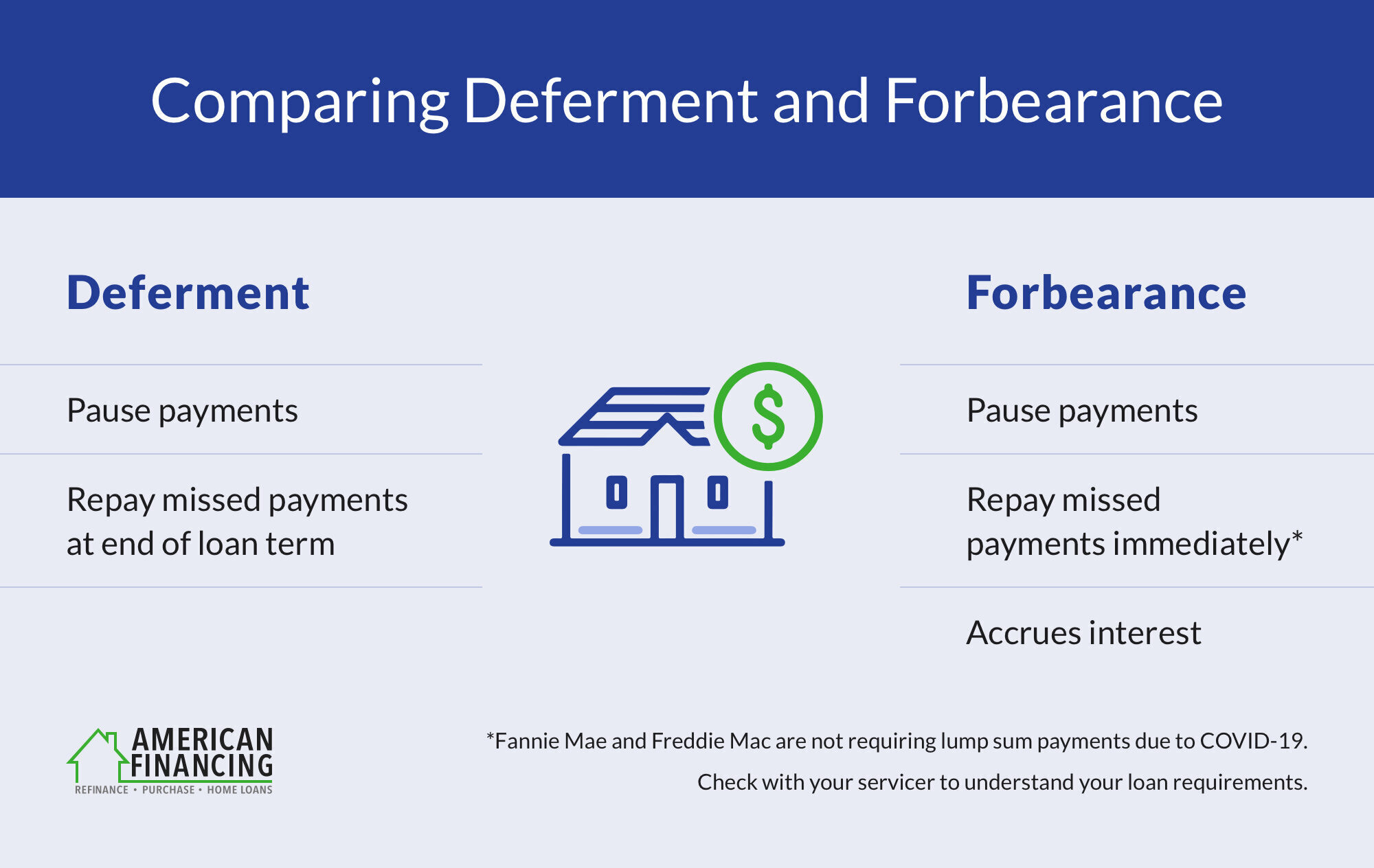 The bottom line
The biggest takeaway is that rules around forbearance and deferment are constantly changing. While mortgage relief programs are intended to provide much-needed assistance, not all of them are the same. You can start by reaching out to your lender and having them identify the right solution for your needs.