First-Time Homebuyer Requirements You Need to Know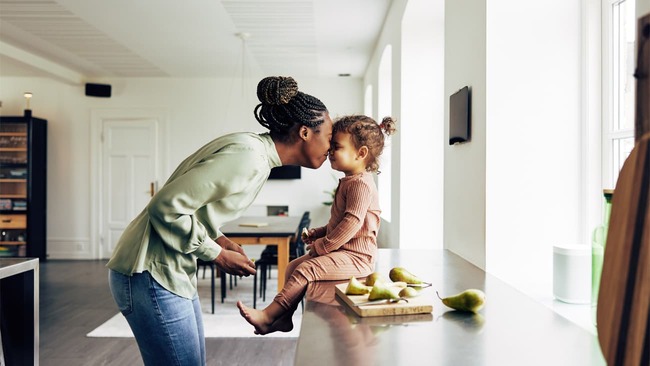 Published May 19, 2022
Buying your first home is both daunting and exciting. Anxiety and intimidation often stem from a fear of the unknown. For example, you might be wondering which first-time homebuyer loan qualifications you'll need to meet. Will you be approved for a mortgage? The good news is that you can overcome much of this anxiety by simply educating yourself more about the home loan experience. Here's what you should know about first-time homebuyer requirements.
Who qualifies as a first-time homebuyer?
There are a few perks available to you when you buy your first home, but what exactly are first-time homebuyer requirements? Generally, you are considered a first-time homebuyer if you have not owned a home within the last three years. For a married couple, you are jointly considered to be first-time homebuyers if one of you has not been a homeowner for the last three years. Be aware that a home is classified as any type of real estate residence, including a house, a condo, a duplex, or a townhome.
What are the benefits of being a first-time homebuyer?
Being a homeowner comes with exceptional benefits, such as greater stability in your budget if you choose a fixed-rate loan program. You may enjoy property value appreciation, tax deductions, and other perks as well. When you are a first-time homebuyer, you can take advantage of a few additional benefits before you even sign the closing papers.
For example, if you meet the first-time homebuyer requirements, you may qualify for special down payment assistance programs. Depending on your location and your qualifications, you may be able to take advantage of forgivable loans or grants to cover your loan's closing costs. There are also some low-down-payment and no-down-payment mortgage loan options that are available to select buyers.
Whether you take advantage of one of these benefits or string multiple benefits together, you may be able to save thousands of dollars on the purchase of your first home. The specific benefits and perks available to you may vary based on your location and your specific first-time homebuyer loan qualifications. You will need to do your research to find all of the benefits available to you, but the effort will be well-rewarded. If you're not sure where to start, we're happy to help find first-time homebuyer programs in your area.
What are the mortgage requirements for first-time homebuyers?
Generally, the first-time homebuyer requirements for a mortgage are the same as those for an established homeowner. The most significant requirements have to do with your credit scores, your liquidity, your employment, and your debt-to-income ratio. Specific credit score requirements vary slightly by loan program. However, you will receive the best rate available with an excellent credit score, which is classified as 780 or higher. You will likely struggle to get approved if your credit score is below 620 or if you have a recent bankruptcy on your credit report.
Liquidity means your available cash assets. You will need enough cash on hand to cover the down payment, the closing costs, and the cash reserve. The reserve usually equals two to three months of your new mortgage payment. This amount will not be collected, but the lender needs to see that it is available in your bank account.
What are other first-time homebuyer requirements? Your employment status will also be reviewed, as this gives the lender some level of comfort that you will continue to receive regular paychecks. This verified amount of income and all other recurring streams of income may be considered for your debt-to-income ratio. The debts will generally be the minimum monthly payments on your credit report, but expenses like child support, alimony, and others may also be included. 
Your new mortgage payment will also be taken into account. The debt-to-income ratio is calculated by dividing your monthly debts by your monthly income. The specific ratio requirement may vary slightly. Generally, however, it is a good idea to keep the debt-to-income ratio below 41% to 44%.
First-Time Homebuyer Qualifications for Government Programs
There are a number of government-sponsored programs designed to ease the home purchase process. Each agency has its own set of qualifications and requirements. 
FHA First-Time Homebuyer Requirements: The FHA requires a minimum credit score of 580 and a debt-to-income ratio of less than 43%. There are also loan limit requirements and a down payment requirement of at least 3.5%.
VA First-Time Homebuyer Requirements: The VA does not establish a minimum credit requirement. However, veterans will need to prove their eligibility by obtaining a Certificate of Eligibility from the Department of Veteran Affairs.
USDA First-Time Homebuyer Loan Requirements: USDA applicants should have a credit score of at least 640. The property and land itself will also need to meet certain qualifications.
Popular home financing strategies
Now that you know more about the first-time homebuyer requirements, you should take a moment to explore the many loan program options. The most popular type of loan for a first-time homebuyer is a 30-year fixed-rate loan. This loan option usually gives you the lowest mortgage payment available, and it gives you the stability that comes from having a fixed interest rate.
However, some buyers prefer a 15-year fixed-rate loan. This option will help you to pay off your loan in half the time, and it can significantly reduce your interest charges. An adjustable-rate mortgage is another popular option. It will often have a lower starting rate than a fixed-rate loan. This means that your starting mortgage payment may be lower. Keep in mind that the rate and the mortgage payment will adjust at the end of the fixed-rate period. In some cases, it could adjust higher than what it would have been if you had chosen a fixed-rate loan upfront.
State resources for first-time homebuyers
There is an extensive range of programs available for first-time homebuyers across the country, but these programs vary by location. Residents in California can find great resources offered through the California Housing Finance Agency. In Colorado, the Colorado Housing and Finance Authority offers both down payment assistance grants and second mortgage loans. In New York, the HomeFirst Down Payment Assistance Program may offer you up to $100,000 in funds toward the purchase of your first house. Texas residents may qualify for down payments and special purchase programs through the Texas State Affordable Housing Program.
Learn more today
While buying your first home can seem stressful, there are plenty of resources available to help you with various aspects of the experience. After you get familiar with first-time homebuyer requirements, take time today to learn more about the many loans, grants and assistance programs available based on your first-time homebuyer requirements, your location and your needs.