FHA Home Loan Requirements and Limits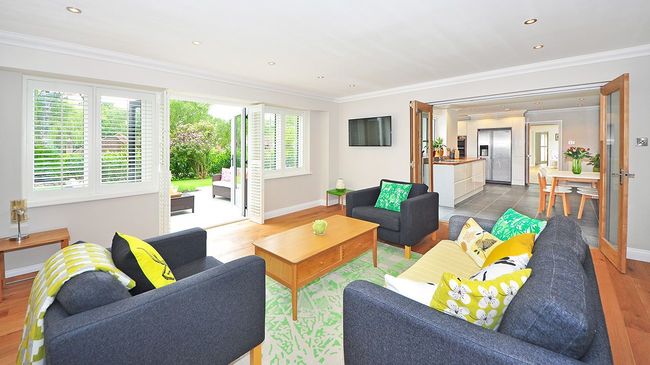 The Federal Housing Administration (FHA) has been providing loans for home buyers since 1939 and is the largest insurer of mortgages in the world. FHA loans are a popular choice for many home buyers because they are typically easier to qualify for and offer less risk than other mortgages. They are also backed by the U.S. government so if a borrower defaults, the Federal Housing Administration will pay-off the remaining loan balance and assume ownership of the home.
FHA mortgages are a great option for many interested home buyers but there are certain requirements and limits involved. Learn what they are and how to navigate this borrower friendly loan option.
FHA Requirements
Single family homes, manufactured homes, townhouses, and condos

A minimum credit score of 560 or higher

Upfront mortgage insurance premium

Refinance up to 97.75% of your home's value
Primary residence
Most loans that are not backed by the federal government typically require a significantly higher down payment. For most borrowers, the Federal Housing Administration only requires 3.5% of the purchase price of the home as down payment as long as it's your primary residence.
Eligible Properties
Detached or semi-detached homes, manufactured homes, townhouses, and condos are eligible properties for the FHA program.
Credit Score
Your credit score is one of the important variables that will determine if you're ready to buy a home in the eyes of a lender. FHA loans have the lowest credit score requirements. All other loan types have at least a credit score condition of 600 or higher. The chart below provides a breakdown by loan type and gives you an idea of the credit score requirements to buy a home.
FHA Loan 560+ credit score

VA Loan 600+ credit score

USDA Loan 600+ credit score

Conventional Loan 620+ credit score

Jumbo 680+ credit score
(The chart above is intended to be a starting point only as there are many factors that go into being approved for a mortgage. Contact an American Financing salary-based mortgage consultant to help you compare options and loan programs for your specific situation.)
Mortgage Insurance
It's important to note that although FHA loans are backed by the a federal agency, they do still require two types of mortgage insurance.
Upfront premium: 1.75% of the loan amount that is paid when borrowers receive the loan and it can be rolled into the financed loan amount.

Annual premium: .45% to .85% of the loan amount. Depends on the length of the loan, the loan amount and the initial loan-to-value ratio. This premium amount is divided by 12 and paid monthly.
The flexible down payment and credit score requirements of an FHA mortgage call for these insurance premiums to offset loan payment defaults and are common among other loan types. Depending on your future financial situation, you can refinance into a better loan or pay down your loan-to-value to 80% to remove your mortgage insurance premium down the road.
(Contact an American Financing salary-based mortgage consultant to discuss mortgage insurance and how it is structured into your specific loan.)
Refinance
Many homeowners look into refinancing their current loan to get a better interest rate, lower monthly payments, and get easy access to cash. While an FHA streamline refinance can help with the bulk of those needs, it can't provide homeowners with cash back. An FHA streamline refinance can let you refinance up 97.75% of your primary home's value, provide a better rate, lower monthly mortgage payments, and doesn't require an appraisal if you already have an FHA loan to begin with.
FHA Limits
The Federal Housing Administration has updated its new schedule of loan limits for 2018, increasing limit ceilings within most areas in the U.S. The new FHA limits for 2018 range from $294,515 up to $679,650. Check the U.S. Department of Housing and Urban Development (HUD) website to see what are the FHA limits for your specific area.
What borrowers should know
If you're having trouble with the 3.5% down payment requirement, you can use money gifted from a family member to supplement what you have saved for the down payment. In fact, gifted money can be up to 100% of your down payment so you don't need necessarily have anything saved to put down. Something else to keep in mind is that sellers can offer to help pay up to 6% of the purchase price towards closing costs to help the buyer. They can not however pay any portion of the actual down payment.
In some cases, there are down payment assistance programs that home buyers are simply unaware of. Check out county, state, and the federal government websites for these home buying programs. While the HUD lists these programs, a quick Google search can provide even more specific and updated information.
FHA loans appeal to home buyers with a lower credit rating or for those that do not have as much in savings for a large down payment, but what really makes this loan option stand out is it's versatility to first-time home buyers. The vast majority of first-time home buyers go FHA because of the painless qualifying guidelines and low down payments. Contact American Financing to learn more about FHA loans or your individual loan options.