Lower Your Down Payment on a New Home with PMI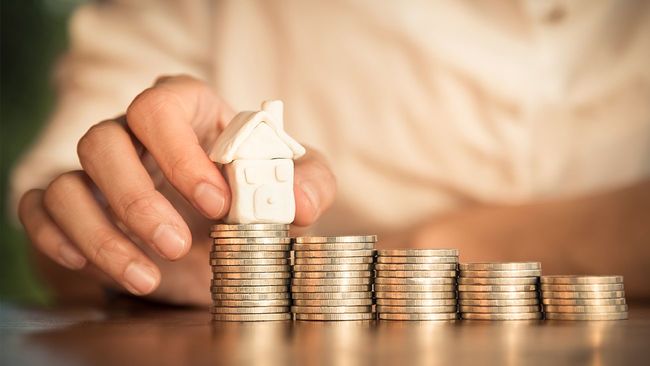 Buying your first home is an exciting time in life. Well, until you consider how much a down payment costs. Fear not, homebuyer. Lower down payment mortgages are available. If you'd rather conserve your savings and put less money down, there are programs that can make it happen.
They just may require you have private mortgage insurance (PMI).
What is PMI?
PMI is usually required if you finance your home with a conventional loan, but put less than 20% down. It's arranged by your lender and provided by a private insurance company. Its purpose: it acts as an insurance policy, so your lender is reimbursed if your loan goes into default.
How much is PMI?
The cost of PMI is based on your loan amount, your credit, and your home value. Most mortgage insurance premiums cost between 0.5% and 1.5% of the original amount of a mortgage loan per year. That means if $150,000 was borrowed and the annual premiums cost 1%, the borrower would have to pay $1,500 each year ($125 per month) in mortgage insurance (source: Value Penguin).
Keep in mind; some borrowers pay for PMI with a one-time up-front premium paid at closing. However, it's more common to pay for it via a monthly premium.
Is PMI worth it?
Believe it or not, PMI is not always a bad thing.
Its benefit — it can allow you to choose from a wider price range of homes. How? Lenders are generally willing to accept a lower down payment (than the standard 20%) if the lender obtains mortgage insurance. You can not only get the home you deserve, but you can conserve your savings and increase your income tax deductions. The bottom line: private mortgage insurance can make homeownership possible.
Take Carrie's story for example. Her family relocated to Denver and was shocked by the cost of housing. Through conversations with a dedicated mortgage consultant, Carrie chose a 30-year conventional loan with PMI to finance her $360,000 mortgage. It meant they'd pay $150 in mortgage insurance each month, but it was easier than coming up with tens of thousands of dollars more for down payment. To their pleasant surprise — thanks to the hot Denver real estate market — Carrie and family were able to cancel their PMI after two-and-a-half years, as their home value increased by 23%. Not only were they able to purchase their dream home with a low down payment, but they were also able to get rid of PMI sooner than they thought. More on that below — see, PMI is not forever.
Let's take a look at a few more benefits PMI can provide a homebuyer:
Buy more home
You can afford more home and maximize your investment if your lender obtains PMI for your loan. In fact, financing a home with a low down payment loan may be the best way to afford a home in high-priced markets.
Tip: Not sure how much you need to put down? Try our down payment calculator.
Conserve your savings
The lower the down payment, the more you retain for home furnishings, other investments, future emergencies, or even college tuition.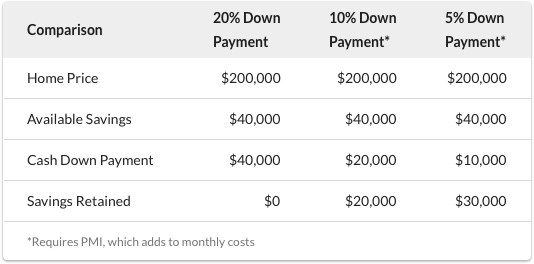 Even if you have less than $40,000 saved, you can still afford to buy a $100,000 home with a lower down payment mortgage if your lender obtains PMI.
PMI is not forever
Once you reach 78% loan to value (LTV), the Federal Homeowners Protection Act requires the lender to cancel PMI (free of charge) as long as you are current on your payments.
You may be able to request early cancellation once your LTV hits 80%, though you'll need to pay for an appraisal to prove your home value has not fallen. This option requires a written request to your lender, and it should be done several months before hitting 80% LTV.
Tip: To find your LTV, divide your loan balance by the original purchase price.
MIP vs. PMI
Do you have an FHA or USDA loan instead of a conventional loan? If so, your loan may require you to have MIP (mortgage insurance premium) instead of PMI. MIP has two components: an upfront premium (UFMIP) and an annual premium. The current FHA upfront premium rate is 1.75% of the loan amount, and the current annual premium is 0.85%. The exact cost depends on the loan size, loan term, and loan-to-value (LTV) ratio.* USDA loan upfront charges are closer to 2%.
While MIP can also help you get into a home with a lower down payment, it's not as flexible as PMI, and it's usually due over the life of your loan; meaning, it can't be easily dropped. You'll have to complete a full home loan refinance into a conventional loan to drop MIP.
What else can you do to lower your down payment?
Apply for down payment assistance
There's more to a mortgage and down payment than insurance. That's right; it's time for the good stuff.
There are many government assistance programs available to lower your down payment. Support may be available through your local housing authority, state-sponsored funding, and other federal programs. So, it's a great idea to reach out to your lender to learn about the types of down payment programs and to see which you may qualify for.
Tip: Buying in Colorado? Be sure to ask about the CHFA program, which can get you into a home for as little as $1,000 down!
Use gift money
Did you know you can ask family members to help cover your down payment? It's true! The amount you're eligible to receive depends on your loan program, and you'll have to provide documentation stating the money is a gift and not a loan. But it's totally worth the time and effort if you have family willing to help.
Which low down payment option is right for me?
Remember, a down payment is only one of many homebuyer expenses. Be sure you fully understand your budget, purchase power, and how much mortgage you can afford before choosing a loan program. We recommend working with a dedicated mortgage consultant, so your financial goals are top of mind. That way, you're not pressured into a loan that doesn't make sense for you.
  *FHA, VA, and Conventional loan requirements are subject to change. Non-QM loans may be temporarily unavailable. As a result of COVID-19, mortgage investors are unable to support as many loans, meaning underwriting guidelines for government and conventional loans are becoming more strict.  
Want to gain a better understanding of PMI? Check out our PMI FAQ's.