5 Reasons to Finish Your Basement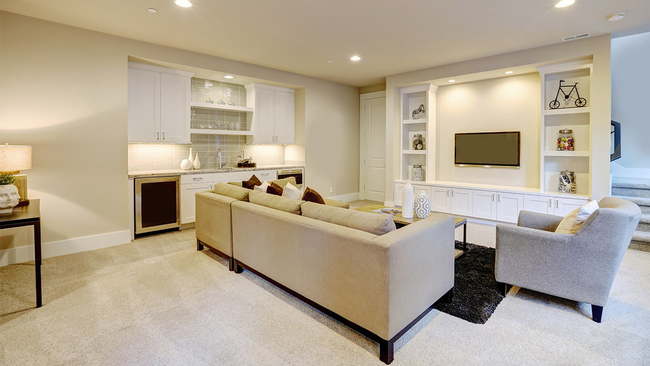 There's a lot you can do to improve your home, from updating the kitchen to transforming a bathroom. But have you thought about finishing your basement? Not only does a finished basement add useable living space, but it may also increase the value of your property.
Here are five reasons why you should put this home improvement project at the top of your to-do list.
Additional living space
Think of what you could do with an extra level's worth of space.
For some homeowners, a finished basement means being able to add a bedroom and/or bathroom. No longer will guests be crammed into the living room when staying the night. On the other hand, perhaps your kids are older and it would make sense for them to have a place of their own.
Then there's the possibility of turning your basement into a rental unit. If your kids are fully grown and out of the house, why not have this space bring in monthly income? Just know that you'll have to put in a bedroom, bathroom, and some sort of kitchenette area before taking in a tenant.
Entertainment area
You might dread having to go down to your basement right now. Between the lack of decent lighting and insulation, it's no wonder you do everything possible to keep family and friends out of this space. 
It doesn't have to be this way forever! Once you finish your basement, you can finally do what you've always dreamt of doing with this area, whether that's designing a game room or creating a home theater (imagine planning your own Super Bowl party). What used to be the space you always avoided in your home will quickly become the go-to spot for memorable time with loved ones.
Increased comfort
How would you describe your basement at the moment? Cold and damp? If so, it's an ideal environment for mold and pests. 
This is yet another reason to move forward with a basement renovation. Once your contractor installs insulation, you will have a basement that regulates temperatures. As a result, you can say goodbye to bitterly cold temperatures and excess moisture in this part of your home. 
Flexibility
Maybe you've lived in your current home for a number of years and you're starting to grow a bit tired of the floor plan. By finishing your basement, you'll have the flexibility to change things up however you'd like. This can be especially beneficial for those who have older homes.
Solid return on investment
Many homeowners wonder if basement remodels are worth the investment. Sure, it would be nice to add another bedroom or bathroom, but does it make sense to pour time and money into such a project?
In short, the answer is yes. According to The Balance Small Business, finishing a basement will provide a return of 70 to 75% of your investment.
Let's say you're planning to sell your home in the not-too-distant future. Even in a favorable market, it's important to only take on projects that will help you get the most bang for your buck. There's no question that prospective buyers will be attracted to homes with a finished basement.
Fund your project with a cash-out refinance
Now that you know the benefits of finishing your basement, how are you going to afford it? Rather than drain your savings account or put the expenses on a high-interest credit card, we suggest looking into a home improvement loan such as a cash-out refinance or home equity line of credit (HELOC).
Here's what you should know about these loan options.
Cash-out refinance
This loan works just the way it sounds. You're essentially replacing your current mortgage with a new one that has a higher balance and pocketing the difference. 
Those wanting to pay off debt, cover college tuition, or fund a home improvement such as a basement renovation should seriously consider a cash-out refinance. Borrowers can take advantage of rates that are typically a fraction of those associated with credit cards. Not to mention, your loan payments may be tax-deductible.
Home equity line of credit (HELOC)
A HELOC allows you to borrow against the amount of available equity in your home. The loan is similar to a credit card in that the amount of available credit is replenished as you pay off the balance. Keep in mind, you must put up your home as collateral in order to secure a HELOC.
Not sure which loan is right for your basement renovation? A trustworthy lender will review your options and customize a loan program to meet your needs and budget.