8 Holiday Hosting Tips for New Homeowners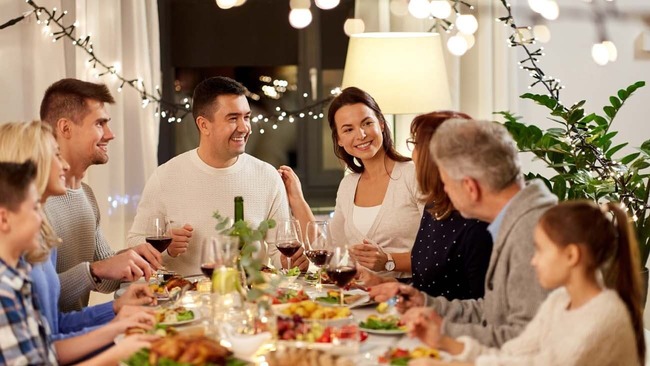 There's nothing like the first holiday season in a new home. Of course, now that you're a homeowner,  you might be hosting the festivities sooner than later. But don't worry — we know you can pull it off without giving yourself a headache.
Check out these holiday hosting tips as you plan to show off your place for the first time.
Meal prep and cook ahead
It's easy to get carried away with the menu as a host. After all, you want everything to be perfect, from the appetizers to the desserts. You can picture loved ones raving about all of the homemade dishes as they do the same about your new residence.
Remember that you don't have to prepare everything hours before the party. Set aside some time in advance to cook what you can. Even a little bit of meal prep ensures less stress and more quality time with your guests.
Plan for allergies
New homeowners often overlook food allergies as they decide what to serve for a holiday occasion. Make it a point to ask guests beforehand about any such restrictions and possible alternative dishes. The last thing you want is an awkward situation that could've been avoided with some extra communication.
Clean it up
It may be obvious, but remember to take a quick stroll through your home. Would you feel comfortable hosting a bunch of people right now? If the answer is no, you need to come up with a plan for tidying up before your guests arrive.
Like preparing the food in advance, it's a good idea also to give your home a deep clean as the big day approaches. Consider reserving several hours for the weekend before to vacuum, scrub, and mop all rooms (or at least the ones family and friends will see). New homeowners can use this time as an opportunity to declutter and organize as well.
Create a festive setting
You don't have to go overboard to add a holiday vibe to your home. You may ultimately end up with a combination of lights, wreaths, and decorations. Keep in mind, though, that too much stuff makes your home look and feel smaller.
Then there are the traditions you and your family have grown accustomed to for years. As the host, feel free to pick and choose what to incorporate into your celebration. There's nothing wrong with adding your flair to the day and coming up with a new holiday tradition.
Make space for extra parking
You're feeling confident about the gathering. Not only are you prepping some delicious holiday favorites, but your home has also never looked better. Then you realize out of the blue, "Where will everyone park?"
Unfortunately, parking issues can derail a guest's experience in a hurry. That's why it's imperative to alert family and friends before they arrive. Trust us; nobody wants grandma walking in an hour late because she couldn't find parking.
Have non-alcoholic options
Be sure to stock up on plenty of beverages, including several non-alcoholic varieties. We're talking about water, tea, seltzer, and soda. Coffee (regular and decaf) will likely be popular at dessert with some guests.
Don't forget games
What's a holiday party without games? Browse the most popular selections for adults and kids and pick up a few when you do your shopping. Favorites include Pictionary, Mad Libs, Telestrations, and the White Elephant Gift Exchange.
Prep the guest room
Do what you can to make out-of-town guests as comfortable as possible. Freshly cleaned bedding and a basket of holiday treats, for example, go a long way. You can be even more prepared with additional blankets and pillows.
Land a new home for the holidays
Maybe you've been thinking about holiday party ideas for a while. You'd love to host the entire family and put together a memorable occasion. The only problem is that you're renting and want to hold off on a big celebration for when you have your own place.
But why not start the process now? Believe it or not, the holidays are a great time to buy a house. You can benefit from less competition and might be able to land your dream home for less.
At American Financing, our mortgage consultants will guide you through the transaction from start to finish. We encourage you to review our first-time homebuyer checklist and explore our custom loan options. Buying a home has never been easier or more affordable!
So, let's get you into a new home for the holiday season. Call (800) 910-4055 to speak with a salary-based mortgage consultant.