Date Night Outfits: What to Wear for the Perfect Evening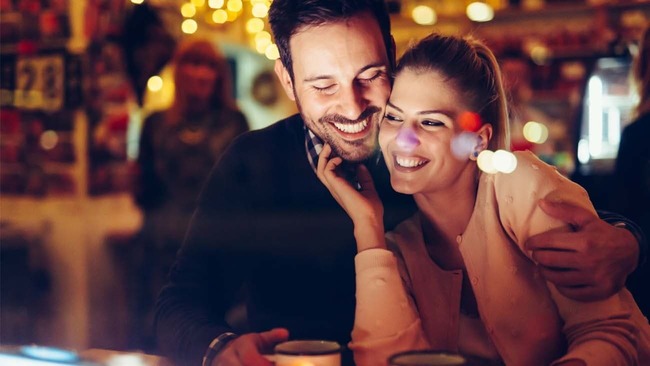 Since the pandemic began, many have had to put dates on hold because of countrywide mandates and shutdowns. Although COVID-19 is still very present, we see restaurants, venues, and excursions opening back up, albeit at a much stricter limited capacity than during pre-pandemic levels. Unfortunately, the shutdowns and restrictions have been quite a blow to many industries and individuals alike, but the dating scene has been particularly tricky. 
The world of dating became more challenging to navigate. As a result, date nights and chances to get out and mingle have taken a real hit. However, now that some things are returning to a new kind of normal, you may be finally getting out for a date.
Chances are that when you read this, restrictions will still be a factor of life in your city and state. However, this guide will help you select a date night outfit no matter your gender, the time of year, or what your budget is. So if you're asking, 'What should I wear on date night?', we've got you covered!
Casual date night outfits
Are you coming out of your COVID-19 hibernation with a date on the horizon? If so, are you wondering, "What do I wear on my first date?" In an age where so much has changed, getting ready for that first meeting might have you stressed, but we're here to help. 
Most first dates or dates, in general, tend to be casual. You're most likely not going to be hitting up a restaurant where formal wear or dressy attire will be required. That is unless you are just the fancy type! 
Cute and casual date night outfits can be as basic as jeans and a graphic t-shirt to dresses and flirty sandals for the ladies. For men, jeans are most common and are easy to elevate with a crisp button-down shirt or a sport coat over a tee. Whether you're looking to put together an outfit from your existing wardrobe or buying a new one from scratch, here are some tips that will help you strike the right tone for your night out:
First of all, make sure that whatever you choose fits.
 Don't pick something too tight or too baggy for your body. You will impress with garments that you know fit you like a glove and show off your best features in a tasteful way. 
Suppose there are any pieces you want to wear that you love but know will be uncomfortable to wear for an extended time. In that case, you are likely setting yourself up for physical and mental discomfort during an outing that should be fully enjoyable and relaxed.
Dress to fit your personality.
 Do you love patterned pants or some fun flashes of color? Subtlety is always a good thing, but don't try to hide your signature style if you typically go for bold looks. 
Most of all, you should be comfortable enough in whatever you wear to last you well into the evening. Ladies, if it's been a while since you wore a pair of heels, be sure you will be able to get around without feeling off-balance or in excruciating pain–that is, unless you want to be carried back to your car by your date.
Make sure your outfit makes you feel amazing! 
Making a good first impression is essential, of course, but dressing for yourself is just as important as what your date thinks about your outfit. If you feel terrific or like your best self, that means you have chosen well. There are so many options and styles being celebrated in this day and age that almost anything goes.
Purple hair, outrageously furry jackets, prints, and color galore; there has never been a more fun time to dress! It's frankly never been easier to cater to your personality through clothing, so be sure to have fun!
Winter
Winter tends to call for more layers, and a coat will most likely be needed depending on your geographical location. Along with colder temperatures comes the holiday season with parties, work gatherings, and holiday-themed excursions. 
The winter months can be a time of year where there's more potential for formal occasions and dress. Be sure to double-check the location or ask what kind of attire is expected for the party or venue. No one wants to show up to an event with their date and feel severely over or under-dressed.
Date night outfits for men
If you are a man, you probably dislike the idea of having to wear a coat out and keep track of it all night. If this is true, maybe consider finding yourself a statement coat or jacket, so it feels less like a chore and just another way to express your personality. Never underestimate the power of a nice coat or jacket to both complete your look and keep you safe from the elements.
As a man, you should have a few staples in your closet ready for those occasions that call for more upscale dressing. For more suggestions, check out this article for Winter date outfits and get inspired.
Sports jacket

Blazer

Matching suit

Pair of dress shoes

An assortment of button-down dress shirts

Ties

Sweaters that can be worn alone or layered over a button-down

Chinos are that great midway between suit pants and denim. They can be dressed up or down, depending on the occasion.
We would list denim, sneakers, and tees, but we're pretty confident you already have that look down!
Women's date night outfits
Women will tend to have more options for dressy occasions, but if you are uncertain about the level of formality, ask your date what the vibes are before planning your outfit. It can be easy to overdress and end up feeling uncomfortable, especially if you show up at a party where most everyone is wearing denim, and you're in a cocktail dress and heels. Likewise, your makeup and hair may look fabulous, but this was not the scenario you envisioned. 
Further embarrassment ensues when you notice that the lady over by the bar is wearing leggings and an oversized sweater. Who you're embarrassed for may be unclear since you both are dressed in extreme opposition. You also don't want to be more overdressed than your date. Ideally, you want your level of formality to be aligned. For more ideas, check out this article for 20 Winter Date Outfits.
The garments every woman should have during the winter season are as follows:
Several dresses of varying formality. Try to shoot for at least one casual, one more fancy, and one formal dress to cover your bases.

Statement layer like a coat with a bold, fashion-forward print or unique texture. An elegant, calf-grazing wool trench is also a great choice to layer over a cocktail or fancy dress during the colder months.

Chic but understated jewelry is a must. For example, a simple gold chain necklace that goes with everything. Or a pair of gold hoop earrings. Even statement jewelry is good, but make sure your jewelry isn't trying to compete with your outfit. 

Tights or hosiery. Sometimes bare legs in the winter can be brutal. Being able to throw on a pair of opaque black tights can tie an outfit together even more.

Cozy sweaters are also a must and are easy to dress up with a skirt, tights, and heels, or to dress down with some denim and ankle boots.
Spring
The weather is getting warmer; the world seems to be awash in green and new growth. The spring months are often warmer in the day but offer chilly breezes and colder temperatures at night after the sun sets. Being prepared for temperatures not to remain consistent is an intelligent way to approach spring dressing. Remember that layers are your friend.
Spring date night outfits for him
Spring date night outfits for the men are going to be pretty straightforward. For those casual dates, like the movie theater, men will most likely go with their favorite pair of denim, a t-shirt, or a button-down with a nice pair of sneakers. However, even when shooting for casual, there are many ways to elevate an outfit with layers.
With temperatures getting warmer but evenings still holding a bit of a chill, layers are a great choice. Layer a solid sweater over a patterned button-down and scrunch up the sleeves to add to the casual vibes. Chinos or denim is a solid choice, but may we challenge you to step up your footwear game with polished loafers, oxfords, or a striking pair of sneakers? 
*The sneakers you wear to the gym are most definitely NOT meant for date night. That's all we'll say about that.
If the occasion calls for a bit more formality, we recommend some slacks or chinos with a button-down, at the minimum. Even better if you feel like upping your game and trying a fitted turtleneck with a sports jacket and chinos, we applaud you! Don't forget to add unique and special touches with a pocket square, a nice belt.
Additionally, for those who dare, try funky printed socks or some form of jewelry like a necklace or watch. The thoughtful little touches can elevate any outfit and should not be ignored. For more spring outfit ideas, check out this article.
Spring date night outfits for her
Springtime is such a fun time of year to dress! You can start pulling out those jumpsuits, rompers, and floaty dresses! If you've been looking forward to wearing that sleeveless, printed jumpsuit on your date, adding a leather or denim jacket will ensure you don't regret the decision if temps prove to be chillier than anticipated. 
Another surefire outfit option for casual dates is a nice pair of denim paired with a floaty blouse or tee. Don't forget to layer that with a duster sweater or a relaxed blazer over your favorite band t-shirt. For more outfit ideas for springtime, check out this Cosmopolitan article.
Summer
Summer is the time of year where people get to show more skin, wear fewer clothes, and the occasional layer. Generally, the vibes are lowkey and laid back, but there is always the chance of dressing up to attend a wedding or rooftop cocktail party. For the most part, men and women prefer to be cool and comfortable, which usually drives the types of garments chosen for summer date nights.
Date night outfits for him in the summer
Summer is the time of year to pull out the shorts, sandals, and that linen printed shirt. If you want to be a little flirty, unbutton the top two or three buttons on your short-sleeve button-down, and maybe add a little shine with a necklace. Or, perhaps you want to wear your favorite pair of denim, but you want to dress it up a bit. Try a short-sleeved henley top with a lightweight sports jacket over it. Details like a watch or a nice pair of sunglasses will help complete the look. 
Hopefully, you aren't going on your first date as a plus one to a wedding, but if you end up at a wedding with your lady, try dressing up some chinos with a printed button-down, nice dress shoes, and a belt. Unless the wedding is formal, we recommend you forgo a tie. Check out these other outfit recommendations for more ideas.
Date night outfits for her in the summer
Maybe you and your date are planning on enjoying a picnic dinner at the park where they're screening classic summer movies every weekend. Naturally, you will want to be comfortable but chic. Try a pair of chino shorts with a cropped tank and a light sweater in case of cooler temps. 
If you are headed to a nice restaurant for dinner and drinks, by all means, pull out your favorite off-the-shoulder sundress and wear it with a comfortable pair of wedge sandals. Don't forget that hats and sunglasses are a great accessory and very practical to protect you from the sun during the summer. Rompers are an easy way to look polished without building a whole outfit. 
Simplicity is key, but you can still express your sense of style through bold prints, bright colors, and flashes of skin. Are you heading to a brewery for some pints on the patio? We recommend a cute cropped top with some high-waisted shorts, pulled together with some classic, white Converse sneakers. For more inspiration, check out these 24 outfit ideas.
Fall
Fall is by far one of the best times of the year for weather and outfit options. With fall comes Halloween and spooky movies. Don't miss out on the opportunity to enjoy hayrides, corn mazes, haunted houses, and that special screening of Halloween at your local movie theater. With the cooling temperatures, adding layers means that your outfits can be cozy and very stylish. 
Fall date night outfits for him
With so many options for what to wear during the fall, it can be tough to know where to start. It's good to begin with visual inspiration, so check out this Pinterest guide to get the juices flowing. The simplest way to refine your outfit during the fall is to add layers. 
Layers will add a polished and refined look when done thoughtfully and with the right pieces. For example, dress up your jeans with a button-down shirt (try it untucked to keep it casual) layered under a Merino sweater, some loafers, and either a scarf or patterned jacket. 
Pull out your chinos and roll up the cuffs to pair with some nice sneakers. Wearing t-shirts will still be an option, but try to elevate the look a bit with a sports jacket or casual blazer. Anything simple can be turned into something a bit more compelling with a good layered piece, so remember, even if you're feeling lazy, no one has to know since you look pretty snazzy with that jacket and scarf!
Fall date night outfits for her
Have fun with the season and try some cropped and flared denim (may we recommend you try white or cream?), and some suede ankle boots with a chunky heel. 
Textured sweaters, furry jackets, and hats should be pulled out of your closet and worn with joy! If you want to show off your legs, try a pair of dressy leggings, a chunky, oversized sweater, and some heels for a minimalist effect that gives attitude and sex appeal. 
On the other hand, maybe the occasion calls for something more casual. Grab boyfriend jeans, pair them with a knit top and cardigan, and finish the look with some white sneakers. You can be relaxed yet chic with suitable layers. 
A statement jacket, a fun hat, or a piece of unique jewelry can be starting points for building your outfit. For more fall style recommendations, check out this outfit guide from Natalie Yerger.
Date night ideas
Now that you have your date night outfits figured out, it's time to plan some dates! If you are not sure what to do or where to start, whether it's a first date or fiftieth, we've got you covered there as well! Check out our article that provides excellent suggestions for planning your date night on a budget. 
Above all else, make sure that you both enjoy the activity or setting to ensure a good time. You can be as frugal or fancy as you want, but keeping things creative and thoughtful will only make your dates more fun and romantic. 
Finally, don't forget to be yourself and try to relax. Your date should be fun for both of you, so plan your date, select your outfit, and let the night take you where it will!