Backyard Transformation: A Step-by-Step Guide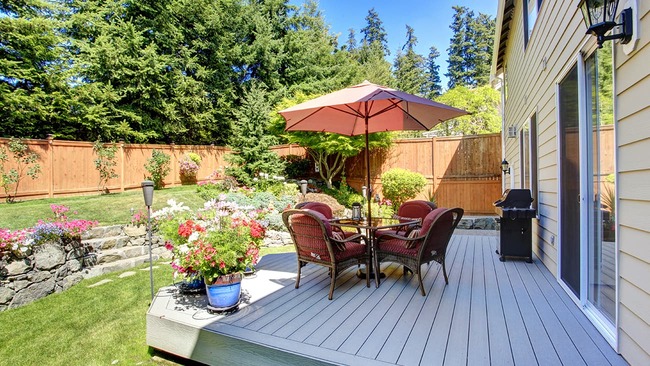 Many homeowners are looking to revamp their backyard, even with colder months coming around the corner. Maybe they see the need for additional space during outdoor family gatherings. On the other hand, perhaps they want to create their own natural setting right outside their door.
Here's the thing: backyard projects are different for everyone. What you choose to do with this space will likely differ from what your neighbor or friend ends up doing with theirs. In any case, it's good to come up with a plan before getting too far into the process or maybe even plan ahead for next Spring.
Continue reading as we walk you through a backyard transformation.
Decide what you want
Nothing beats hosting family and friends for a summer barbecue. Picture yourself grilling everyone's favorites on your new deck and then making your way to the grass for games. Guests will be raving about your yard all day long!
Now, what if you'd rather keep this updated space to yourself? Imagine getting home after a long day at work and heading out back for a little zen. You can easily turn your yard into a private oasis and enjoy it whenever it's time for some rest and relaxation.
Remember to account for the future as you settle on an idea. For example, you might want to leave space for a swing set if you're hoping to grow your family soon. Another consideration is designating a grassy area for your dog.
Set a budget
You can easily become enamored with today's backyard transformation shows. The features people choose, the work involved, the before and after pictures — you know what we're talking about. But what often goes unnoticed in these shows is the amount these people spend on the project.
A total backyard makeover costs tens of thousands of dollars, on average. That's why it's in your best interest to make a budget if you don't already have one and start putting money away for these expenses now. The last thing you want is to go through the trouble of researching contractors only to realize that you don't have the necessary funds.
A home improvement loan could be an alternative to using the money in your savings account or maxing out credit cards. Just make sure you understand the details of this loan, as you may be required to use your home as collateral. You can also ask your lender about a cash-out refinance or home equity line of credit (HELOC).
Start small if you have to
Add an outdoor rug
There's nothing wrong with starting out small as you begin your backyard updates. Something as simple as an outdoor rug can change the look and feel of this space. It's a great first step while you save up for larger projects.
Update the lighting
There are high-quality outdoor lights for any budget. Homeowners willing to spend a little more can explore a custom setup and installation from a professional. The other option is finding string lights, lanterns, and/or torches and putting them in your yard yourself.
Swap the furniture
Say you have the most beautiful backyard in the neighborhood. Without the right furniture, nobody can enjoy it! So take some time to check out comfortable furniture, and invest in a new table and chairs.
Move to bigger projects
Build a deck
Are you tired of being cooped up inside all the time? A deck allows you to enjoy the fresh air and quality time with your family. On top of that, a well-built deck offers quite the return on investment.  
Consider a pergola
What's better than a summer day at home with nothing to do except relax in your backyard? Depending on where you live, you may want to look into a pergola. It offers just the right amount of shade so you can spend as much time as you want outside.
Invest in new landscaping
This is your chance to have the backyard of your dreams! Plant a tree, install Xeriscape, add flower beds — it's all a possibility. As we mentioned earlier in the article, though, you don't have to do everything at once.
Is it worth transforming your backyard?
Yes! Homeowners who enhance their backyard tend to have a greater appreciation for their residence. You may even save money on "staycations" in the long run since you'll want to spend more free time at home.
Keep in mind that backyard updates aren't the only way to improve your place. Kitchen renovations, bathroom remodels, and minor repairs can be effective ways of increasing your home's value as well.