5 Tips for Buying a Home in Phoenix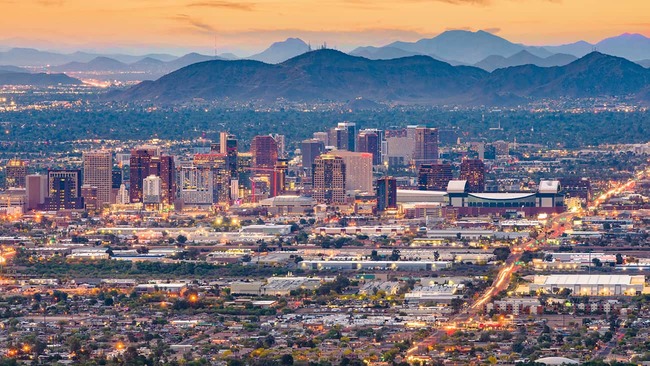 Single-family rents continue to rise at an alarming rate in Phoenix. According to The Mortgage Reports, the metro claimed the largest jump in rent for the 11th straight month. That's why we suggest looking into buying a home sooner than later.
Here are some tips for purchasing real estate in Phoenix.
Check your credit scores
You need to check your credit scores before browsing listings and talking with a real estate agent. Make a habit of requesting an annual credit report from the top three bureaus: Experian, Equifax, and TransUnion. It's also worth seeing if you have access to one free FICO score update a month from your bank.
So what qualifies as a good credit score when applying for a mortgage? While it may not be a deciding factor for some lenders, a good score is typically in the range of 670. You can improve your credit rating by disputing any errors, paying down the balances on credit cards, and keeping a low debt utilization ratio.
Be mindful that a less-than-ideal score doesn't mean that you have to put your homeownership dream on hold. There are a number of loan programs with relaxed credit requirements, including the FHA.
Get pre-approved
Once you have your finances in order, you're ready to start the pre-approval process. This will help you determine how much home you can afford, giving you peace of mind. 
There's more to getting pre-approved than telling your lender how much money you make. You can expect them to check your credit, verify your employment, and calculate your debt-to-income ratio. A pre-approval letter in hand could be what sets you apart from other hopeful buyers.
Read up on current trends
Just because you're pre-approved at this point doesn't mean you should rush to buy a home. Per Zillow, the market temperature is "very hot" in Phoenix at the moment. The city's home values have gone up 7% over the past year and are expected to rise at least 5% over the next year.
What does this mean for you? Well, if you don't fall in love with a home, it might be best to wait until the market becomes more favorable for buyers. Alternatively, if you're content with a starter home for now, you could reap the benefits of increasing property values.
Find an agent
Not all real estate agents are the same. Granted, it's tempting to hire the area's most decorated realtor and assume they'll find your dream home. The reality, though, is that you want an agent who works toward your goals and expectations — not theirs.
Take the time to interview at least three realtors. You should ask what separates them from other agents, how frequently they communicate with clients, and if they can provide references. When in doubt, go with what feels right.
Research suburbs
You're finally ready to get out and explore the Phoenix real estate market! Here are some of the top-rated suburbs in the "Valley of the Sun," as referenced from HomeSnacks.
Scottsdale
For higher-income households, Scottsdale makes a lot of sense. There's plenty to do, the unemployment rate is low, and it's one of Arizona's safest cities. Just keep in mind that the cost of living continues to go up in Scottsdale.
Gilbert
There's a certain charm to Gilbert that you won't find in any other large Phoenix suburb. Gilbert receives high praise for jobs, housing, amenities, diversity, and education. Unfortunately, the city's high cost of living puts homes out of reach for most families.
Chandler
What's not to like about Chandler? From low crime to some of the best schools in the state, Chandler serves as a destination spot. Plus, it's a relatively short drive from downtown and Phoenix Sky Harbor International Airport.
Goodyear
Perhaps you would prefer to live in the West Valley. If that's the case, chances are that Goodyear will be at the top of your list. Similar to Gilbert, Goodyear ranks well for jobs, housing, education, and diversity.
Become a homeowner
Are you tired of watching your rent increase year after year? Trust us, buying a house in Phoenix is easier than you think! It starts with having the right mortgage lender by your side.
A home purchase could be the largest financial transaction you ever make. That said, don't you want a lender who goes above and beyond to meet your needs? Whether you're purchasing your first, second, or forever home, you need a mortgage consultant who will be there every step of the way.