Different Types of Meal Delivery Service Options: Dine-in at Home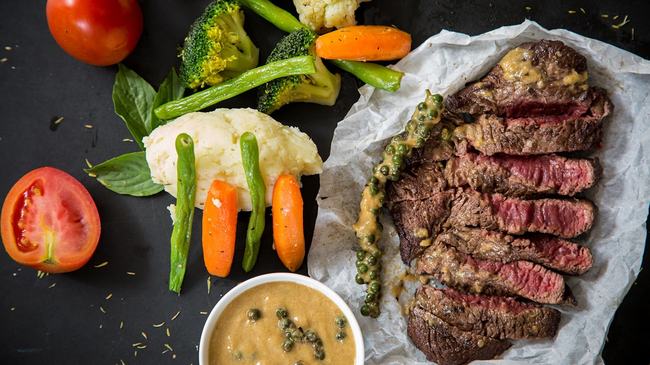 Meal kit delivery services have become very popular recently for anyone looking for fresh food and convenience. From single-ish urban customers looking for healthier, more sophisticated fare, to busy families on a budget, meal kits can accommodate anyone really.
These services, according to market research publisher Packaged Facts, have grown significantly during the pandemic with "nearly one-fourth of consumers report still using curbside pickup or grocery stores' own delivery services".
The cost of convenience
The average price per person from a meal kit service costs between $8 and $12 per person, per meal. If you do the simplest math by looking at your monthly grocery budget, you'd probably find that it gets expensive. But of course, context is everything. If you're committing to completely changing your habit like you're Morgan Spurloch eating McDonald's for 30 days straight, yes, it's not going to be a better value. But the reality is that you will not eat these meals that frequently as the meal service would, of course, like you to commit to. Meal kits for almost every subscriber are complimentary in that they take the place of one or two nights of meal preparation each week.
Though most meal kit companies require you to subscribe to a monthly service, there is typically a weekly window at which point you can cancel the service in advance of the next order. It's best to think of these meal services as a possible convenience since you can freeze some of the kits to use for later as well.
Who uses meal kit services?
Popularity is of course subjective. What one family might see as an expensive cost just to answer the perennial question "What's for dinner?", another family or individual might see as a small premium for mindless meal planning. According to Packaged Facts, age is the strongest predictor of who purchases meal kit delivery subscription services; subscribers are likely to be partnered parents living in urban settings.
Meal kits also allow couples, with or without kids, to share time together. Preparing a meal together during a "date night in" is becoming increasingly popular.
It's an excellent service for new homeowners, too, once they've settled in and have access to their new kitchen. Let's face it, new homeowners often have housewarming parties and enjoy taking on host duties during their first year in their home. With help from Feastive, dinner parties are no longer a hassle. Instead, they're the start of a new age of dinner parties. Think DIY sushi rolls, a Korean night with make your own BBQ or sliders, Vietnamese chicken vermicelli bowls, etc.
Next, let's break down the most popular home meal services, how each works, their differences, and the price ranges for each.
Different types of meal services
Online meal kits
Like to avoid meal prepping? Online meal kit delivery services will send everything you need to make amazing, restaurant-quality meals at home—and take all the prep work off your to-do list. The list below includes some of the most popular services. Each is different from how they prepare the food, the commitment required, and in some cases the types of food offered (vegan, non-GMO, etc…)
HelloFresh

Green Chef (Vegan, excluding Alaska and Hawaii delivery)

Martha & Marley Spoon

Sun Basket (non-GMO)

HomeChef

Blue Apron

Plated

Live in Denver? Check out The Spicy Radish
The most cost-effective meal delivery options are HelloFresh and Blue Apron, which cost between $8.74 and $9.99 per serving. Plated takes the trophy for the easiest meal service, as it provides helpful recipe cards and encore recipes.
Tip: If you choose Blue Apron, be sure to visit your account settings to select your delivery date. Otherwise, the service defaults to Friday delivery.
Following a keto or bodybuilding diet? There are online meal kits made just for you. Take a look at Muscle Meals 2 Go for an easy way to meal prep macro balanced dishes without having to pay a subscription. Flex Pro Meals is another option, and it even offers epic power treats via its protein bakery.
Fast food delivery services
Skip the restaurant lines and meal kits altogether. The food delivery services below connect you with a broad range of local restaurants and food, so that you can order from the full menus of your local favorites from the comfort of your home. They pick them up from some of your favorite spots and deliver them to you for a small fee.
UberEats

GrubHub

Foodsby

DoorDash

Eat24
Local grocer
Though your local grocer is not a meal service by definition, they are making it easier to get healthier food to you more conveniently. Make the most of your time by ordering your groceries online and picking up your order at the store from the convenience of your car! Some will even deliver your groceries straight to your home!
Expect to pay a small fee for personal shopping or delivery, but some grocers will waive the fee for your first few visits. Be sure to take advantage!
Instacart (supporting Whole Foods, Target, Costco, etc.)

Shipt (acquired by Target in 2018)

AmazonFresh

ClickList at King Soopers/Kroger

Walmart Online Grocery

Safeway Online Shopping
Local small businesses, retailers, and franchises
These services are changing the meal game for many families. They provide freezer-friendly meals that are specific to your families' tastes and prepared by you. Plus many do not require an ongoing subscription.
Schwan's (shipped via a Schwan's delivery truck or in a dry ice insulated cooler by UPS)

Omaha Steaks

Super Suppers
Target also offers home meal options through its private label brand, Archer Farms. The freezer-friendly line offers 100 ready-to-heat, frozen meals including grilled fajita chicken strips, burrata lemon zest herb ravioli, and apple pecan quinoa salad. Each meal costs between $2.99 and $8.99.
Whether you choose meals delivered to your home or online shopping for a quick pickup, you're sure to find the right service at a great value! Think about your skill level, consider pricing, and research recipes. Last but not least, have questions prepared like:
Do you offer new customer discounts?

How much advance notice do you need if I want to skip a week?

Are there gluten-free or paleo options?

Do I need to be home when the delivery arrives?
Having answers to the above questions will confirm the delivery service you subscribe to is guaranteed to work with your tastes.
Check out more ways to save money and budget your way to a brighter financial future.