The Complete Home Maintenance Checklist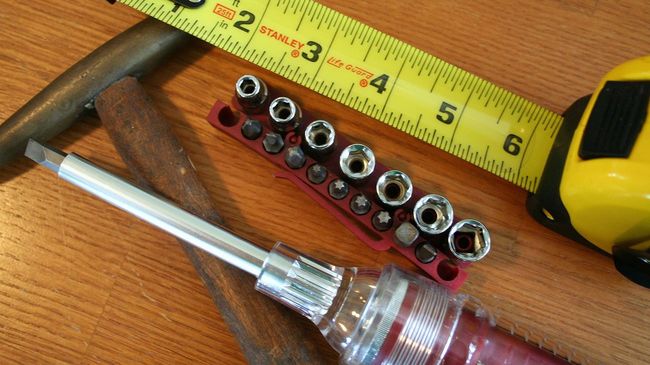 When it comes to buying a home, most people only consider the financial cost of the actual purchase such as the down payment, closing costs, or the monthly mortgage payment. Yet, there's a slew of expenses for maintaining a home. Think of your home as your car. It requires oil changes, tire rotations, tune-ups, etc... periodically to keep everything running smoothly and avoid costlier issues down the road.
The good news is that you can do the majority of it on your own without much experience. There are many online resources dedicated to home maintenance that you can use to find detailed instructions on repairs or even how-to videos if you're more of a visual learner. Of course, if any maintenance work gives you too much trouble you can always call a local handyman for help.
Stay organized with a schedule
In order to make the most of your time and make sure all your home's maintenance is taken care of, you want to create a home maintenance calendar for yourself. This will make all the different tasks you have to do throughout the year more manageable and less overwhelming. We have a complete monthly, quarterly, and seasonal maintenance breakdown for you. Make sure to tailor our recommendations to what works for you and your schedule. As long as you follow through on your home's maintenance, homeowning will always be a joy with limited surprises or unexpected costs.
Monthly maintenance
These are things to check, repair, replace, or just monitor on a monthly basis to keep your home in top shape.
Inspect the HVAC filters
Inspect filters and visually check for leaks around the unit. Foil tape, though expensive, goes a long way here. Don't use duct tape. You'll just end up replacing it when it falls off in a few months or years as the adhesive backing degrades.
Inspect your humidifier filter
Change the filters as needed or according to the manufacturers recommended interval. The idea here is to ensure that the moisture you're pumping into the air does not contain nasty airborne particles and that your unit has not run dry. If you're located in a dryer climate, you may want to consider changing it more frequently.
Clean kitchen your sink disposal and dishwasher
Do you smell that? If you're standing in the kitchen and smell something funky it might be your sink waste disposal or dishwasher. Clean your dishwasher with a little baking soda and/or vinegar to really get tough on it and keep it smelling fresh.
Clean range hood filters
The steam rising from stove-top cooking contains all sorts of good smells but also adds a slow layering of grease and oils. Look under the hood and clean the range hood grates to ensure they are working properly
Quarterly maintenance checklist
These items don't necessarily require monthly upkeep but should be checked at "least" on a quarterly schedule, if not more often.
Examine and test smoke and carbon monoxide detectors
Home safety should always be a top priority and spending a few minutes checking these very important detectors will help keep you safe. They often have a test "light" that blinks every 30 or so seconds or test "button" to verify they are in proper working order.
Check your garage door sensors
Auto-reverse on automatic garage doors is required by law and for good reason. Make sure you not only protect your car hood from a bump or bruise but more importantly your family or friends from injury by checking your garage door sensors.
Inspect your fire extinguisher(s)
The little gauge on the side of your extinguisher should indicate the "charge" of the unit. Check your fire extinguisher periodically to ensure that it's operable in the event you should ever need it.
Seasonal home maintenance
Spring home maintenance projects
Spring is going to be one of your busier maintenance seasons. People don't use the term "spring cleaning" for nothing. Focus mostly on your home's exterior since you'll be dealing with the aftermath of winter and preparing for the humidity of spring and the heat of the upcoming summer.
Inspect any fencing (electric and non-electric). Visually inspecting your perimeter fence is simple but necessary, especially for those with little furry animals or those with a spa or pool. If you have an electric fence, spot checking underground is a little more involved but not much. There are some tools you can use to help you find a broken connection and keep Fido in the yard.

Check your roof. Checking the roof is important but safety is as well. A quick visual inspection will do but it's best to call a professional if you need to get a closer look at potential ice dams, potential leaks, or broken or worn shingles.

Clean out gutters. Cleaning the gutters is often left off the maintenance list until that substantial spring rain when it's quite obvious as water pours over the sides. A ladder, hose, and broom handle can go a long way here to ensuring the water doesn't pool on the ground and morph into a new problem inside your home.

Clean up your landscape. Trimming back trees, picking up yard waste like leaves, pine needles, etc… not only keeps the grounds looking like Augusta National, it ensures that your grass, power lines, fences, etc… don't suffer an untimely expiration.

Test  GFCI's. They might sound weird but have a very specific purpose...safety. Ground Fault Circuit Interrupters (GFCI's) are designed to "interrupt" or break the circuit when the load is too high. It helps prevent damage to appliances and electric shock. These plugs are often identified by their "test" and "reset" buttons between the plugs. GFCI's are required in bathrooms and a handful of other places in your home.

Check windows and screens. If you've ever lived in the Midwest, you can attest that mosquitoes might just seem bigger than some small birds. Checking your screens and windows for damage or holes and wiping them down every spring helps keep bugs out and windows clear.
Related: Tips to Prepare Your Home for Summer
Summer home maintenance projects
Similar to spring you want to focus mostly on the exterior of your house, including your lawn and garden. This is also a great time to work on side projects and renovations!
Dispose of outdated prescription drugs. With a prescription drug epidemic on-going, removing outdated and unused drugs and medicine keeps them out of the hands of those who might abuse or accidentally ingest them. Find where to dispose of yours through the National Prescription Drug Take-Back Days program through the Drug Enforcement Agency

Recycle old paint. Have some leftover lumber or paint from a recent project? Make sure you have enough for minor touch-ups, but if you have more than enough, it's best to dispose of them properly. Paint should not be put down drains as it collects into groundwater. See if your county has a chemical roundup program to dispose of chemicals properly.

Drain your water heater. Standard, tank water heaters often use a sacrificial anode rod (heating element) that sheds bits of metal that collect at the bottom over time. Draining your water heater using the faucet handle near the bottom flushes out these tiny particles helping keep it in proper working order.
Fall home maintenance projects
Brace yourselves, winter is coming! No really. Aside from finishing up summer's maintenance, fall is all about preparing your home for winter. The cold snow and rain can really do a number on your home, so be ready by addressing these items ahead of the colder weather.
Winterize sprinkler systems. A sprinkler "blow out" as it's often called, forces residual water from your system so that it does not freeze during the winter months (if you're in a cold climate). Ice buildup inside the system can cause cracking and underground leaks and damaged sprinkler heads and diaphragms. You can often do a sprinkler blow out yourself but it's typically fairly cheap ($20 - $50) to have it done by someone.

Check and apply weatherstripping. Small gaps in windows and doors let air and nuisance bugs into your home. Checking and adding worn-out weatherstripping is an easy way to seal up your home for winter and potentially lower your heating bill.

Change HVAC/Furnace filters. This should be done monthly or as per your manufacturer's recommendation but because these units are often turned off or down in the warmer months, it's best to check them ahead of winter when they will see more use.

Sweep the chimney. A sweep of your chimney doesn't need to be done every year (necessarily) but if your flue is looking a little unkempt, avoid a potential fire from creosote buildup and get a professional to clean it out.
Winter home maintenance projects
Time to check the interior of your home for anything overlooked. Especially, how well insulated your home is and how to keep that heat. It's also the perfect time to work on interior projects such as painting, finishings, weird cracks, etc…
Clean clogged refrigerator coils. If your refrigerator or freezer doors feel hot to the touch or they don't seem to be cooling like they used to, it might be time to vacuum off your coils. These coils are used to cool the refrigerant and use a fan to pull in the air behind the appliance. When the grates are clogged or blocked, your fridge and freezer are working extra hard to breathe and function properly.

Deep clean your dryer vents. Cleaning out the lint trap after each use is essential to drying clothes effectively. While the trap catches most of the lint from clothing, the cavity and piping don't get that much attention but can get clogged just as much. Use a vacuum to give it a good cleaning to help prevent a fire.

Clean showerheads and faucet aerators. Over time, calcium build up (that white flaky stuff), can block the tiny holes in your showerhead or faucet aerator, turning it into a firehose. Check and clean these periodically if you notice stronger water pressure or strange, kaleidoscopic-like spray patterns.
Other maintenance
Maintenance doesn't always have to involve repairing. Part of a great home maintenance checklist should also include overall safety measures to protect you and your family. Consider preparing your home and your loved ones in the event of emergencies to ensure everyone's safety. Consider these other maintenance items as well:
Have other home maintenance tips or repair hacks?