First-Time Homebuyer Grants to Consider When House Shopping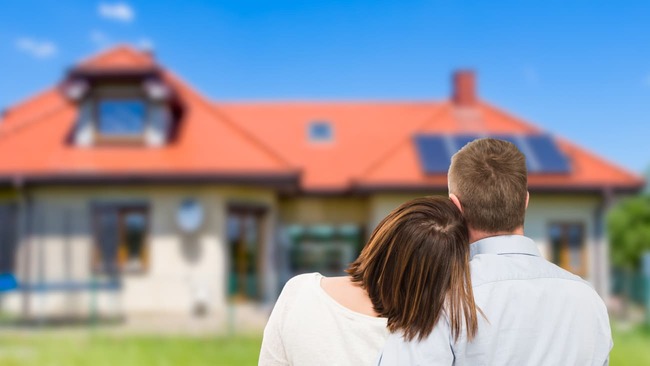 Published May 19, 2022
Saving for a down payment is the most challenging step for most first-time homebuyers. Even with a stable income, saving for your down payment can take years without assistance. Fortunately, first-time homeowner grants are available to ease the financial burden. Not everyone qualifies for first-time homebuyer programs, but if you do, you could receive funding for a sizable portion of your down payment. But first, you should understand what first-time homebuyer grants are, how they work, and what the most popular options are. 
What are first-time homebuyer grants?
First-time homeowner grants are programs that provide funding for your down payment or closing costs. While there are a wide variety of repayable loans available to help with homeownership costs, grants are awarded without the expectation of repayment.You can find first-time homebuyer grants at the local, state, and federal level. Most of them have specific income or career requirements or are reserved for people who live in certain locations. 
How first-time homebuyer grants work
The purpose of first-time homebuyer grants is to offset some of the costs of purchasing a home. This, in turn, makes homeownership available to a greater number of people. Homeownership strengthens communities and helps individuals build wealth, so organizations offer grants to benefit the public.
Some grant programs are funded by the federal government, and others are funded by state governments or by private organizations. Sometimes, the federal government provides the funds for a grant program but passes the responsibility of managing the program down to individual states or municipalities. Each program has a different goal and may have different requirements to be approved. In many cases, the homeowner must agree to live in the home for a specific amount of time in order to receive the grant. 
Pros and cons of homeowner grants
The most obvious benefit of first-time homebuyer grants is that the programs make homeownership accessible to individuals, couples, and families who may struggle to save for a down payment. Owning your home is one of the most effective ways to build wealth and achieve financial stability, but saving for the down payment is a massive barrier. First-time homebuyer grants help people overcome this obstacle and secure a better financial future.
Grants are also ideal compared to loans and other down payment financing options because they do not need to be repaid. If you run into an unexpected financial hardship, you won't have to worry about repaying a separate loan on top of your monthly mortgage payment.
First-time homebuyer grants may help you avoid paying private mortgage insurance, too. Buyers must pay mortgage insurance until they have 20% equity in the home, which could take years if you make a small down payment. With assistance from a grant, you can make a larger down payment and achieve 20% equity more quickly.
The biggest downside to first-time homebuyer grants is that they can complicate the process of purchasing a house. Applying for a mortgage, making an offer on a home, and preparing to close are already stressful tasks, and grant applications add an additional step to the process. If something goes wrong with your grant application, you might lose out on your opportunity to buy a home you love.
Additionally, most first-time homebuyer grants also have specific residency requirements that you must abide by to receive the funds. In some cases, the program may require you to stay in the home for as long as 10 years. You can never predict how your life will change in the future, so locking yourself into such a long-term agreement can be risky. 
Related: Common First Time Homebuyer FAQs
How to qualify for a first-time homebuyer grant
The qualifications for first-time homeowner grants vary from program to program. Many are intended for low- or moderate-income individuals, so you may have to prove that your income falls below a certain threshold. The grant provider will likely ask for many of the same documents as your mortgage lender to prove your income, assets, and debts.Some grant programs are reserved for people buying homes in certain locations or conditions. For example, you might qualify for a down payment grant if you're buying a farm or buying property in a disadvantaged neighborhood. 
If you're not sure how to start your research, let us know. When you schedule an appointment with one of our dedicated mortgage consultants, we can help jump-start the process and assist you in finding grant programs near your dream home. 
How you can use a first-time homebuyer grant
Most recipients use their homebuyer grants to cover part or all of their down payment. The down payment is the largest out-of-pocket expense when buying a home, and a grant can significantly ease that burden. In some cases, homeowners use the grant to cover closing costs. These expenses can amount to thousands of dollars and can either be paid in full during closing or rolled into the home loan. With the help of a grant, you could dramatically reduce the amount you pay during closing. 
Top grant programs in the United StatesFinding the perfect grant program for your unique situation may require a great deal of research. You can look into programs in your city, county, or state to find options you qualify for. If you don't know where to start, here are some of the top federal grant programs in the United States:
National Homebuyers Fund (NHF)
The NHF is a non-profit that has offered almost $400 million in down payment assistance since 2002. The organization provides grants of up to 5% of the mortgage loan's value that can be used for a down payment or closing costs. Borrowers with FHA, VA, USDA, or conventional loans can all apply for grants with the NHF. 
VA and USDA loansWhile VA and USDA mortgage loans are not grants, they can be great options for those who qualify because they do not require a down payment. VA and USDA loans both offer competitive interest rates and are typically easier to be approved for than conventional mortgages.
Good Neighbor Next Door
The Department of Housing and Urban Development's Good Neighbor Next Door program offers significant discounts for teachers and first responders who purchase homes in qualifying locations. The goal of this program is to encourage public servants to move to and revitalize communities in need. If you qualify for the program, you could receive a 50% discount on your first home. 
Mortgage Credit Certificate (MCC)
An MCC is a tax credit that offsets some of the costs of purchasing a home. If you qualify for this credit, you can reduce your tax liability by up to $2,000 by claiming a portion of your mortgage interest as a deduction. This program is intended for low- and moderate-income homeowners, so you must meet certain income and purchase price restrictions.
Schedule your appointment to get started
Buying your first home is an exciting financial milestone, and you might be able to reach this goal faster with the help of a homebuyer grant. There are countless local and federal programs that help first-time buyers achieve homeownership, so researching your options is always worth the effort. If you're ready to get started, schedule an appointment. We're ready to help.