First-Time Homebuyer Strategies for Single Moms or Dads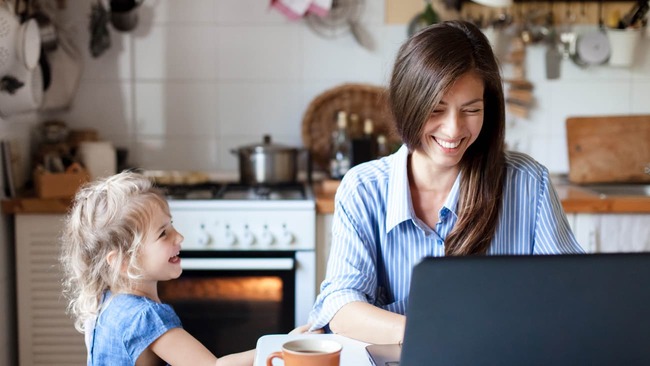 Published June 18, 2022
If you're a single parent, you might wonder whether homeownership will ever be accessible to you. While couples benefit from combining their incomes and sharing household responsibilities, as a single mom, you have to handle it all on your own. Fortunately, homeownership is possible for many single parents with a combination of assistance programs and careful financial planning. Here's everything you need to know about being a first-time homebuyer for single moms or dads.
Is it difficult to become a first-time homebuyer for single moms or dads?
Becoming a first-time homebuyer for single moms is possible, but it isn't always easy. If you earn a high income and have a good debt-to-income ratio, you may be approved for a home loan with no problem. However, many single parents struggle to purchase property because home values have increased so dramatically. The average individual may not be able to save for a down payment or afford their monthly mortgage payment on a single income. 
Mortgage programs and down payment assistance grants exist to help single parents become homeowners. Even though you may face more obstacles as a single person than a couple when purchasing a home, you should not give up hope. Buying a house can be an excellent way to achieve financial stability and build the foundation for future success. It's always worthwhile to work toward this goal and to thoroughly research your options.
Qualifying as a first-time homebuyer for single moms
First-time buyers often get good deals on their mortgages. The most popular mortgage for first-time buyers is an FHA loan, which has fairly low credit, income, and down payment requirements. FHA mortgages are government-backed, so the lenders who provide them don't have to worry so much about borrowers defaulting on the loan. If you're a single mom, an FHA loan is likely your best financing option if you qualify. 
Many single parents worry that they won't be approved for an FHA loan because they previously used an FHA mortgage to buy a home with their ex-partner. Because FHA mortgages are so popular with first-time buyers, people often believe that they are only available for individuals who have never owned a home before. However, you can be approved for an FHA mortgage if you have not owned a home in the last three years.
To be approved by the FHA as a first-time homebuyer for single moms, you must have rented your primary residence for at least three years. If you were recently divorced from your partner, you may have to wait until you reach the three-year mark and can apply for an FHA loan. If the mortgage was only in your partner's name, though, you might be able to apply for the loan now.
Other mortgage programs may also approve you as a first-time homebuyer for single moms – even if you previously owned a home with your ex-partner. For example, VA loans and USDA loans both offer great terms for first-time buyers, so they're ideal if you meet the qualifications. However, all programs have different qualifications to be considered a first-time homebuyer for single moms, so consulting with a mortgage specialist can be very helpful for evaluating your options. 
Home loan assistance programs for single parents
If you're struggling to save for a down payment as a single parent, you may have some helpful resources available to you. In addition to possibly qualifying for an FHA mortgage or another competitive home loan, you might qualify for first-time homebuyer grants for single mothers.
There are several federal down payment programs that help disadvantaged individuals purchase their first homes. Many single parents find that their best options exist on the local or state level. These programs may not be intended specifically for single moms, but they're usually reserved for those who earn a low to moderate income. Because you're not combining your income with someone else, it's fairly likely that you fall into this category. 
Many down payment assistance programs require that applicants be first-time homebuyers. Like the FHA, though, they usually consider a first-time buyer to be anyone who has not owned a home in the last three years. You may also have to meet certain credit and debt-to-income ratio requirements. 
The best form of assistance is first-time homebuyer grants for single mothers. A grant is a sum of money that does not need to be repaid, so it can be the simplest and most effective way for single parents to achieve homeownership. Many programs offer forgivable loans, which do not need to be repaid if you continue to meet the requirements for the program. 
Tips on becoming a first-time homebuyer for single moms and dads
One of the best strategies for becoming a first-time homebuyer for single moms or dads is to utilize all possible sources of income. When you apply for a mortgage, you can list child support and alimony payments as income, which can greatly improve your odds of approval. That said, you will have to show proof of regular payments. 
Improving your credit score can also help you be approved for a mortgage at a competitive interest rate. Your interest rate can make a big difference in your total monthly payment, so it may be worthwhile to take some extra time to work on your credit before applying for a mortgage.
Lastly, you should set your budget for your home before you look at any properties. All families should be cautious not to take on a mortgage payment that puts a strain on their budget, but this is especially important for single parents. By knowing exactly what you can afford, you'll narrow down your search and prevent yourself from taking on more than you can handle.
Becoming a first-time homebuyer for single moms may not be easy, but it is achievable. If you're ready to purchase a home for yourself and your children, you should look into FHA loans, down payment assistance programs, and any other resources in your area that you qualify for. You can work with a mortgage consultant to find the best options in your area and decide on the right course of action based on your unique situation.