Consider Refinancing a Mortgage from 30-Year to 15-Year Terms Before Retirement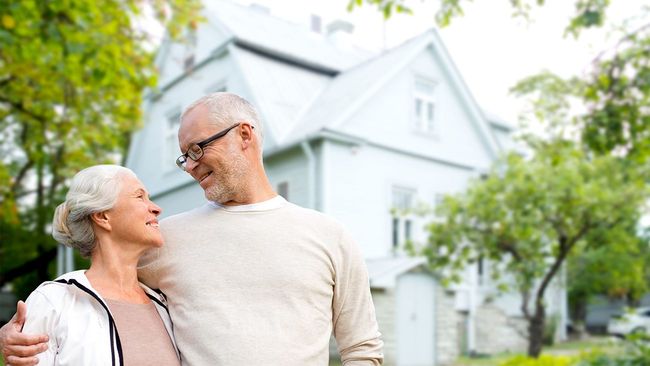 Published April 19, 2022
Everyone wants to live a debt-free lifestyle, and refinancing an existing mortgage from 30-year to 15-year terms can make that possible. People at different life stages can have unique motivations for refinancing to a shorter term. For example, younger people may be hoping to own their home outright at a quicker speed. These younger homeowners are often willing and able to make larger monthly payments to meet their end goals.
Older Americans refinancing down to a 15-year term may have different motivations and strategies. In most cases, these homeowners are working through which debts they can avoid bringing with them into retirement. Consider mapping out your finances to minimize recurring bills if you're approaching retirement age. For some, refinancing a mortgage from 30-year to 15-year terms can be part of that strategy – while eliminating some long-term financial responsibilities in the process. 
What is a 30- to 15-year refinance?
As a first-time homebuyer, you might have decided to get a loan with a 30-year fixed mortgage rate. Most new homeowners make the decisions that are best for their finances at the time. However, all financial situations are fluid. You may find that refinancing to a shorter term can result in significant savings, especially in retirement when you no longer live on a full-time salary. 
Those who qualify for a mortgage refinance to a 15-year term usually have a steady cash flow. However, if you're considering this financial move, you must prove to a lender that you have the ability to meet the higher monthly payments. Therefore, showing proof of a financial cushion before refinancing a mortgage from 30-year to 15-year loans is beneficial. The cushion will help you demonstrate that you can make significant additional financial investments whenever necessary.
Before refinancing your mortgage to a 15-year loan, keep your financial flexibility in mind. We all know that accidents and emergencies are impossible to predict, especially regarding home repairs and medical needs. In general, you should still be able to make your monthly mortgage payments even in these circumstances. Nonetheless, these situations may feel more burdensome in retirement. This is one aspect of why seeking a refinance prior to retirement can eliminate certain debts and ease stress.
Who should refinance before retirement?
Consider whether you may be eligible for refinancing a mortgage from 30-year to 15-year terms ahead of your retirement. Your financial standing and your age will likely both influence your decision. There are other factors you can review as well. If you're unsure if the timing is right to refinance your mortgage, ask yourself:
Will I stay in my home for five or more years?

Am I planning to retire and need cash?

Will I benefit from adding to my investments?
If you're looking for a stress-free retirement, shortening your mortgage term may make sense. Additionally, those hoping to age in place in their home may find that refinancing can offer them that opportunity. 
It's understandable to still feel uncertain about refinancing a mortgage from 30-year to 15-year terms. Your instinct may tell you to wait until after you have retired. By waiting, you can see the full scope of your financial situation before you seek a new loan.
However, there are some additional key reasons why you should consider refinancing before you retire. These may include:
Your salary makes refinancing easier. Homeowners will have an easier time refinancing to a shorter-term loan if they prove they have a steady income. Generally, lenders will pay less attention to your savings than your income.

You can gain more equity. Gaining equity earlier will help you if you decide to sell your home before you pay off your mortgage. Refinancing your mortgage from 30-year to 15-year terms allows you to put more money toward your principal each month. If you think you will relocate once you retire, you should consider refinancing earlier.
You want to shorten your loan term. Sometimes it's just that simple. Your mortgage is most likely one of your largest monthly bills. If you can avoid bringing the large payments with you into retirement, you should take advantage of the opportunity. A refinance can help you save thousands of dollars or more in total interest.

You're interested in securing a lower interest rate. Interest rates fluctuate, but you can still watch for any trends. Refinancing mortgages from 30-year to 15-year terms to lower your rate can help you save a tremendous amount of money. You can save tens of thousands of dollars over your loan's life and reinvest those funds into a retirement account.
If you're interested in getting an in-depth perspective on your refinancing timeline, get in touch. Make an appointment online or call (866) 891-7332 to speak with a mortgage consultant about your different loan term options. If you want to get a sense of how a refinance can impact your monthly expenses, use one of our mortgage calculators.
Are there age norms for pre-retirement refinancing?
Even if you're not near retirement age, it doesn't hurt to start conceptualizing your future bills. Take stock of how many more years you will likely work. Some advisors recommend refinancing a mortgage from 30-year to 15-year terms more than a decade before retirement if you're looking to retire debt-free.
There are additional elements to consider if you opt to refinance after the age of 50 or closer to retirement. When factoring in your age, you should take some time to evaluate your:
Retirement plans: You will gain tremendous insight when you use a mortgage refinance calculator. Run your current mortgage numbers and take note of the breakeven point. If you are 35 or 65, you should be able to benefit from paying less interest if you refinance.

Current loan's life: If you're halfway through your loan, refinancing to a shorter-term mortgage might make sense. Make sure to confirm that you can recoup closing costs within a year or so.
Achieving a debt-free retirement may look different based on your finances. You will need to meet certain costs to refinance in the first place. Our mortgage consultants can guide you to determine whether refinancing a mortgage from 30-year to 15-year terms will fit into your larger financial plan.