Is a Refi to a 15-Year Fixed Mortgage Right for You?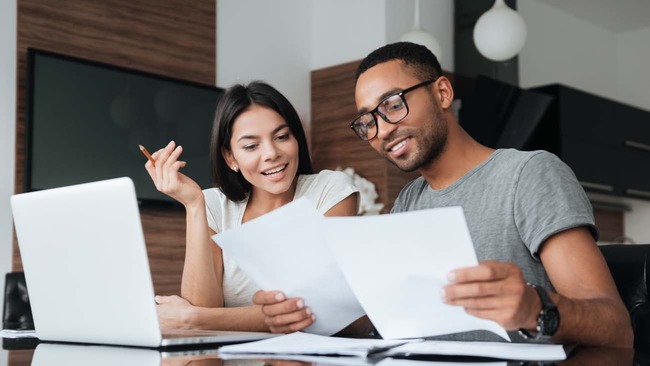 Published April 5, 2022
Homeowners planning to refi to a 15-year fixed mortgage can comfortably make higher monthly payments. If you're contemplating different refinance terms, you're most likely taking some time to consider multiple factors. These can range from assessing your cushion to evaluating if now is the right time to replace your original loan. You realize that you can prioritize achieving debt-free homeownership faster with a 15-year fixed mortgage. You're also aware that you will have greater access to low 15-year interest rates.
Specifically, a fixed-rate mortgage refinance offers certain benefits. Borrowers locking in a rate for the loan's life will likely save money. Unlike adjustable-rate mortgages, a refi to a 15-year fixed term minimizes the risk of rising interest rates. You may find yourself interested in pursuing a 15-year fixed mortgage refinance for several reasons. The reasons can include — but may not be limited to — that you:
Hope to save money on interest

Want to pay off your loan faster

Want to be debt-free in retirement

Would like to build greater home equity
Consider the status of your current loan before making any refinancing decisions. A 15-year mortgage refinance may help you meet your financial goals faster than your original loan.
What is a 15-year fixed mortgage?
Refinancing into a 15-year fixed mortgage from a 30-year loan can help you save money in the long term. You will make payments over a shorter period by paying lower interest rates on a refi to a 15-year fixed term. You will also own your home earlier. Before securing a new loan, determine whether the higher payments fit your budget.
For a more customized approach, we offer multiple mortgage calculators. For example, you can estimate monthly payments if you have an existing 30-year fixed mortgage or any other mortgage length. Use the calculator and adjust the loan amount, interest rate, terms, and additional factors. You can also explore whether now is the time to refinance by inputting the numbers or speaking with one of our salary-based mortgage consultants. Schedule an appointment online or by calling (866) 891-7332. We can address your concerns or explore how a refi to a 15-year fixed mortgage will help you meet your financial goals.
Who should refinance to a 15-year term?
Homeowners who are ready to refinance into a shorter-term mortgage can fit in a couple of categories. The type of homeowner who would benefit the most from this type of mortgage includes those who:
Plan on living in one place for the foreseeable future

Can make the refinance worthwhile by lowering their interest rate

Can make the higher monthly payments

Have 15 years remaining on the original mortgage
If you're not quite there yet for any of these categories, it's OK. You or your family can take specific steps to make a refi to a 15-year fixed mortgage possible.
1. Reduce your monthly expenses.
Lowering your monthly expenses will make meeting those higher monthly payments more manageable. Review your finances and identify which spending habits are non-essential or even redundant. Scaling back can also help you set aside an emergency fund for an unforeseen home repair or a family emergency.
2. Get strategic about paying off any debts.
Lowering any lingering debts shows that you can handle more significant monthly payments. If you are overwhelmed with bills, it can cast a shadow on your abilities. Start by paying off your smaller debts first. The smaller debts may include credit card balances. Also, avoid seeking new credit before applying for a refi to a 15-year fixed mortgage.
3. Build a strong credit history.
Achieving a high credit score will give you access to the best credit rates and terms. Resolve any accounts currently in poor standing to help improve your overall score.
4. Exhibit a steady, consistent income.
Have you held down the same job for a few years? Has the same company employed you for a while? Strive for consistency with your job before you apply for a 15-year loan. Proof of a steady income will indicate that you can afford the monthly payments on a shorter mortgage.
5. Gather the essential financial documents.
Make sure you have easy access to your tax returns before applying to refi to a 15-year fixed term. You should also gather past W-2 forms, your most recent pay stubs, and any other proof of income. You may also need to present documents to show your expenses. These documents will measure your debt-to-income ratio and see whether you can reasonably make your 15-year mortgage payments.
15-year fixed mortgage vs. ARM options
When you were a first-time homebuyer, you decided whether to get a fixed- or adjustable-rate mortgage. However, you also realized that your decision affected more than just your monthly payment. Choosing between a fixed-rate and an adjustable-rate mortgage dictates how much time you will spend paying it off. It will also influence how much interest you pay over the life of the loan.
A refi to a 15-year fixed mortgage guarantees certain stability that ARMs won't provide you. Nonetheless, there are advantages to each type of mortgage.
A fixed-rate mortgage:
Maintains the same rate throughout the loan's life

Generally provides both 30- and 15-year loan terms
An adjustable-rate mortgage:
Often offers lower introductory rates

Provides financial risk-takers with the potential for ongoing low rates
You may come across what is known as a 15/15 ARM in your refinance search. The mortgage is increasingly common and should be recognized, despite its name, as a 30-year mortgage. Your interest rate stays fixed for the initial 15 years. The second half of the loan's life sees the mortgage rate adjust to a new set rate.
You may feel compelled to pursue an adjustable-rate mortgage for short-term, competitive rates. A refi to a 15-year fixed mortgage term can offer greater security and promise for your long-term financial goals. Whatever your decision, our salary-based mortgage consultants can provide you with guidance and assurances that the best mortgage refinancing choice is the one that meets your needs.