Is a No-Cost 15-Year Refinance Right for You?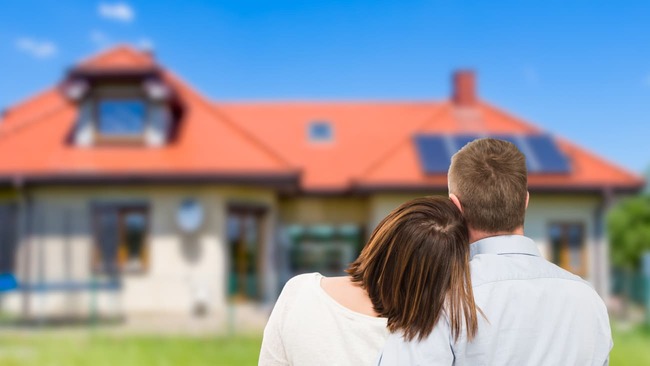 Published March 17, 2022
A no-cost 15-year refinance helps borrowers of all kinds secure their dream homes – even if they don't have the means to do so right away. In addition, a no-cost refinance can provide financial flexibility at the time of the refinance. These special loans redistribute closing costs and make it easier to afford a mortgage refinance. This article will help you determine the benefits and disadvantages of a no-cost 15-year refinance and whether this financial move makes sense for you.
What is a no-cost 15-year refinance?
A no-cost mortgage is one in which the lender pays the borrower's loan settlement costs in exchange for a higher interest rate on the loan. The purpose of a no-cost refinance is right there in the name: Borrowers do not have to pay closing costs with this type of loan. However, lenders do not cover the sum of those costs. Instead, the loan itself will absorb those up-front closing costs, and the borrower will repay them over time by way of a higher interest rate. Essentially, closing costs integrate into monthly payments on the loan. 
Closing costs typically account for 2-6% of the total loan amount. Refinance closing costs can include a(n):
Appraisal fee: A professional appraiser will examine the home to establish its value. 

Title search: Your lender will search the property record for the home's title to ensure the property ownership is straightforward and that there are no liens.

Credit report fee: You will need a credit check before qualifying for a refinance. 

Mortgage insurance: Some loans require an upfront mortgage insurance premium.
If you want to save that 2-6% when taking out the loan, then a no-cost refinance might be the right move for you. The benefits and disadvantages outlined below can help you understand whether a no-cost refinance could benefit you.
The benefits of a no-cost 15-year refinance
The advantages of a no-cost 15-year refinance are fairly immediate. Borrowers who choose this type of refinancing might initially need a more robust cash flow. Building a substantial savings fund can help you make strategic financial moves in the future. Sometimes, a no-cost refinance can help develop that savings foundation. 
Benefits of a no-cost 15-year refinance include:
Borrowers save money in the short term. A no-cost 15-year refinance gives you financial flexibility right now. If you need to put money toward other endeavors, like retirement or medical care, you can. This loan is beneficial if you do not have a strong savings fund. If you plan to move in a few years, a no-cost refinance might actually help boost your savings. You can protect your savings on the initial loan and move before the high-interest payments become too burdensome.

Payment plans make it easier to budget. Even though monthly payments on a no-cost refinance are a bit higher, you can budget for that increase. Plus, you'll save money in the short term by avoiding closing costs. You can redirect some of those saved funds to monthly payments if possible. 
Potential disadvantages of a no-cost 15-year refinance
Financial moves are incredibly personal. Though there are benefits to using a no-cost refinance, this move isn't unilaterally a solid financial decision. Take a look at some disadvantages to determine whether this loan works with your personal financial standings. 
Disadvantages of a no-cost 15-year refinance include:
No-cost refinancing reduces the initial cost of refinancing, but ultimately, borrowers will pay higher monthly payments over time. This loan's additional interest can add up in the long run. If you decide to stay in your home long-term, you could end up paying thousands more on the loan's monthly payments than you would have in closing costs. 

This type of refinance increases the loan's overall cost. While you'll initially skirt paying a lump sum for closing costs, you'll incur a higher interest rate. This hike in interest will increase the loan's overall cost. A no-cost refinance works best for homebuyers who can afford higher monthly payments. The longer you have this loan, the higher that additional interest will go. Even though you avoid closing costs, you could end up paying that same amount, or even more, by the time you finish paying off the loan. 
Who should consider a no-cost 15-year refinance?
A mortgage refinancing that allows borrowers to avoid paying certain closing costs benefits homebuyers from various financial backgrounds. 
Some borrowers are better suited for a no-cost refinance than others. Below, you'll find a few examples of who should consider this loan:
Young homebuyers who have the financial capacity for higher monthly payments. A no-cost refinance is particularly beneficial if you plan on moving and selling your current home. You can avoid closing costs at the outset and sell your home before putting more money into high-interest monthly payments. Consider your personal goals and finances: Will you stay in this house longer than five years? Can you handle higher monthly payments? Would a cash infusion by way of saved closing costs benefit you right now? These questions can guide you in the right direction, and the dedicated experts at American Financing can help you answer them. 

Homebuyers with established careers and finances can use a no-cost refinance to reduce debt and own their homes before retiring. Older adults who need a strong cash flow to reduce debt might consider a no-cost refinance to avoid dipping into their savings to cover closing costs. Using this strategy, older adults planning to retire can pay off other debts faster. 
Getting started on your home refinance
Ready to chat more about whether a no-cost 15-year refinance will work for you? American Financing is here to support you. We'll walk you through whether this refinancing option fits your financial situation. We can also help you determine your eligibility, use a mortgage calculator, and find a loan program that fits your needs.  
Schedule an appointment online to get started on a free mortgage review. You can also give us a call at (800) 910-4055 with any questions you might have about your refinance. Then, make your next life move with expert help at American Financing.