Is a No Closing Cost Mortgage Refinance Right for You?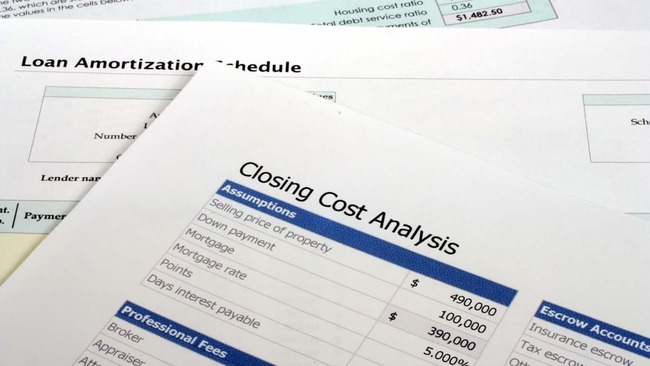 What are closing costs?
Whether buying a home or thinking of a mortgage refinance, you're going to have to prepare for closing costs, which are "fees paid at the closing of a real estate transaction" in addition to the purchase amount of the property. Closing costs are incurred when "the title to the property is conveyed to the buyer." Investopedia.com reports that closing "costs may include loan origination fees, discount points, appraisal fees, title searches, title insurance, surveys, taxes, deed recording fees, and credit report charges."
It's important to know that your lender is required by law to show these costs in a loan estimate form within three days of a home loan application. This way, the borrower isn't hit with an undisclosed amount upon closing the property and can factor the fees into their budgeting plans.
While cumulative closing costs can differ from place to place, they also depend on the price of the property in question and the loan amount; homebuyers can expect to pay somewhere between 2%-5% of the total mortgage in closing costs. For example, let's say your mortgage is $300,000; you would most likely be looking at closing costs of $6,000 to $15,000 — which is a big difference. Therefore, it is good to familiarize oneself with the types of closing costs to expect to pay and understand what each one is for. While some fees come with every mortgage, some may be unnecessary in certain circumstances, so be sure to question each cost with your lender proactively. 
The most common closing costs
Here is a list of some of the most common closing costs that you will see during the buying and selling process:
Attorney

Credit report

Title service costs

Recording cost

Document or transaction stamps or taxes

Survey fee

Brokerage commission

Mortgage application fees

Points

Appraisal fees

Inspection fees

Home warranties

Private mortgage insurance (PMI)

Pre-paid homeowner's property insurance

Pro-rata property taxes

Pro-rata homeowner association dues

Pro-rata interest

Notary fees

Among others
To find out more about what closing costs you might be on the hook for as a buyer or a seller, check out the article "Who Pays Closing Costs on a Home Mortgage? Be Prepared to Negotiate" from our Learning Center.
What happens if you don't have enough money to cover your closing costs?
For homebuyers concerned that they may not be able to come up with the cash needed for closing or don't plan to stay in that home for long, a no closing cost mortgage is worth consideration. In an article for the news page democratandchronicle.com, Mary Chao writes, "A home is likely the biggest purchase you will make in your lifetime. For some buyers, saving enough money to cover a down payment, legal fees, an inspection, and a year of property taxes can be challenging. One of the ways buyers can help themselves is through sellers' concessions, which enable buyers to finance their closing costs, rather than pay cash for them."
There are ways to get around paying the closing costs upfront, but you will still be paying them in the long run. A downside to this type of mortgage is that your interest rate will be a lot higher, and "you will owe more on the loan and pay interest on those closing costs over time," Investopedia reveals. In the article, "What is a No-Closing-Cost Mortgage?", Dan Miller writes, "In a no-cost mortgage, sometimes referred to as a no-fee mortgage, the lender absorbs the up-front costs by either raising the balance of the loan or charging a higher interest rate." So while this kind of mortgage is an alternative for those struggling to come up with the funds upfront, this won't be the right choice for everyone. Like Miller writes, "You're still going to pay those costs—in the future."
How does a no closing cost refinance work?
There are also no closing costs refinances available for those considering refinancing. A refinance usually makes sense to a homeowner, especially when rates are lower than their current rate. One factor that may cause a no closing cost refinance to appeal to a homeowner could be because they aren't planning to remain in that home for too much longer. They might prefer to pay the lower mortgage rate while rolling the closing fees into the overall price of the loan. 
Pros and cons of a no closing cost mortgage
Before deciding to proceed with a no closing cost refinance, consider that you most likely will be paying more monthly in addition to the overall mortgage by choosing to go with a no closing cost refinance. This is true even if you access a lower rate through a refinance. In a recent Forbes Advisor article, they report that refinancing with no closing costs does have a downside. When you pay nothing up front, you pay more over the life of the loan. For example, if you take $4,000 in lender credit on the $200,000 loan, you're essentially rolling the $4,000 in closing costs into your refinanced mortgage loan. In return, you'll pay an additional $2,900 in interest over 30 years with a 4% rate."  
But, if you are currently around a 4% interest rate or higher on your mortgage, Forbes reports that "refinancing at the current low rates may result in a lower monthly payment. And getting a lower interest rate will almost always translate into saving money over the full life of your loan (unless you increase the term of the loan)." So, suppose you plan to stay in the home long term or at least for the foreseeable future. In that case, you will want to consider that getting the lowest interest rate over the life of your loan will be more fiscally beneficial than having no closing costs upfront. 
Who offers a no closing cost mortgage?
Various lenders offer a no closing cost home loan. That's why we suggest talking to multiple lenders and seeing which one offers the best deal. You'd be surprised how much you could save in the long run with one loan over another.
What are today's no closing cost refinance rates?
Mortgage rates differ based on several factors, including economic news and a borrower's financial profile. Keep in mind that lenders typically reserve the lowest rates for those with high credit scores and low debt-to-income (DTI) ratios. You may want to take steps to improve your financial profile before moving forward with a no-closing cost refinance.
Does this loan option make sense for you?
First, it is good to start by taking your short and long-term plans into account. If you plan on staying put for the next ten years or so, a no-closing cost refinance will end up costing you more with the higher interest rate. In this case, a refinance with closing costs will be the best decision to make if you can lower your current rate by a few percentage points and reduce your monthly mortgage payment. If you choose to do a no closing refinance upfront, but decide to be in the home for most to all of the lifetime of the loan term, you will end up paying those closing cost fees several times over during that time. 
On the other hand, if you plan to move in a few years, it might be beneficial for you to pursue if the following apply to your situation:
If you plan on moving before you reach your breakeven point with your mortgage

You discover that you could save money in the short term even with a higher interest rate
If neither of these fits your current situation, there are plenty of options out there for you to explore. First, compare rates and fees with your mortgage lender. Some lenders are willing to be flexible with the closing costs and may waive or reduce specific closing costs. Be ready to ask questions and see what your lender is willing to do on your behalf.
In the end, you will have to make the final call when it comes to going with a no-closing cost refinance or choosing another option. If you desperately need to forego those costs upfront and feel confident that you will be able to make it work for you and your short and long-term needs, then a no-closing cost refinance is most likely your best choice. But be open to seeking advice and weighing out your options, and be willing to change your mind during the process depending on what is good for you financially.