Own Your Home Outright Faster With a Fixed-Rate 15-Year Refinance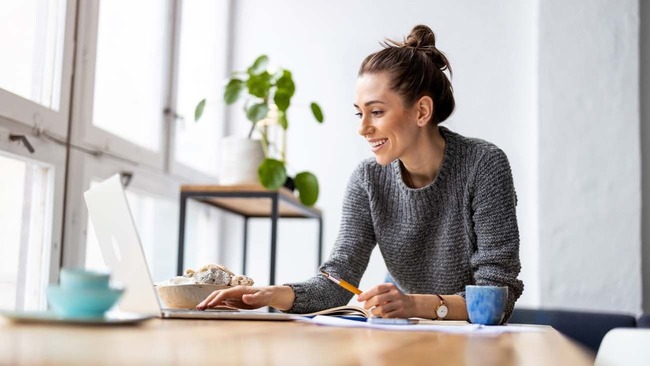 Published March 9, 2022
A fixed-rate 15-year refinance can be an excellent opportunity to secure a lower interest rate and adjust your monthly expenses. If the housing market has shifted or your financial situation has changed since purchasing your home, you might consider a refinance. While the 30-year mortgage is the most popular type of home loan, a fixed-rate 15-year refinance is a great alternative.
With a fixed-rate 15-year refinance, you can dramatically shorten the length of time it takes to own your home outright. In the process, you'll also cut down on your interest payments. Although your monthly payment may increase, this refinance is an effective way to build equity in your home and strengthen your financial future.
The importance of owning your home outright
Financial experts debate the merits of paying off your home early or choosing a 15-year mortgage over a 30-year mortgage. But, for most people, the benefits of owning a home outright are well worth the effort it takes to get there.
Owning your home outright significantly reduces your monthly expenses, which is especially important if you're nearing retirement or expecting a decline in your income. Without a monthly mortgage payment, you will free up hundreds or even thousands of dollars per month. Additionally, you save money by avoiding the interest charges you would have accrued if you'd kept your home loan for 30 years. You can use these funds to build wealth, expand your lifestyle, or increase your generosity.
A paid-off home is also a great source of equity. For example, suppose you need cash to pay for a repair or remodel, medical bills, your children's college tuition, or other significant expenses. In that case, you could access the equity in your home for assistance. 
The peace of mind that a paid-off home provides is priceless, too. You don't have to worry about missing mortgage payments and risking a foreclosure. Instead, you know that the house and the land it rests on belong to you entirely, and this feeling of financial security is unparalleled. 
Using a fixed-rate 15-year refinance to pay off a home faster.
A fixed-rate 15-year refinance is one of the best ways to pay your home off quickly. By cutting down the lifespan of the mortgage, you ensure that you'll pay the loan within 15 years. Sometimes, homeowners will make extra principal payments on a traditional 30-year mortgage to pay the loan back faster. However, following through on this sentiment can be difficult. By locking in a 15-year loan, you commit yourself to paying your mortgage off aggressively.
The average interest rate for a 15-year mortgage is less than the rate for a 30-year mortgage, too. If you opt for a mortgage refinance into a 15-year loan, you could significantly cut your interest rate. This means that you reduce your interest costs both by shortening the lifespan of the loan and by securing a lower rate. As a result, many homeowners save thousands of dollars over the years by making this switch. 
How does a fixed-rate 15-year refinance work?
A fixed-rate 15-year refinance replaces your original mortgage with a new one. You take out a loan to pay off the existing mortgage balance, and you now have a financial obligation to pay back this new mortgage.
Homeowners have a few options when refinancing. First, you could keep your existing mortgage balance as-is and only change the interest rate and term of the loan. Your monthly payments will change, but the mortgage's principal balance will stay the same before and after the refinance. 
Alternatively, you could use this opportunity to exchange your home's equity for cash. You receive a portion of the equity in a lump sum with a cash-out refinance. However, this amount is added back to your new home loan, so your mortgage balance will increase.
If you want to reduce your mortgage balance while refinancing, you could opt for a cash-in refinance. This means that you apply an extra lump sum to your mortgage balance when you refinance so that the new balance is lower than your previous balance. If you have the funds available for a cash-in 15-year refinance, this is an excellent way to pay off your home as quickly as possible or reduce your monthly mortgage payments. 
What to expect with a fixed-rate 15-year refinance
The process of refinancing your home is similar to applying for your original mortgage. You should prepare to provide the following information when submitting your application:
Proof of income from bank statements, pay stubs, or tax forms

Credit score and credit history

Total debt and debt-to-income ratio

Equity in home

Current home value
You may need to get an appraisal of your home to assess its current value before your refinance is approved. The homeowner usually pays for this appraisal, which typically costs about $400. 
Refinancing a mortgage involves closing costs, so you should expect to pay between 2% and 5% of the loan amount up-front. You could roll these expenses into the mortgage or pay them in cash. In most cases, the money saved from a fixed-rate 15-year refinance outweighs the closing costs. 
The complete timeline for a refinance can vary significantly. On average, refinancing takes about six weeks from beginning to end. However, you might be able to speed up the process by getting pre-approved for a loan and by ensuring you have all the required documents at the ready. 
Financial projects to consider after owning your home outright
Making the final payment on your mortgage is an incredibly exciting step. Although you still must pay property taxes, home insurance, and homeowner association fees, paying off your mortgage frees up a considerable amount of money each month. Here are some ideas for financial projects you could begin once you own your home outright:
Increase retirement contributions

Pay off other debt

Invest in another property for rental income

Renovate or upgrade your current home

Save for traveling, lifestyle upgrades, children's college tuition, or other expenses
A fixed-rate 15-year refinance allows you to pay your home off faster and accrue less interest. If you have the financial means to increase your monthly payments, you can accelerate your home pay-off and build wealth quickly with this refinancing option. Take a look at your income and expenses, research the current mortgage rates, and consult with a trusted financial advisor if you're considering a refinance