How Does Today's Best Refinance Rate for 15-Year Mortgage Options Compare?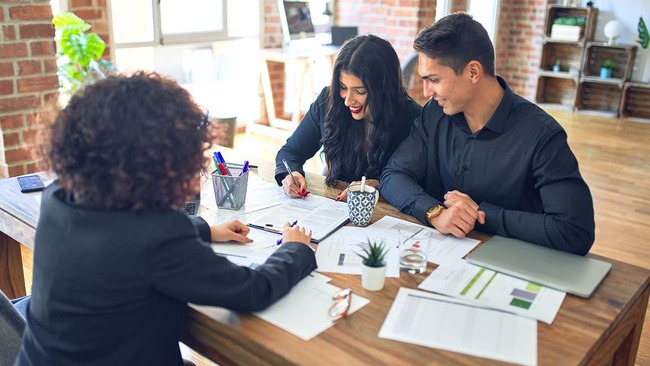 Published March 9, 2022
The best refinance rate for 15-year mortgage options will change over time. To understand the ebbs and flows of mortgage refinance rates, you should first know that 15-year mortgage loans have only existed since 1991. Since that time, refinance rates have decreased at a relatively consistent pace. However, there have been several highs and lows that should be noted when mapping out trends. When you're searching for the best refinance rate for a 15-year mortgage, the history of these rates can paint a clearer picture of which rate you should obtain. 
The history of 15-year mortgage refinance rates
The 15-year mortgage loan was first introduced in 1991, making it easier to view the history of mortgage refinance rates for this loan type. A 15-year mortgage loan tasks borrowers with repaying the entirety of the loan in 15 years. When 15-year mortgage loans first began in 1991, the interest rate was around 8.69%. If this sounds high to you, you're not alone. 
While interest rates dropped below 8% after June 1992, they briefly reached a high of 8.80% in January 1995. However, by the end of the year, refinance rates were an average of two percentage points lower. So if you're looking for the best refinance rate for a 15-year mortgage, you can be confident that it won't be as high as 8% if you have a decent credit score. These days, mortgage rates tend to sit around the 4% mark.
When was the best possible time to refinance?
Today, most market analysts say that you can obtain the best refinance rate for 15-year mortgage loans when rates dip from your current interest rate by 1% or more. In general, refinance rates have dropped consistently since the 15-year mortgage was first introduced, which means there has rarely been a bad time to refinance. 
When looking specifically at the lowest refinance rates, the best refinance rate for 15-year mortgage loans was available in August 2021, when refinance rates reached a 30-year low of 2.15%. These rates would stay below 3% until February 2022. Even though interest rates have swung higher and lower at different intervals since the financial crisis of 2008, refinance rates have remained below 5% since that time. 
Interest rates for a 15-year mortgage tend to be lower than interest rates for a 30-year mortgage. So if you want to find the best refinance rate for a 15-year mortgage, make sure to compare your options. 
Why doesn't this matter to the current homeowner looking to refinance?
Even though the best refinance rate for a 15-year mortgage could technically be had in August 2021, this doesn't change the fact that rates have remained consistently low since 2009. As such, there won't be much difference in waiting. Waiting to see if rates drop further may result in you paying more money if rates increase. 
While you can't predict how low or high-interest rates will go, you can be confident that they are not likely to drop well below 2%. Let's say that you find a refinance loan with an interest rate of 2.6%. If you wait a year, it's possible that the best refinance rate for 15-year mortgage loans would be around 2.3%. If the home you want to buy costs $240,000 after a $60,000 down payment, your monthly payment would be approximately $1,875 with a 15-year mortgage. 
At 2.3%, the monthly payment drops to $1,841. While these savings can add up, waiting for the mere possibility of lower interest rates is likely a poor decision. It's impossible to predict if interest rates will increase or decrease, which is why attempting to predict the market is not recommended. 
The best time to refinance is when you're ready
If you're shopping for the best refinance rate for 15-year mortgage loans, you should instead consider selecting the best rate available to you rather than waiting for rates to decrease in the coming weeks or months. The ideal time to refinance is whenever you're ready. But unfortunately, the market is always going to be unpredictable. 
Even though refinance rates have had a relatively steady and consistent history since 1991; sharp increases have occurred without any forewarning. For instance, the average rates for a 15-year mortgage were at 4.63% in June 2003. However, interest rates were at 5.59%, nearly 1% higher two months later. So while waiting for the best refinance rate for 15-year mortgage loans may seem like a wise decision, it may also lead to a higher interest rate. 
Because interest rates for a 15-year refinance are, on average, 1% lower than what they are for a 30-year mortgage, your interest rate should drop considerably when you make the switch. Make sure that you do your due diligence, which means that you should perform an in-depth comparison between your options. We at American Financing are more than happy to help you start that process.  
How to know if you're ready to refinance into a 15-year mortgage
If you believe that it's time to refinance but aren't 100% certain, there are several indications that you might be ready. Some signs that it's a great time to refinance to a 15-year mortgage from a 30-year mortgage include:
Your income is higher since your previous loan approval

Your credit score is higher since your last loan approval

More than 15 years remain on your current mortgage

Refinance rates are considerably lower than your current rate

You can afford a higher monthly payment
To qualify for a refinance loan, you need to provide proof of income and an existing insurance policy. A home appraisal may also be necessary before obtaining loan approval. 
Refinancing your current 30-year mortgage to a 15-year mortgage is a great way to reduce the amount of interest you pay, lower your interest rate, and obtain more equity in your home. So if you feel that you're ready to refinance, now is the best time to do so.