How to Choose a Real Estate Agent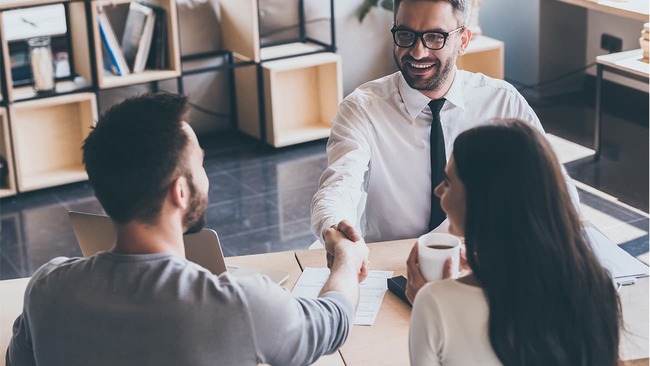 A home purchase will likely be the most expensive financial transaction you make in your life. Whether it's your first, next, or forever home, you need a dedicated real estate agent by your side. Yet, many buyers end up working with the first realtor they contact.
Continue reading as we discuss how to choose a real estate agent.
What does a real estate agent do for a buyer?
Let's start with the basics. A realtor's primary responsibility is locating a suitable property for their clients. But their duties go beyond scheduling tours and sending new listings to interested buyers.
Assist with pre-approval
Many real estate agents skip this step and assume that their clients will get pre-approved on their own. Trust us, in today's ultra-competitive market; it's critical to find a realtor who can connect you with a mortgage lender. A pre-approval letter strengthens your buying power and gives you an advantage over other buyers. 
Negotiate an offer
Realtor.com states that "the buyer's agent will advise clients on an appropriate price to offer and present it to the seller's agent." Experience plays a significant factor when it comes to an agent's ability to negotiate. Hiring a realtor who has been in the industry for years could keep you from overpaying on your home. 
Suggest other professionals
A real estate agent won't be able to get you to the finish line on their own. That's why it's helpful for a realtor to have a network of professionals at their disposal. This includes home inspectors, movers, and attorneys, among other industry experts.
Be an advocate
Real estate agents wear many hats — researcher, negotiator, therapist, etc. What sets them apart, though, is their willingness to go the extra mile for their clients. This could mean anything from handling a setback with the inspection to putting in an offer well into the evening. 
Ultimately, the agent you choose should be your advocate. This person must have your best interests in mind and do whatever possible to help you land your dream home. A proven realtor will also take on any obstacles along the way and keep you on track with the process.
How to interview a realtor
Now that you have a better understanding of what a realtor does for a buyer, let's move on to selecting one for your situation. We suggest first coming up with a list of candidates based on your findings and any recommendations. From there, be sure to sit down with each agent and get a feel for them.
You'll want to ask these real estate agents a number of questions. For example, do they specialize in a specific type of property? And are they willing to provide contact information for past clients?
Most realtors have no problem scheduling an initial meeting and answering a few questions. However, some may be reluctant to do so and would rather rush you into the process. Our advice is to steer clear of these realtors altogether. 
Signs of a bad real estate agent
Perhaps you're wondering how to tell the difference between an excellent real estate agent and a bad one. While some of the following may require some time to figure out, others will be evident from the beginning.
Poor communication
This has to be the biggest pet peeve for aspiring home buyers. In today's digital age, you should expect to regularly hear from your agent by phone call, text, or email. A realtor who fails to communicate effectively could lead to you missing out on the perfect home. 
Lack of experience
You might know someone who serves as a "part-time" real estate agent. Even though they might be licensed and have a few sales under their belt, they probably aren't the right realtor for the job. Do yourself a favor and narrow your search to agents who understand the ins and outs of the market.
Salesy tactics
Your agent has to match you with the right home, not necessarily the priciest home. That said, many realtors are more concerned about their commission than their clients' preferences. You can eliminate a potential headache by reviewing your agent's fees before signing a contract.
Start your home buying journey
Choosing a real estate agent is just one piece of the home buying puzzle. In terms of home loan options, our team at American Financing has you covered.
We offer several low down payment programs, including FHA and VA loans.  There's also down payment assistance for those who qualify.
Give us a call at (800) 910-4055 for more information.