HomeReady® Mortgages: Guidelines & Limits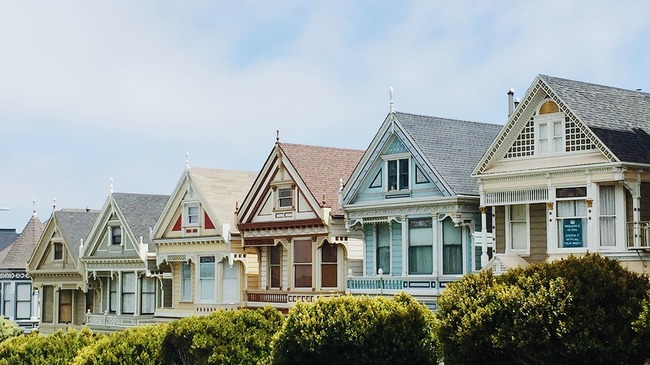 Good credit, stable job, just not much saved for a down payment? Fannie Mae can help. Its HomeReady® mortgage program is designed to help more U.S. households get approved for low down payment loans.
Here's what you need to know.
Fannie Mae HomeReady® mortgage guidelines
This conventional 97 loan program is ideal for borrowers who
Have low to moderate income

Are first-time or repeat homebuyers

Looking to purchase a home for their multi-generational family

Have limited cash for a down payment

Have a credit score ≥ 620

Have a higher debt-to-income (DTI) ratio (no more than 50%)

Have (or are interested in having) supplemental rental income
Income limits
Income limits are dependent on where the property is located. If it's in a low-income area, there are no income limits. If not, you are not able to make more than 100% of the average median income for that area.
Standard salary, overtime pay, disability pay, commissions, and Social Security are just a few of the many sources that are considered as qualifying income.
To find out if your desired property qualifies for a Fannie Mae HomeReady®  mortgage, try the income eligibility tool.
Additional qualifying income sources
Co-borrowers you don't live with
A key feature and differentiator is that borrowers can use income from relatives and non-relatives for purchase and refinance home loans. So, all borrowers do not have to reside on the property. For example, parents, who won't be living in the home, can be co-borrowers on the loan to help their children qualify for a mortgage and purchase a home. Income limits may apply.
Non-borrowers you live with
Because income from non-borrowers (i.e. household members who are not on the mortgage) can be considered during the qualification process, the program is often used to fund home purchases for multi-generational families. It's a key benefit for multiple families living in one home, aging or retired parents living with children, even unmarried couples where only one individual wishes to be on the loan. While their incomes won't be added to yours in the approval process, they can help you secure approval in situations where your DTI ratio is higher than normal.
Rental income
The same rules apply for roommates and boarders who can prove that they've been with you for at least one year. If your new home has any detached living units like a basement apartment or mother-in-law unit, you can also propose to find a tenant and add the estimated rent as part of your income in the application. Unlike roommate income, you do not have to have 12 months history of shared residency.
Down payment and closing costs
With HomeReady ®, cash for down-payment and closing costs can come from multiple sources, including gifts, grants, and Community Seconds ® — with no minimum personal funds required.
Community Seconds
Community Seconds ® mortgages permit Fannie Mae lenders to leverage public, nonprofit, and employer funds to finance down payment and/or closing costs, thus helping more families achieve homeownership.
Mortgage insurance
With HomeReady ®, there is no upfront premium and when your LTV reaches 80%, you can request to have your mortgage insurance canceled. It will automatically be canceled when your LTV drops below 78%.
FHA vs. HomeReady®
HomeReady® was created to provide buyers with an alternative to FHA. The chart below illustrates key program features and differences. Keep in mind credit score requirements may vary by lender.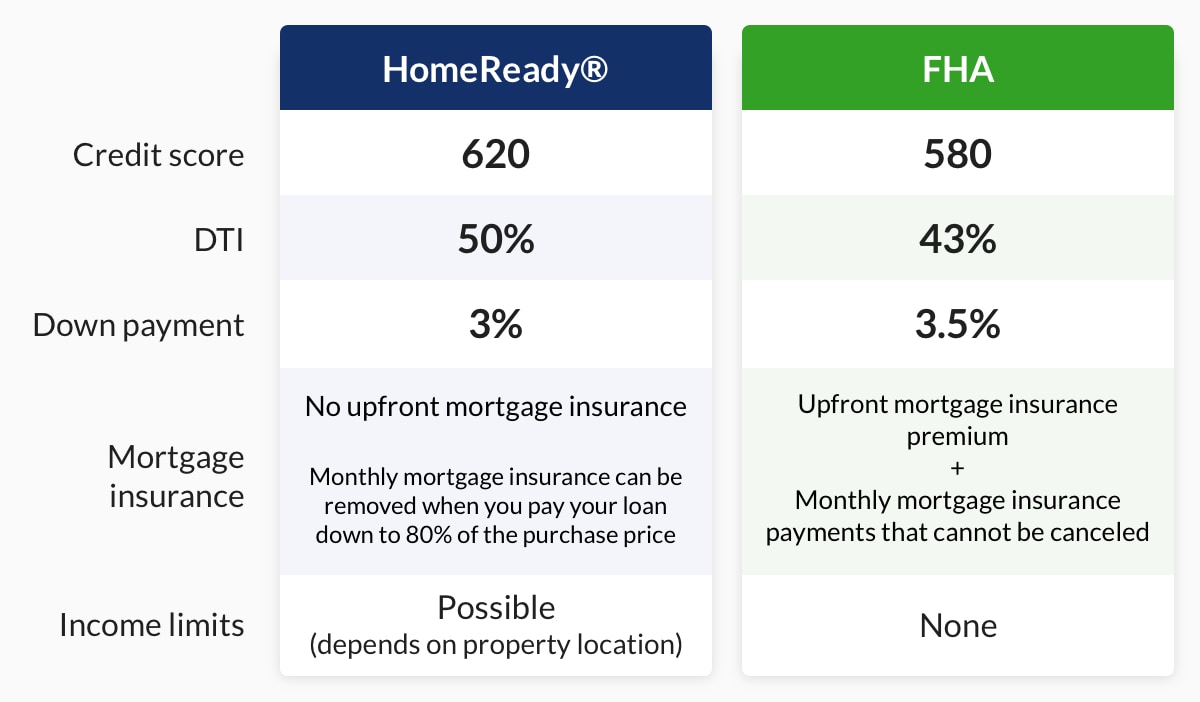 Homeownership education
If you choose to move forward with a Fannie Mae HomeReady®  mortgage, you will be required to complete an online homeownership education course.
Framework® is an online class that prepares borrowers for sustainable homeownership; though other education and housing counseling options are available. The class takes 4 to 6 hours to finish and requires a one-time $75 fee (that covers both you and a co-borrower).
NOTE: Completion of the Framework course does not, by itself, qualify a homebuyer for a HomeReady® mortgage. Additional eligibility terms and conditions apply.
What you'll learn
How much home you can afford

How to improve your credit

How to shop for the best loan

The steps of the mortgage process

What to include in your offer

Home inspection basics

The steps of the closing process

And more
How to qualify
While Fannie Mae designs and sets the rules for HomeReady® mortgages, the loans themselves are provided through national and local mortgage lenders. Get started on your loan HomeReady® qualification by calling (800) 910-4055 or filling out the form below.