Is It Time to Pay Off a HELOC With a Refinance?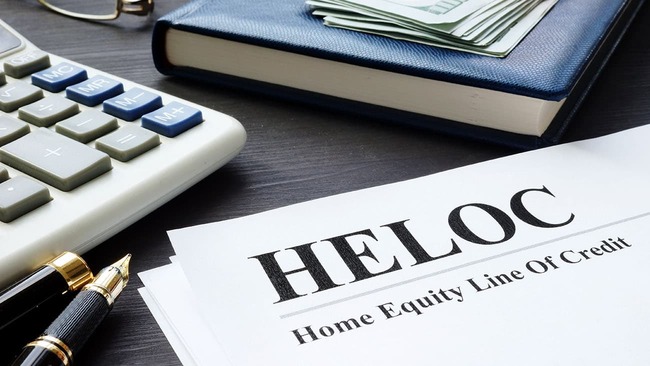 Published April 9, 2022
Deciding when you should pay off a HELOC with a refinance may be one of your most important choices as a homeowner. Initially, you might have been able to convert equity into accessible funds when you took out the home equity line of credit. Perhaps affording your dream home was one of the HELOC benefits you found appealing, or maybe you were able to avoid paying PMI fees. Now, you're in your repayment period, and you're considering all of your options. The bottom line is that you realize that repaying borrowed money sooner rather than later is your best way forward.
Making small, interest-only payments over a more extended period works for some people. However, other homeowners will benefit most by paying off HELOC with a refinance. A HELOC is like a credit card. As you work to pay off the loan, you will gain access to more credit. In addition, paying down the principal enables you to make more manageable payments in the later stages of the loan's life.
How does a HELOC payment work?
There are two separate periods for a HELOC. Homeowners with a HELOC will encounter the draw period, then the repayment period. You will notice that your lender expects you to follow specific guidelines during each of these periods.
The draw period:
Generally lasts for ten years

Allows you to use the HELOC checks or a credit card for your selected funds

Requires you to make small monthly payments on the loan's interest
If you want to pay off a HELOC with a refinance, you may not have paid down the loan's principal as early as you wanted. The result is that you will need to make larger payments during the later repayment period. This is why paying down the loan's principal also helps you avoid paying higher interest throughout the loan's life.
The repayment period:
Often includes years 10 to 15

Requires you to make monthly payments on both the principal and interest

Doesn't permit you to make any additional draws
Before your HELOC's draw period concludes, review your finances and assess your long-term goals. Knowing when your draw period expires can better help you prepare for the next stage.
How to pay off a HELOC
Homeowners have the option to pay off their HELOC with a refinance. This option comes with several methods for refinancing your HELOC. Each option has distinct benefits and some limitations. Remember that the best path forward for you may be unique from others who are in a similar repayment stage.
Modify the HELOC: Review what specific requirements you meet. You may be able to speak with your lender about modifying your existing HELOC. A new loan term has the potential to help you catch up on making payments. Not all lenders offer the option, but choosing it is a simple and efficient refinance approach.
Find a new HELOC: People looking to "reset" might pursue this option. The choice to pay off HELOC with a refinance may allow you to extend the draw period. You can also possibly utilize new equity in your home or strengthen your finances before making the required payments.
Refinance your mortgage and HELOC: If you don't mind more paperwork, you may consider a joint refinance. Homeowners who choose this option can expect greater negotiating power. HELOCs typically have variable rates, making it tough to predict specific payment requirements. Refinancing everything into a brand-new mortgage may allow you to secure a fixed rate for your loans.
Explore home equity loans: Using a lump sum of money to pay off your HELOC is a less favorable but still available method. As you pay off your HELOC with refinancing options, you will also be able to secure fixed interest rates through a home equity loan. Bear in mind that these types of loans can lengthen your payment period.
If you're curious to learn more about our custom refinance options, get in touch. You can set a time to speak with our salary-based mortgage consultants. We are happy to answer your questions and help you determine which loan program can be customized to meet your financial needs.
Does a cash-out refinance make sense?
Have you considered refinancing your HELOC into a single loan? You're far from alone. Some homeowners will explore their cash-out refinance options once they decide they want to pay off a HELOC with a refinance. Perhaps you're concerned about your HELOC's unpredictable variable interest rate. Perhaps your HELOC is about to turn 10.
As your repayment period looms, your rate might increase. Getting a cash-out refinance can provide you with a simple solution. It has no restrictions as to how you utilize your funds. You can decide whether to put the funds into the bank or use them to pay off your HELOC.
Getting a cash-out refinance is a big decision. It's understandable if you're unsure whether it's the best method for paying off your HELOC. Some of the main advantages associated with a cash-out refinance if you pay off your HELOC with this type of refinance include:
Lower rates than credit cards

Significantly lower rates compared to personal loans

Ability to choose between Conventional Cash-Out Refinance Loans or government-backed loans

Potentially tax-deductible loan payments

Closing costs as part of the loan
Considering the advantages is part of the process. Additionally, it would be best if you also asked yourself several critical questions before you cash-out to pay off your HELOC. These questions include:
Do you need the money now more than later?

Have you exhausted all other methods before using your home's equity?

Will your home's equity significantly diminish?
Acting too soon when seeking a cash-out refinance is easily avoidable. You can schedule a free mortgage review with us to learn how much equity you have. You can also crunch the numbers yourself by using our mortgage refinance calculators. You may even surprise yourself with your eligibility. Call us today at (866) 891-7332 and let one of our salary-based mortgage consultants offer guidance on how to pay off a HELOC with a refinance.