Home Energy Renovation Opportunity (HERO) Loans: Good, Bad, & Ugly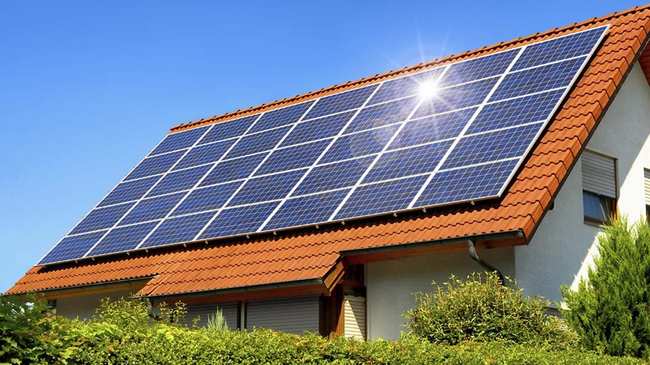 *This article is for educational purposes only. American Financing does not offer HERO loans.*
What is the HERO program?
The Home Energy Renovation Opportunity (HERO) program is an energy-efficient financing program for homeowners in approved communities. It covers energy-efficient home improvements like solar, heating & cooling, windows & doors, roofing, and landscaping.
To understand HERO you need to know where it came from. The HERO program comes from the Property Assessed Clean Energy program (PACE). This parent program is a system of financing energy-efficient upgrades for different types of residential, commercial, and industrial properties. With the PACE framework, local governments provide initial funds for the installation of energy-efficient projects and renewable-energy systems. The property owner then repays the loan over a period of time.
HERO is designed specifically for residential upgrades and works like PACE but with a twist. A HERO loan is repaid through property taxes which comes with certain benefits and challenges.
How does it work?
How you pay back the financing
The financing provided by the HERO program is repaid through annual property tax payments, which are collected by the local county. In some cases, it may be passed on to a new property owner in the event the home is sold off. We suggest getting clarification with the HERO loan program payoff before moving forward.
How you get approved
Eligibility for HERO is based on factors including your home equity, household income, debt obligations, and the upgrades you want to finance. These criteria may vary by jurisdiction so make sure to verify. Residential properties with up to four units may be eligible for the program.
Which home improvements are eligible
Only energy-efficient, water-efficient or hurricane protection upgrades may qualify for the HERO program. Specific product eligibility requirements vary by state.
Which states qualify for HERO?
The HERO program is currently available for California, Florida, and Missouri homeowners. The program could potentially open up to more states in the future.
The good
100% borrower financing
Once a homeowner is eligible for the program, HERO finances 100% of the cost to purchase and install qualified energy-saving products. In addition, the interest paid on the principal balance may have tax benefits, similar to a mortgage.
Can be transferred
Yes, if you sell your property after making improvements through HERO, you don't necessarily have to pay off the loan. The loan is attached to the property, so it depends on if you find the right home buyer.
Upgrades lower bills
Financing energy and water-efficient home improvements means more than going green. Aside from obtaining an environmentally friendly home, you get to cut down on monthly bills. Going green will save you some green.
The bad
Lender financing woes
HERO loans are undoubtedly beneficial if you want to make upgrades to a home without writing a large check upfront to pay for the improvements. However, the problem is that the HERO loan becomes the priority among all other loans on the home. Let's say there is a financial problem, and a homeowner can't pay their usual bills. The mortgage company has to wait in line until the government is paid back first. This is why lenders are very hesitant to write HERO mortgages.
Reselling the home
Restrictions may reduce the marketability of the property or require the homeowner to pay off the loan before selling. Most home buyers will be purchasing using a loan guaranteed by Fannie Mae or Freddie Mac. Unfortunately, neither agencies want their first lien position threatened by a HERO loan.
Limited state participation
This can always change in the future, but for now, only three states participating in the HERO program. Homeowners living outside of California, Florida, and Missouri cannot qualify for the program.
The ugly
PACE loan payback
Local governments make PACE funding available, and PACE programs are sometimes confused with other government loan programs. Ultimately, they're just loans like any other loan. Fundamentally, they need to be repaid, and there are consequences for failing to repay.
For a good cause?
It feels good to do good in the world, and HERO financing helps you pay for green projects. However, there are also several entities involved who could be more interested in turning a buck than making a difference. Critics of the program argue that these loans have similarities to subprime loans.
Tax-deductible...maybe
Deducting interest costs related to your home upgrades may be possible. However, tax laws are complicated — you need to speak with a local tax expert to verify your ability to take deductions. Unfortunately, some property owners believe that the entire cost of a project is deductible because the payment is part of a property tax bill, and this is not typically accurate.
Other financing options
Cash-out refinance
It works by replacing your current home loan with a new one that has a higher balance. You are refinancing for more than you owe. Therefore, the difference between the two loans is then distributed as cash for your home upgrades. Go green with a cash-out refinance. Or check out our other mortgage refinance options if cash out doesn't seem like the perfect fit.
First lien HELOC
A HELOC lowers your home loan principal faster and saves you thousands of dollars in mortgage interest too. With a first lien HELOC, you have more control over your loan balance and interest costs. Plus, you can enjoy flexible access to your home equity for energy-efficient home improvements.
HERO vs. HIRO
Many borrowers confuse HERO loans with Fannie Mae's High LTV Refinance Option, also known as HIRO. In short, the HIRO mortgage program replaced the Home Affordable Refinance Program (HARP) in 2018 and works to assist underwater homeowners. The high LTV mortgage could be worth considering if you have a loan-to-value (LTV) ratio above 97% and you meet the program's eligibility requirements.
Whether you're looking into the HERO homebuyer program or a HIRO loan, the right lender makes all the difference.