Dog Showers & Other Unconventional Home Upgrades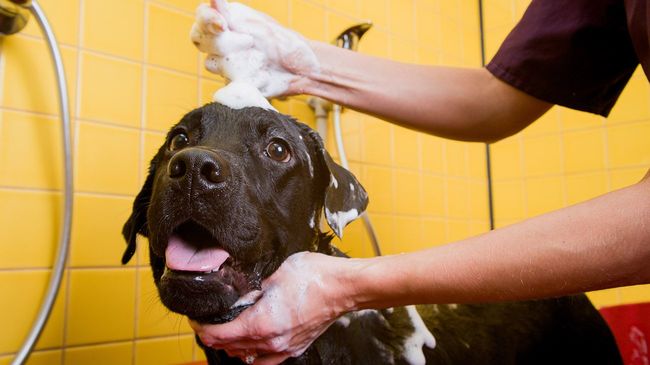 Home renovation projects can vary significantly in difficulty, expense, and return on investment (ROI). It's no surprise that homeowners typically go for more traditional projects that tend to yield the highest ROI for the least amount of work.
According to The Mortgage Reports, approximately nine out of 10 homeowners had aspirations of improving their residence. Keep in mind that not all of them when the traditional route of updating a kitchen or bathroom.
The unconventional projects below may not be "home needs" for your family, but future home buyers searching for homes with a unique appeal are willing to pay a premium for it.
Dog shower stations
It's no secret that many owners treat their dogs as part of the family and aren't afraid to spoil them rotten. Rightfully so. What's not to love? Nearly 70% of U.S. households, or about 85 million families, own pets and the number of households that own dogs account for roughly 63% of overall pet ownership - according to the American Pet Products Association.
Homes that cater to dogs' needs are definitely appealing to this audience. At the top of the want list: dog showers. They're the ultimate perk for dog lovers because of convenience. While dogs can be bathed in regular bathtubs, there are several key benefits to having a dedicated dog shower:
Most dogs don't love taking baths which can lead them to squirming or thrashing about to get away, potentially making an even bigger mess, or injuring themselves.

Even after bath time is over, sharing a bathtub with a pet means having to deep clean the tub area after every dog bath. Unless you don't might dealing with all that pet dirt and fur!
Cost: $1,500 to $5,000
Hidden secret rooms
Newly renovated kitchens and beautiful spa-like bathrooms are nice, but they just don't provide a "wow factor" like a hidden room. All you need to create these unique spaces within your home is a camouflaged door, a little bit of architectural trickery, and a pinch of imagination.
If you're considering including a hidden room in a custom-built home or setting up one in an older home, your first decision is how to conceal it. With nearly endless ways to conceal hidden doors in homes, the only limit is your creativity. Stone walls, concealed wall panels, fireplaces, bookcases, cabinets or dressers, and mirrors are some of the most common concealment techniques. The cost can range wildly depending on project scope and quality, but below is an estimate of the potential cost.
Cost: $2,500 to $15,000
Accordion glass doors
Accordion-style glass doors make the outdoors an extension of your home while adding character. They're most often used to open up your living room, dining room, or kitchen to the outside patio or deck. Glass doors cover the length of the wall when closed and then fold up when open, very similar to how closet doors fold to one side or separate to both sides.
They can be expensive but come with several benefits that will attract buyers:
Accordion glass doors can accentuate a beautiful view that otherwise would be obstructed.

They're also great for homeowners who love to entertain, especially outdoors.

Lastly, folding accordion doors are becoming popular for making small spaces look larger.
Some homeowners opt for accordion glass doors instead of a larger floor plan to build an eco-friendly home that showcases their natural surroundings, while others choose them over building an addition to their homes. Regardless of why the appeal of these glass doors is clear.
Cost: $700 to $1,000 per linear square foot on average
Staircase storage
The space under the stairs often goes unused and underutilized. Why not convert it to extra storage by constructing shelves or an entire closet? Or, if you prefer a more exposed look and love to read, use the space for built-in bookshelves — perfect for storing books and creating a cozy reading nook.
The cost of creating staircase storage can vary significantly depending on professional installation, the type of wood used, and whether you choose to install open shelves, drawers, cabinets, or a combination.
Cost: $1,250 to $30,000
Murphy bed addition
Office by day, bedroom by night — a bed that pulls down from the wall remains a classic, clever option for those lacking extra sleeping space. Some companies sell freestanding Murphy bed models that resemble an armoire when closed. Or, you can hire a contractor to build a customized piece to best suit your design style and space.
Cost: $2,000 to $8,500
Homeowners don't have to feel confined to traditional renovations or afraid that their quirky upgrades will bring down their home value. Quite the contrary. With a creative touch and some assistance from a contractor or handyman, you can increase your home's livability and personality with these unconventional renovation projects.
If you need help financing one or more of the unconventional renovations above and have equity in your home, then look no further. Convert your home equity into cash by way of a cash-out refinance. Contact the mortgage experts at American Financing to learn more about taking cash out of your mortgage. You could potentially close in as fast as 10 days!