Earnest Money Check: What You Should Know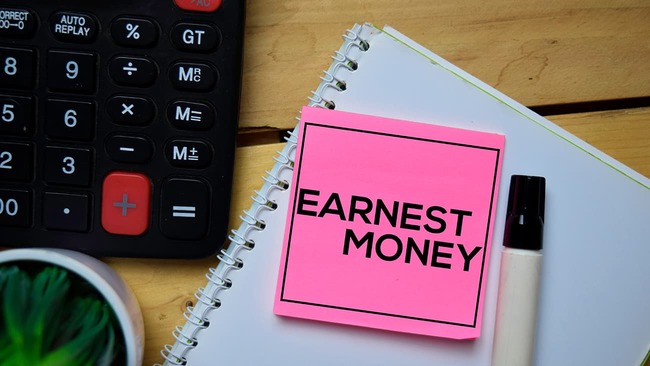 Buying a home requires a great deal of commitment. Especially in a hot real estate market, you're either serious about owning a home or you're not. That's why it's important to go above and beyond with your offer, which is where earnest money comes into play.
What is it?
An earnest money deposit essentially tells a seller that you're interested in their home. Buyers should expect the earnest money amount to be anywhere from 1-3% depending on the location. Just note, however, that an earnest money fee could be a flat amount of $1,000 or more. 
Now for the follow-up question: How does earnest money work? Let's say you found your dream home and want to eliminate any possibility of losing the residence to another buyer. An earnest money check locks you into a contract and forces the seller to take the home off the market.
It's then your responsibility as the potential buyer to successfully complete the transaction. Your funds are put into an escrow account with the seller's title company or broker. If there are any hiccups during the process for whatever reason and you decide to back out of the deal, the seller keeps the money.
So yes, there's a level of risk involved when you put down earnest money. But the seller will see the deposit and know that you mean business. And they would rather move forward with your offer as opposed to a buyer who might be on the fence.
Is earnest money required?
There's no black-and-white answer to this question. As we mentioned in the previous section, earnest money requirements vary based on the location and market conditions. Do a bit of research and determine exactly how much money you'll need before shopping for homes. 
It's obviously better to have the funds available for an earnest money check than not. Again, you want your offer to stand out as much as possible. That's particularly true if you're up against cash buyers and those bringing a significant down payment to the table.
Earnest money amount
"How much earnest money should I put down?" There's a good chance that you'll ask yourself this question 100 times before making a decision. And while it's sensible to stick with the minimum amount required for the deposit, doing so could leave you left out.
Put your mind at ease and talk to your real estate agent about the earnest money amount. They should be comfortable giving you some direction so that you avoid missing out on your home.
If you're in a competitive market and other buyers are interested in the property, play it safe with a higher deposit. Alternatively, you can probably get away with a lesser amount in a slower market. Most realtors advise against leaving anything to chance — and meeting the seller's earnest money requirements in full.  
Do you get your deposit back?
It's a fair question considering that you could be handing over a sizable check. Thankfully, you shouldn't have to worry about throwing away your hard-earned money on this deposit. As long as the rest of the process goes smoothly, you should get your earnest money back on closing day.
But home buyers need to understand that they aren't guaranteed to have these funds returned. Maybe the appraisal amount comes in much lower than anticipated or the inspection didn't go well. Or perhaps your lender throws you a curveball and says they found an issue with your financial profile.
In any case, have your agent build any such contingencies into your contract. This will keep you from losing your deposit altogether.
When is earnest money due?
Plan on wiring or delivering the check to the seller's agent within three days of an accepted offer. Those who delay allow other interested buyers to make an offer of their own. The sooner the seller receives the money, the sooner you are to landing your home.
Earnest money vs. down payment
Many home buyers confuse earnest money with a down payment. To clarify, your earnest money check is kept in an escrow account and applied to your down payment at closing. The down payment itself, meanwhile, is tied to your loan program.
Gone are the days when borrowers had to come up with a 20% down payment. The FHA, VA, and USDA help hopeful buyers achieve their homeownership goals thanks to minimal down payment requirements. Of course, don't rule out the down payment assistance options that may be available to you.
Call American Financing at (800) 910-4055.