DIY Home Security Tips and Technology: Safeguard Your Family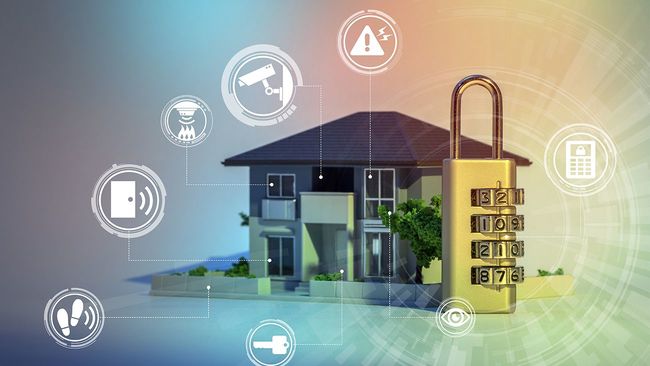 Safeguarding your home is not as difficult, or expensive, as you may think. Here are a few DIY security tips that are practical and worth implementing when it comes to securing entry points and alerting you of potential intruders.
DIY home security solutions
High-cost home security isn't your only option when it comes to keeping your home and family safe. There are many DIY home security projects you can complete on your own. For starters, you can:
Install a motion detector
Motion detectors can easily be found at your local Home Depot, Lowes, or hardware store. For as little as $15 a unit, you can detect movement in or outside of your home and have lights turned on for a set period of time.
Add pin locks to your windows
In as little as two hours, you can upgrade your standard window and patio door latches to window lock systems featuring theft-deterrent technology. On double-hung windows, you can install a locking pin that goes through one sash and into the next to keep intruders from lifting the sash. You can even go as far as adding a keyed turnbuckle, so you'll need a key to open the window instead of its standard latch.
Secure patio doors
Sliding glass doors operate on tracks instead of hinges, so it's very easy for thieves to remove them. Try adding a wooden dowel or security bar to the track, or even a double bolt lock.
Learn: A few simple tips on preparing a home for a new baby.
DIY home security systems
Prefer a home security system? If so, it's important to know you don't have to sign a long term contract. You can still take advantage of key home security features like smart home connectivity for automated routines and remote access via mobile app. These days, those features are almost standard. Here are a few options to consider.
Honeywell DIY security
Honeywell offers a DIY home security system that's equipped with a 1080p high-definition live streaming, geofencing, smart home integration, and free 24-hour cloud storage. Key fobs and motion viewers can be added a-la-carte (among other options), so you're able to grow the system to suit your needs.
LifeShield by ADT
LifeShield is a DIY home security system that is offered by ADT. It has easy to set up sensors and smart cameras, live video, and video recording; plus it has a free mobile app. 24/7 professional monitoring for emergency services is optional.
Ring Alarm
Ring has gone beyond doorbell video monitoring. It now offers a whole home DIY security option that alerts you when windows are opened, or motion is detected. It works with Amazon's Alexa to arm and disarm your security system.
Google Nest
Prefer not to have to remember a security code? Consider Google Nest. It works with Google Assistant, and unlike other DIY security options, it does not have a stressful countdown, nor does it force you to rush out the door. That said, Google Nest is a favorite among homeowners with young families.
Cheap home security tips
Don't forget about the more obvious options when it comes to home security tips and piece of mind. Specifically, these six.
1. Buy a home in a safe neighborhood
Use home search sites like Trulia to understand safety and crime stats in your desired community. Crimereports.com is another helpful option.
2. Get a dog
Often your first line of defense, the right breed of dog (or at least one with the right volume of bark) can scare off burglars.
3. Participate in your neighborhood watch program
Neighborhood watch programs are still easy ways to keep tabs on what's going on in your immediate area. At the very least, get to know a neighbor or two, so they can keep an eye on your home when you're out of town.
4. Don't let trash or mail pile up
Letting your trash or mail pile up is an easy way to alert a burglar that you are not home, and your residence can be an easy target.
5. Never hide spare keys outside
This is becoming less common in the age where garage doors have keycodes that can be shared with out of town visitors, but it's still something you should not be doing.
6. Be smart with your social media posts
Sure you're incredibly excited about next weekend's trip to Mexico, but be careful about how much you post and the setting you use. You don't want to alert the general public about your vacation, practically inviting them to break in and burglarize you while you're gone.